As part of National Pain Week, University of South Australia's Hawke Centre, PainAdelaide Stakeholders' Consortium and The Australian Network for Art and Technology (ANAT), joined forces to put on the inaugural Art of Pain Exhibition and seminar series. A thousand members of the general public attended and the feedback was top shelf indeed. Our guest speaker, Professor Michele Sterling, our artists – Eugenie Lee and Cat Jones – and me all got a bit of time on local (ABC 891) and national radio (ABC radio national HealthMatters), and coverage of the event penetrated local print and social media.
We had two lecture evenings. Both were standing room only. The first, focused on neck pain after car accidents – whiplash is the label but at least some of those in the room were a tad squeamish at that label – it really does plant a pretty violent and dare I say dangerous – picture. The second was focused on opioids – mechanisms of effect, interactions with the immune system and problems in the prescription- happy real world – and mindfulness.
Whiplash: Throw the kitchen sink at it or reassure and leave alone?
Prof Sterling covered what is a really substantial and important body of work that she has undertaken over the last two decades. Her research shows that PTSD-like symptoms (not a diagnosis of PTSD) and cold-sensitivity in the acute stage after a whiplash (!!) injury are important predictors of poor recovery. But here is her big kahuna finding: in a major randomized controlled trial published in an obscure medical journal called The Lancet, two treatments were compared – a comprehensive physiotherapy exercise programme (manual therapy, motor control training etc) and a simple advice intervention.
Both groups were provided with a patient education booklet. The Advice group also spent 30 minutes with a physio who went through the booklet with the patient, clarified any problems and fielded any other concerns the patient had. Sounds to me like 'intensive reassurance'. The Physiotherapy group received 20 individually tailored and supervised exercise sessions, beginning with four weeks of specific motor control training of neck muscles, scapular training, postural education and 'sensorimotor exercises' (balance, eye movement control etc). Physiotherapists could include manual therapy in the first week, and all patients undertook both graded functional and cardiovascular training.
Both groups were a bit better 12 months after initial assessment – mean pain during the previous week dropped from 4.5/10 – 3.7/10 (physio group) or 5.9/10 – 4.4/10 (Advice group). Disability scores dropped a bit too. However, there was no difference in outcome nor response to treatment between the two groups. None (PT treatment effect = -0.1 (95% CI = -0.8 – 0.6)). Sobering stuff. What does it mean for us? I guess we can look on the bright side or the dark. Careful advice and reassurance is as effective as a comprehensive PT intervention – good news. A comprehensive PT intervention is no better than careful advice and reassurance – disappointing perhaps. It leaves me wondering what would happen if we combined a kind of 'optimised reassurance' with comprehensive PT that does not imply, by focusing on reinstating control and strength of the neck, that the neck is otherwise vulnerable to injury. Perhaps all that potentially excellent PT reinforces the very thing that optimized reassurance calms. Just my thoughts.
Anyway, there is no doubt at all that this evening lecture got tongues wagging and further promoted the objectives of PainAdelaide and the critical role that University of South Australia is playing in leading a multi-institutional, multidisciplinary, multimodal attack on the massive burden of chronic pain. You can listen to Prof Sterling's entire talk here
By any accounts, the Art of Pain was a huge success and our thanks go out to Jacinta Thompson and Louise Carnell from the Bob Hawke Prime Ministerial Centre for a thoroughly professional and smoothly-run week, to ANAT for their support of the artists and their ongoing commitment to the Art – Science synapse, to the Motor Accident Commission who helped us get Professor Sterling over from the Gold Coast.
Reference
Zoe A Michaleff, Chris G Maher, Chung-Wei Christine Lin, Trudy Rebbeck, Gwendolen Jull, Jane Latimer, Luke Connelly, Michele Sterling (2014) Comprehensive physiotherapy exercise programme or advice for chronic whiplash (PROMISE): a pragmatic randomised controlled trial. The Lancet, Volume 384, Issue 9938, Pages 133-141
About Lorimer Moseley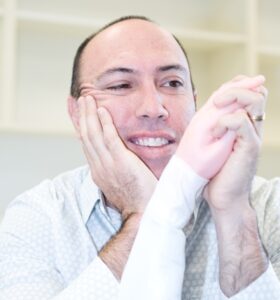 Professor Lorimer Moseley is a clinical scientist investigating pain in humans. After posts at The University of Oxford, UK, and the University of Sydney, Lorimer was appointed Foundation Professor of Neuroscience and Chair in Physiotherapy, The Sansom Institute for Health Research at the University of South Australia. He is also Senior Principal Research Fellow at NeuRA and an NHMRC Principal Research Fellow.
He has published over 200 papers, four books and numerous book chapters. He has given over 140 keynote or invited presentations at interdisciplinary meetings in 30 countries and has provided professional education in pain sciences to over 10,000 medical and health practitioners and public lectures to as many again. His YouTube and TEDx talks have been viewed over 200,000 times.
He consults to governmental and industry bodies in Europe and North America on pain-related issues. He was awarded the inaugural Ulf Lindblom Award for the outstanding mid-career clinical scientist working in a pain-related field by the International Association for the Study of Pain, was shortlisted for the 2011 and 2012 Australian Science Minister's Prize for Life Sciences, and won the 2013 Marshall & Warren Award from the NHMRC, for the Best Innovative and Potentially Transformative Project.
Link to Lorimer's published research here. Downloadable PDFs here.