The following blog is an adapted editorial that I published earlier this year in the journal – Pain and Rehabilitation: The Journal of the Physiotherapy Pain Association (PPA). The journal has been on the go for over 20 years and was started by the late Louis Gifford who was a founder member of the PPA. I am currently the Editor-in-chief of this journal, which is a UK based, fully blinded, peer-reviewed scientific journal (ISSN number [print 2051-0047] [online 2051-0055]). The powers that be at BiM have kindly allowed me to publish this editorial as a blog, which is a blatant attempt at promoting this non-stop rollercoaster ride of a read-journal and encouraging article submissions for review from the BiM readership. I hope you enjoy it!
Editorial – The Gruffalo's Trial
In the previous edition of Pain & Rehabilitation, Professor Lorimer Moseley's guest editorial discussed the challenges that exist to creating robust scientific evidence that can be directly applied to clinical practice. The considerable scientific effort that is needed to sufficiently test numerous variations of a single intervention on a sufficient number of different samples to ensure that the intervention could be used confidently in clinical practice would require millions of pounds and take decades of concentrated effort.
Last month my three year-old daughter fell in the back garden and hurt her knee. In the immediate aftermath she was crying inconsolably (and loudly) as a result of the trauma. At this point I had an idea – I went inside and retrieved my daughters Gruffalo (for those of you not familiar with the Gruffalo he is a cross between a teddy-bear and a wart-hog and he is afraid of mice). I suggested we play hide the Gruffalo in the garden – this game is currently in vogue in the Ryan household. My daughter instantly stopped crying, grabbed the Gruffalo and raced off (on her injured knee) smiling, to hide the poor old Gruffalo in a muddy flowerbed. What does this mean – have I inadvertently discovered that Gruffalo's are a panacea for acute knee trauma? Should I get in touch with my local Clinical Commissioning Group (CCG) and see if I can commission a herd of Gruffalo (in the absence of an accepted term for a group of Gruffalo I have opted for herd) for every A&E department in the country? If I publish this case study in THE LANCET tomorrow, will it, should it, change clinical practice? Probably not – I will need a host of RCT's to test this Gruffalo Intervention – maybe I should undertake the Gruffalo trials.
I will need sufficiently powered RCTs to test all of the following; Do Gruffalo's work for all age groups? Do Gruffalo's work for both acute and chronic knee pain? Are Gruffalo's effective if provided by fathers only or can the provider be any relation or indeed can the Gruffalo be supplied by a non-relative clinician? – The variations are virtually endless and would be a life's work. Thus, I think it is fair to say that I currently cannot provide, and will not be able to provide in the future, robust evidence to support the use of a Gruffalo for acute knee pain. Does this mean that the next time my Daughter hurts her knee I should not employ a Gruffalo based intervention, because I can't evidence it with an RCT? Of course not. I will most certainly be using the Gruffalo again because I can sensibly reason why it might have worked (Distraction and her love of the Gruffalo being my leading hypothesis) and my previous experience has found it to be very effective with no side-effects.
In clinical practice I am sure we all do something similar to the above. We use interventions that might not be supported by RCT's but a sound clinical rational as to why it might be effective can be provided and our previous experiences with patients have shown these techniques to be effective. In areas where the scientific literature does not give a clear treatment direction using our clinical reasoning is the best we can do for our patients. However, we have a duty as clinicians to use the scientific literature when it can provide strong evidence to direct the care we provide. Thus, scientific researchers have a duty to test potential clinical advances in a robust fashion so that clinicians can confidently adapt that work into their clinical practice. The guest editorial for this edition is written by a group of researchers doing just that.
Professor Nadine Foster and her colleagues at Keele University are world leaders in the field of back pain sub-classification. In this editorial they discuss their STarT (Subgrouping for Targeted Treatment) Back work – a body of research which attempts to classify back pain patients in terms of low, medium, and high risk of a poor outcome and direct treatment according to category. This work exemplifies pragmatic clinical research because of the comprehensive, methodical series of investigations that have been, and are being, undertaken. The researchers have not been content to simply identify if they can subcategorise, but have also asked whether this subcategorisation can be repeated, is it feasible to implement in routine practice, can it be used to direct treatment in a manner that is superior to usual care, is it cost effective, and can the sub-catergorisation be applied across different countries and health care systems? It is this level of scientific rigor that we as clinicians really need so that we can confidently integrate the literature into our routine practice.
Dr Cormac Ryan PhD (Editor-in-Chief)
About Cormac Ryan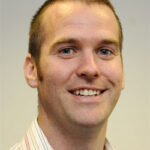 Cormac is a senior lecturer in Physiotherapy at Teesside University. He graduated from the University of Limerick in 2002 with a BSc in Sports and Exercise Science, and completed an MSc in Physiotherapy (pre-registration) at Queen Margaret University College, Edinburgh. He was awarded his PhD from Glasgow Caledonian University, in 2008, for investigating the relationship between physical activity and chronic low back pain. Cormac's research interests are primarily in the area of chronic pain, its impact on patients, and interventions to manage the condition. He also has two kids under the age of four and, as a result, is not getting much sleep, so please excuse any errors/typos!
Reference
Ryan C (2014). Editorial – The Gruffalo's trial. Journal of the Physiotherapy Pain Association (36), 2