As is customary, it is time to look back on another stellar year in the Body in Mind Research group. Just in case you had forgotten, here is our brief 'who are we' blurb:
The Body in Mind research group is based at the Sansom Institute for Health Research at the University of South Australia in Adelaide, and Neuroscience Research Australia in Sydney.  Prof Lorimer Moseley leads the group in undertaking research that traverses 'the translational pipeline' from fundamental behavioural and physiological experiments in humans, to major randomised controlled trials and prognostic studies.  We are funded primarily through the Australian National Health & Medical Research Council both via fellowship support for several of our team, and project grants.  The team turns over in line with graduations and funding, but a reasonably current list of the Adelaide-based Body in Mind team is below. C lick here for more information on the NeuRA-based Body in Mind team.
This Christmas Edition is when I get to give a shout out to our fabulous team and tell the world how chuffed I am to be involved with what we are doing. I think we have continued our journey towards better treatment and prevention of chronic pain and we have done it with enthusiasm and an ongoing commitment to some core 'trademarks'. These are the things our research group wants to be known for and which we established as a group a couple of years ago. They are: Integrity, Innovation, Collaboration, Communication and Excellence. We have had our share of disappointments and frustrations, but we have also had some fantastic 'wins'.
The Adelaide team has seen some changes in personnel, with Dr Mark Catley, Dr Abby Tabor, Dr Valeria Bellan, Dr Carolyn Berryman, Dr Ebony Rio and Dr Dan Harvie all getting their doctorates.  We have welcomed some new Honours students and we look forward to the new year when we will be joined by a couple more PhD students – stay tuned to learn more in the new year!
While the Adelaide team got a little smaller this year, the Sydney team grew with Matt Bagg starting his PhD, Edel O'Hagan her Research Masters and Martin Raby taking up a post-doctoral fellowship, joining us from Prof Pete O'Sullivan's group in Perth. Although Heidi moved to Laos, her Laotian is not quite good enough to make the move permanent….
We had two weddings, an engagement, a pregnancy and a new baby. Dr Tasha Stanton won more than her fair share of prizes. Emma Karran won a scholarship AND a grant. Matt Bagg was awarded the UNSW Research Excellence Award and John Breckenridge won Best Poster.
We had 38 papers accepted or published and we were cited about 2500 times. BiM has put up about 100 blog posts; we have done two YouTube clips; Tasha made a short doco; and Valeria made the Italian National Newspaper.  We filmed for Catalyst (ABC Australia) and we were on Insight (SBS Australia) (twice!)
Finally, to all you who advocate for us, who tell your mates about us, who comment on posts, who suggest posts, who invite us to speak at meetings, who just write unsolicited emails to encourage and thank us – we really are very grateful. We do think that 'the tide is turning' when it comes to the treatment and prevention of chronic pain and it is you who are turning it. So, on behalf of us at BiM, and for the millions of people with chronic pain, their friends, their parents, lovers, children and colleagues – THANK YOU for the excellent work you do.
Have a safe and festive couple of weeks. We will be re-running an excellent series we led off in The Conversation, over the next couple of weeks – some posts are simple re-runs, others are expanded or adjusted. Until 2016 – remember to go forth and biologise!
About Lorimer Moseley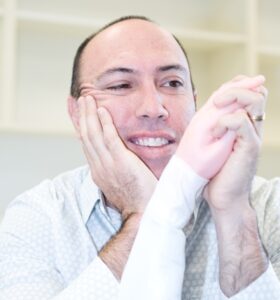 Professor Lorimer Moseley is a clinical scientist investigating pain in humans. After posts at The University of Oxford, UK, and the University of Sydney, Lorimer was appointed Foundation Professor of Neuroscience and Chair in Physiotherapy, The Sansom Institute for Health Research at the University of South Australia. He is also Senior Principal Research Fellow at NeuRA and an NHMRC Principal Research Fellow.
He has published over 200 papers, four books and numerous book chapters. He has given over 140 keynote or invited presentations at interdisciplinary meetings in 30 countries and has provided professional education in pain sciences to over 10,000 medical and health practitioners and public lectures to as many again. His YouTube and TEDx talks have been viewed over 200,000 times.
He consults to governmental and industry bodies in Europe and North America on pain-related issues. He was awarded the inaugural Ulf Lindblom Award for the outstanding mid-career clinical scientist working in a pain-related field by the International Association for the Study of Pain, was shortlisted for the 2011 and 2012 Australian Science Minister's Prize for Life Sciences, and won the 2013 Marshall & Warren Award from the NHMRC, for the Best Innovative and Potentially Transformative Project.
Link to Lorimer's published research here. Downloadable PDFs here.