Five pain researchers are participating in the PRF-ISPP 2023 Correspondents Program during the International Symposium on Pediatric Pain, taking place 1-4 October in Halifax, Nova Scotia. The Correspondents Program is a unique science communication training program that provides participants with the knowledge, skills, and best practices needed to communicate science effectively to a wide range of pain researchers, patients, and the greater public. The Correspondents will conduct interviews with pain professionals, write summaries of scientific lectures – and provide live blogging, too!  
Take a look at their blog posts following Day 3 of the Scientific Program.
The PRF-ISPP Correspondents Program has been made possible through generous contributions from Solutions for Kids in Pain (SKIP) and the Centre for Pediatric Pain Research (CPPR).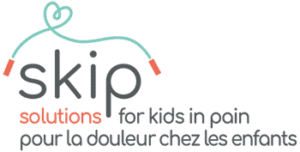 ISPP Blog Posts
For me, ISPP 2023 is about the people. It's brought together people from all backgrounds and perspectives to have conversations about what we can do – collectively – to improve pain care for all children.
Don't get me wrong, the science is critical – that's why we're here. This is "hot off the press" research we're hearing from around the world, but we also get to hear panel discussions, and debates, regarding important topics (and talk to the researchers behind the work!). In this environment, we can better engage.
We get to more deeply understand the context of the research, be curious, and ask questions – and we can hear about research we wouldn't normally read about. Perhaps most importantly, we get to connect with people after the workshops/symposia/plenaries, which is where the magic happens.
I really encourage people to attend the networking sessions at conferences, as they're invaluable. So many barriers are broken down as soon as you leave the conference center walls.
It helps to build and develop relationships that are so important for the work that we do. To work more cohesively, we need to trust each other, which means getting to know each other.
Today, we heard from the recipient of the Early Career Award, Katie Birnie, and I think her plenary was different. It wasn't so much about the science, but instead reflective and vulnerable as she shared her research journey. It wasn't about what she had done, but rather the process and the people she had engaged with on her early career journey. For her, it was the process of connecting with people with lived experience to ensure that her work would have greater impact.
For me, this year's conference is about people – '"Better together, innovation through partnership." And THAT, ISPP 2023 has done. 
Sarah Wallwork, PhD, is a research fellow in IIMPACT in Health at the University of South Australia. You can follow her on Twitter/X – @SarahBWallwork.
As today's meeting concludes, I'm struck by the interdisciplinary nature of pediatric pain research. From basic science to clinical research, the symposium serves as a melting pot where insights from various domains converge, fostering collaboration that is essential for advancing our understanding and treatment of pediatric pain.
The first three days of the conference featured a tapestry of sessions that span basic science, clinical practice, knowledge mobilization, and clinical research. This diversity reflects a fundamental truth: Addressing pediatric pain requires a multidimensional approach that transcends boundaries.
At the heart of this ISPP 2023 lies the recognition that pediatric pain is a complex phenomenon, influenced by biological, psychological, and social factors. Basic scientists delve into the intricacies of pain pathways and mechanisms, providing a foundation for clinicians to develop targeted interventions. A prime example today was Mike Salter's plenary lecture, featuring Shahrzad Ghazisaeidi's awesome -omics work uncovering the role of SYK in mediating pain across male and female rodents.
Clinical research is the crucible where theoretical knowledge meets real-world application. It's here that interventions are rigorously tested and pave the way for refined treatment protocols and guidelines. These principles were featured in a session on pain, placebos, and autism, chaired by Tim Oberlander, which helped describe the lived experience of teens who identify as both gender- and neuro-diverse – and included important adaptations for pain therapies to make care accessible.
Finally, where would we be without knowledge mobilization? Likely, all this cool research would be sitting on a shelf. Katie Birnie was presented this year's Early Career Research Award, and her inspiring story highlighted the importance of creating networks to ensure that researchers' work can be implemented in the clinic and beyond.
ISPP 2023 is not just a gathering of specialists, but also a celebration of interdisciplinary collaboration. The symposium is a reminder that the most significant breakthroughs occur when minds from diverse backgrounds converge, sparking innovation and driving progress. As we navigate the intricate landscape of pediatric pain, let's embrace the power of collaboration. #TeamworkMakesTheDreamWork
Annemarie Dedek, PhD, is a postdoctoral fellow at Dalhousie University, Halifax, Nova Scotia. You can follow her on Twitter/X – @AnnemarieDedek.
ISPP 2023 has featured many different topics about pain in children, but it also kept one thing in mind, or more accurately, three things in mind: Diversity, equity, and inclusion (DEI).
Let's do a small experiment: Go to your window and look at the people passing by. Do they all look identical? Probably not. That's the importance of applying DEI values in practical and clinical care. Collectively, we don't act, look, and work the same. If research is supposed to reach the largest demographics, we need to make it resonate and represent as many as possible.
The application of DEI values should be done from start to finish. Think about it like a research study. Early on, you have your inclusion criteria that create a sample representation of the population being studied. In the lab, that should mean recruited personnel and patients who are representative of what we see outside our window during experimentation.
Now, let's move on to blinding, which provides an opportunity to obtain (or not obtain) an intervention. The same could be applied toward opportunities to participate in research projects.
DEI is not only about opening doors, but also making equal pathways for all. To have diversity in healthcare is one thing, but the equity and inclusion of diverse populations in our research is something we need to actively facilitate, not simply "check off a box."
As ISPP 2023 has shown, DEI values should be adopted by all work environments – and especially healthcare – to ensure justice and not just a "check." Research is important; making it resonate with all is essential.
Jéssica Ding is a master's student at McGill University, Montreal, Canada. You can follow her on Twitter/X – @JessicadingJD.
Day 3 of the Scientific Program featured plenary lectures from Marsha Treadwell and Mike Salter.
Marsha addressed the limitations of pain management for youths with sickle cell disease (SCD) and stressed that SCD is the most common inherited blood disorder in the world (I had no idea!). She recognized barriers to SCD pain management within a global context and provided strategies for achieving equity. Knowing that frequent pain is a risk factor for mortality – and the most common complication of SCD – I really appreciate her efforts establishing global partnerships to better serve those in need.
In the afternoon, we got to hear Mike Salter's lecture, "Sex and Pain: It's Not Always About the Differences." What stuck out to me was his novel transcriptomics approach to decipher nociceptive information – and to understand glia-neuron interactions – in pathological pain neuroplasticity. I was interested to learn how Mike discovered that the U.S. Food and Drug Administration approved pharmaceutical fostamatinib can reverse pain hypersensitivity in both sexes. I can't wait to hear about his progress, and hopefully I will at #ISPP2025 in Glasgow, Scotland!
Other sessions that stuck out to me focused on the ways we can effectively collaborate, sex/gender/racial disparities in pain management, and the interplay between the individual, familial, and environmental factors that can help to facilitate patient-centered interventions.
Overall, it's great to know that the voices of those who are living in pain are being heard more and prioritized. We're better together.
Adewale Oluwaseun Fadaka, PhD, is a research fellow at the Cincinnati Children's Hospital Medical Center, Ohio, USA. You can follow him on Twitter/X – @silvernonferous.
I had an amazing panel discussion today with See Wan Tham and Jeremy Gauntlett-Gilbert about the updated International Classification of Diseases coding system (ICD-11).
ICD-11 is relevant to us working with children in pain because of its recently introduced category explicitly for chronic pain, which hasn't been tested yet for children.
It was so much fun preparing for the session with Christine Greco, See Wan, and Jeremy – brainstorming how we could engage the audience. However, we were all a bit nervous before we started. Would anyone be interested in our viewpoints? Would there be robust discussion?
Jeremy began the session with great real-world examples that everyone in the room could relate to and was successful at taking the sting out of the very serious topic of stigma arising for diagnostic labels with his British humor.
See Wan shared her clinician's viewpoint on the ICD-11 coding by walking the audience through the coding process and pointing out strengths and weaknesses.
With the patient data we collected at the German Paediatric Pain Centre's outpatient facility, I was able to highlight room for improvement in the diagnostic criteria.
The core of the session, however, was the diverse professionals attending who shared their valuable opinions after each presentation. It was wonderful to see how much passion everyone possesses as they advocate for children living with chronic pain. I'm glad to have had the opportunity to hear so many voices and points of view today; they have absolutely provided me a greater perspective. This session was another example of how we can be better together.
Lisa-Marie Rau is a PhD candidate at the German Paediatric Pain Centre in Datteln, Germany. You can follow her on Twitter/X – @Lisa_Marie_Rau.