Join us as members from IASP's Pain Registries Special Interest Group and Acute Pain Special Interest Group convene to discuss best practices related to data collection and building pain registries – both with a focus on patient-reported outcomes – and ways these groups can continue to work together to serve those with the lived experience of pain. 
Date: Thursday, November 16, 2023, 11:00 a.m. to 12:30 p.m., Eastern (US) Time
This webinar is being produced through a collaboration of IASP's Pain Registries Special Interest Group and Acute Pain Special Interest Group.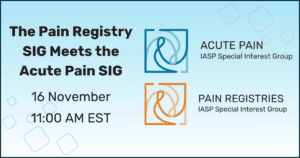 The mission of IASP's Acute Pain Special Interest Group is to advance and promote the understanding of mechanisms, assessment, prevention, and management of acute pain. Pain registries serve as an important tool in achieving this mission, as they lead to a better understanding of treatment benefits in certain populations or different pain entities, and can help identify the effectiveness of specific treatment procedures or polypharmacy remedies. As such, continued collaboration among groups specializing in these areas can help lead to better patient-reported outcomes.
This webinar is a collaboration between IASP's Pain Registries and Acute Pain Special Interest Group's recent developments. Four speakers will present best practices in pain registries on acute pain and beyond. The development and further expansion of pain registries will be described. Also, we will discuss how data are collected and what research questions can be answered with the help of the data in the registry. Furthermore, speakers will discuss the limits of the pain registry data and elaborate on benefits for patient care. The presentations will include both early-career and established researchers from the USA, UK, and Australia. They will cover topics such as outcomes from the electronic Persistent Pain Outcomes Collaboration (ePPOC) and Translational Biorepository, establishing a registry of all pain registries, and a multicenter assessment of pain outcomes from day case surgery. Plenty of time will be allowed for discussion.
Participants include:
David Holloway, PhD, University of Wollongong NSW, Australia
A Decade of Collecting Chronic Pain Outcomes in Australia
Eleanor Whittaker, MD, Institute of Naval Medicine, Gosport, UK
On Setting Up a Registry of Pain Registries
Shad B. Smith, PhD, Duke University Medical Center, North Carolina, USA
Mechanistic Classification of Chronic Pain Patients Using Biorepository Data Collection in a Clinical Setting
Adam Brayne, MD, University Hospitals Plymouth NHS Trust, UK
The POPPY Study: Patient Reported Outcomes, Postoperative Pain, and Pain Relief in Day Case Surgery
About the Presenters
David Holloway, PhD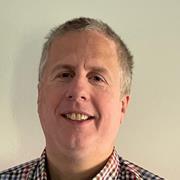 David is the director of the electronic Persistent Pain Outcomes Collaboration (ePPOC) at the Australian Health Services Research Institute, and located at the University of Wollongong, Australia. He joined the ePPOC team in May 2022, after an extensive career in both the public and private sector, most recently as director of quality and safety for a national community nursing and aged care organization. He has held a varied range of operational management and clinical governance roles covering both face-to-face and telehealth delivery models.
Eleanor Whittaker, MD
Eleanor is a military FY2 medical trainee at the Institute of Naval Medicine in Gosport, UK. Founded in 1969, the Institute of Naval Medicine is the home of the Royal Navy's medical training, and houses extensive research, laboratory, and clinical facilities provided to all the services, including active operations. Eleanor's research interests include the quality of registries assessing pain and patient-centered approaches for pain management.
Shad B. Smith, PhD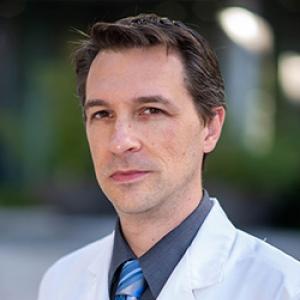 Shad is an associate professor within Duke Anesthesiology's Center for Translational Pain Medicine (CTPM). He is the director of the CTPM Biorepository, which collects and maintains specimens from thousands of pain patients and controls from studies conducted over the past 15 years. The focus of his research career has been the search for individual variation that contributes to greater pain sensitivity and increased risk for chronic pain disease. His current research activities include collecting and examining large clinical pain cohorts with in-depth biological and behavioral assessment to understand the etiology and mechanisms of chronic pain. He has served as the chair of the Pain and Genetics Special Interest Group for both the American Pain Society and the International Association for the Study of Pain, and also serves on the Duke IRB as well as grant review committees for the National Institutes of Health and the Department of Defense, among others.
Adam Brayne, MD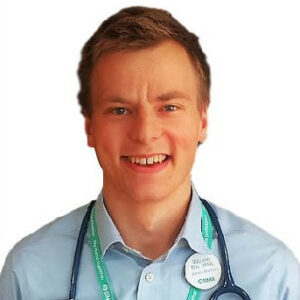 Adam is a South West Anaesthesia Research Matrix (SWARM) Research Fellow and currently situated at the University Hospitals Plymouth NHS Trust in the UK. The SWARM model is a trainee-led audit and research collaborative that aims to act as an altruistic group that conducts high-quality, high-impact, multicenter research and audit for the benefit of patients and their future care. Adam is also passionate about drowning prevention and data science.