About this Global
Year Campaign
Why Visceral Pain?
Visceral pain associated with ailments such as gallstones, acute pancreatitis, acute appendicitis, and diverticulitis are the most common reasons for visits to outpatient and inpatient gastrointestinal (GI) clinics, but visceral pain may also include chronic chest pain, bladder pain, gynecological pain, and pelvic pain.
Up to 25% of the population report visceral pain at any one time, leading to substantial health care costs.
By providing free factsheets, publications, and more, we hope this campaign helps lead to better patient outcomes, and contribute towards IASP's vision of global pain relief.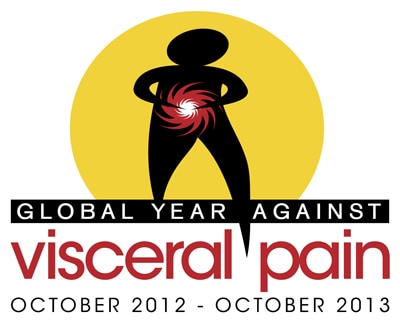 Australia/New Zealand
The Australian Pain Society and the New Zealand Pain Society (IASP chapters), in conjunction with the Faculty of Pain Medicine ANZCA and PainAustralia, created a unique poster for the Global Year Against Visceral Pain. The illustration featured on the poster is by Kate Hodgson, an artist and visceral pain sufferer.
The Albury Wodonga Private Hospital hosted its annual Pain Education Day at the Commercial Club in Albury, Australia. Pamela Goldspink, CNS Acute Pain Service, from the Albury Wodonga Private Hospital has organized the Global Pain Education Day for the past eight years. One hundred and sixty nurses attended the event.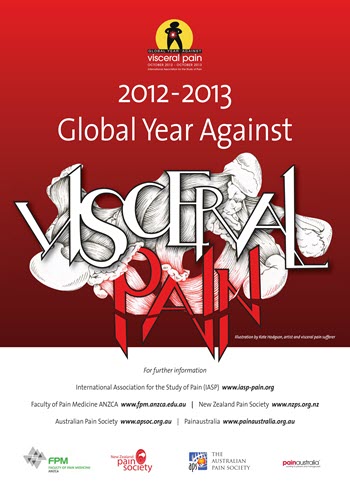 Letter from the President
Letter from the President
I am pleased to announce the 2012-2013 Global Year Against Visceral Pain campaign, which will launch on Monday, October 15, 2012. This year, the IASP initiative will focus global attention on pain that originates in or near the internal organs of the body.
Visceral pain is the most frequent form of pain, felt by most people at one time or another, the number one reason for patients to seek medical attention, and yet it is insufficiently treated as it is considered just a symptom of an underlying disease: if we treat the disease the pain will go away - an approach that ignores that many forms of visceral pain are diseases in their own right and require focused and specific therapies.
Access previous global year campaigns and relevant fact sheets, interviews, and more resources.