Well, what about those? Most researchers would suggest there aren't many of them.  A quick review on PubMed will only give you a few useful hits, however it is estimated that about 70% of all people suffering from chronic nonspecific musculoskeletal pain manage to stay functioning at work. In actual fact this may in many cases be for the better, as we know that work may enhance physical fitness, provide income and social participation and may even work therapeutically for the individual.[1]
From this perspective, calling in sick to work may lead to avoidance of further activities which in turn may lead to deconditioning with all negative consequences described in literature.
As clinicians and researchers, we realized that our current knowledge of workers with chronic pain was largely based on a subgroup that we have studied very extensively – those who come in for rehabilitation. However, we know close to nothing about the largest group: they are understudied and not seen in (tertiary) rehabilitation. In other words what distinguishes workers who are in rehab, sick and off work from those who remain working? What could be learned from the group who stay at work?
Therefore, our research team studied whether workers with chronic pain who remained working differed in functional capacity compared to workers who were on sick leave and compared to healthy workers. Additionally, we wanted to know which factors would relate to functional capacity.
We tested three groups (cross sectionally) consisting of 942 people on functional capacity, health experience, work load, physical activity, and for those with pain, kinesiophobia, disability, pain level, self efficacy.[2]  Just a few calls to the media were enough to fulfill our inclusion number of workers with pain who were anxious to tell their stories!
We found that workers who were on sick leave performed significantly lower on functional capacity tests such as lifting, overhead work, static tests, but not on aerobic capacity. There were significant relationships between work load, age, gender, self reported physical activity and disability, but not with pain level.
We concluded that these results provided additional insight in a relatively disregarded group of workers which is larger than would be expected. Of course, cross sectional data does not prove any causality between sick leave and deconditioning, and a next step would be to do so, however, there appeared many significant and large differences that should not be disregarded.
About Remko Soer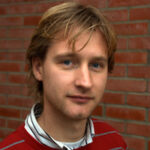 Remko is a physical therapist and human movement scientist working at the Center for Rehabilitation and the Groningen Spine Center of the University Medical Center Groningen in The Netherlands. He works as a clinician with patients with non-specific chronic musculoskeletal pain.  Remko's PhD looked at the validity of functional capacity evaluations in both social and rehabilitation medicine. Besides his work and three kids and the oldest being three years old, he has absolutely no time to do anything for himself.
References
[1] de Vries HJ, Brouwer S, Groothoff JW, Geertzen JH, & Reneman MF (2011). Staying at work with chronic nonspecific musculoskeletal pain: a qualitative study of workers' experiences. BMC musculoskeletal disorders, 12 PMID: 21639884
[2] Soer R, de Vries HJ, Brouwer S, Groothoff JW, Geertzen JH, & Reneman MF (2012). Do workers with chronic nonspecific musculoskeletal pain, with and without sick leave, have lower functional capacity compared with healthy workers? Archives of physical medicine and rehabilitation, 93 (12), 2216-22 PMID: 22772082