The World Congress on Physical Therapy, which will be held in Singapore next May, has just announced the successful proposals for symposia. There were, apparently, a very large number of submissions. However, an intriguing thing has happened – 20% of symposiums are focussed on pain. At first glance, one might think – only 20%? However, if that is you, it may reflect your own interest in the topic and if you were not interested, you would not be reading BodyinMind.org.
This is quite remarkable actually – I reckon that this shows that the field of physiotherapy, or physical therapy as you may prefer, is moving  out of the darkness and into the biopsychosocial light. Let me explain: Physical therapists have traditionally, interpreted pain in terms of its underlying structural pathology. As you will know, I think this is a shortsighted approach because I think the evidence that structural pathology is neither sufficient nor necessary for pain is so compelling that to stick to old linear, isomorphic paradigms is, well, daft. Here we see evidence that we as PT's are no longer lagging behind, but rather, it seems we might actually be embracing the revolution –  we might even be starting to hang our feet over and have one of the best views from the cutting edge.
Come to Singapore in May 2015, to get a glimpse of the revolution – Mick Thacker, Dave Walton and I will be discussing critical updates in chronic pain; Jo Nijs, Rob Smeets, Mark Bishop and Niamh Moloney will be discussing exercise and brain stimulation for chronic pain; Julia Hush, Kathleen Sluka and Graciela Rovner will be discussing Pain Education around the world; and Nadine Foster, Jonathon Hill, Peter O'Sullivan, John Childs and Mark Hancock will be discussing stratified models of care for low back pain.  There will be sessions on electrophysical agents and on rehabilitation models.  If you are a PT, you should come. You will have to spend all your time between IASP World Congress on Pain and WCPT World Congress on PT to save up for a ride on Sinapore's huge flying fox. See you there!
About Lorimer Moseley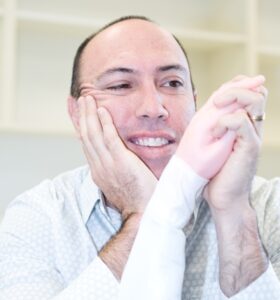 Lorimer is NHMRC Senior Research Fellow with twenty years clinical experience working with people in pain. After spending some time as a Nuffield Medical Research Fellow at Oxford University he returned to Australia in 2009 to take up an NHMRC Senior Research Fellowship at Neuroscience Research Australia (NeuRA). In 2011, he was appointed Professor of Clinical Neurosciences & the Inaugural Chair in Physiotherapy at the University of South Australia, Adelaide. He runs the Body in Mind research groups. He is the only Clinical Scientist to have knocked over a water tank tower in Outback Australia.
Link to Lorimer's published research here. Downloadable PDFs here.