Osteoarthritis is a degenerative (aaagh – what a threatening word that is!) condition of joints which gets worse over time[1]. It is the leading reason for knee and hip replacement surgery – about 1.8 million Australians were diagnosed with OA in 2011-12.[1]
A new study[2] has set out to determine if vitamin D might be a key moderator of the relationship between obesity on knee pain and function in people with OA. Here's what they report – people with knee osteoarthritis who were obese but had healthy vitamin D levels were less disabled than people who were obese individuals but had insufficient vitamin D levels. The authors conclusion that vitamin D levels are significantly associated with pain and dysfunction in obese people with knee OA.
Interesting, easy, simple and clear right? Well interesting yes, but easy simple and clear? Perhaps not. This study was a secondary analysis of data that came from a much larger study that focused on racial/ethnic differences in pain and limitations among people with OA. The primary study doesn't appear to have been designed with this secondary analysis in mind – there is no information about level of physical activity (important when it comes to obesity and OA impact), amount of daily sun exposure (important when it comes to vitamin D), and diet (important when it comes to obesity, OA impact AND vitamin D).
So, what have we learnt here? I think it is possible that having healthy vitamin D levels might have some sort of protective effect when it comes to OA evoking pain, or causing disability. I think it is also possible that low vitamin D levels might ramp up OA pain and therefore disability. Low vitamin D levels cause defects in bone mineralization which results in widespread or localised bone pain along with aches and pain in muscles and joints. It is biologically plausible that correcting this deficiency may also help relieve some of the unexplained pain.  Alternatively, perhaps low vitamin D levels ramp up pain and disability whether or not one has OA.
Lorimer encouraged me to get in touch with the authors and ask them this rather provocative question: 'Does your study tell us something truly important or is it a crafted strategy to squeeze a bit more juice from the data set?' This made me nervous, but Lorimer assured me that the authors are the real deal and will know the spirit of the email.  I am pleased we asked because the replies were excellent and swift:
From Roger Fillingim – senior author (and author of a cool 330 papers!) and past President of the American Pain Society:
"There is tremendous interest in vitamin D as a possible therapy for lots of ills, including arthritis.  However, there isn't much information to tell us whether vitamin D will be helpful.  The few previous clinical trials have been equivocal, so we believe that any additional information could be helpful. In particular, we think it is important that vitamin D seemed to be related to lower pain particularly in obese individuals, who are at the greatest risk for greater arthritis pain.  This is good news for this high risk group, especially given the difficulty that we all have with losing weight.  Regarding mechanisms, one possibility is that vitamin D could help reduce systemic inflammation, thereby decreasing pain.  In addition, higher vitamin D has been related to lower levels of depression, which could also help decrease pain.  And as you point out, our correlational findings could be explained by other factors, for example, people with less pain are probably more physically active and are likely to be involved in more outdoor activities, which would increase their vitamin D levels."
So, yes it is important. Squeezing the data?
"The vitamin D project was an intentional (and modestly expensive) addition to our ongoing study.  We were keenly interested in knowing how vitamin D relates to OA pain in the hope that this might be a future treatment strategy."
And then, we were thrilled to get from Toni Glover, who did this study as part of her PhD, these two papers (1 and 2  that make further important contributions to this rather complex issue of Vitamin D and OA pain. Indeed, the second paper is a review and if you are interested in this Vitamin D – OA – pain thing, we highly recommend that you read it.
And a final word from Toni: "One cautionary note – many American consumers believe if a little is good, a lot must be better, and indiscriminately supplement with vitamin D, which can be toxic at high levels. You may wish to add a footnote to the blog piece advising individuals with OA to have their vitamin D levels checked to help them decide about adding a vitamin D supplement."
Lorimer and I would like to thank the authors for their rapid, clear and open response to our questions. The spirit of the dialogue left Lorimer feeling all warm and fuzzy just before taking a few weeks off at the beach.
About Manasi Gaikwad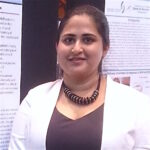 Manasi is a doctoral student at the School of Medicine, University of Adelaide. She is a medical doctor by training from the Saint Petersburg State Medical Academy, Russia. She also has training in Magnetic Resonance Imaging from University of Queensland, Brisbane. Her research interests lie in understanding the pathophysiology of chronic nonspecific musculoskeletal pain (CNMP). She is particularly interested in investigating the role of vitamin D supplementation in alleviating pain associated with CNMP.
References:
[1]Australian Institute of Health and Welfare, A picture of osteoarthritis in Australia, Arthritis Series No.5, October 2007. Canberra. www.aihw.gov.au/WorkArea/DownloadAsset.aspx?id=6442459825
[2]Glover T, Goodin B, King C, Sibille K, Herbert M, Sotolongo A, Cruz-Almeida Y, Bartley E, Bulls H, Horgas A, Redden D, Riley J, Staud R, Fessler B, Bradley L, and Fillingim R. (2015). A cross-sectional examination of vitamin D, obesity, and measures of pain and function in middle-aged and older adults with knee osteoarthritis. Clin J Pain; 31 (12); 1060-67.