The opioid epidemic is the largest public health issue facing the United States, and we are at a critical crossroads as pain physicians to find effective alternative medications and approaches for chronic pain. This sharp swing away from opioid prescription has left many patients in the US feeling desperate and helpless. The need for alternative interventions has become a major medical need in the pain management space. Our laboratory has been focusing on an exciting potential target – toll like receptors that specifically recognize and bind to lipopolysaccharide, found on the surface of bacteria.
Typically, TLR4 molecules are found on antigen presenting cells. These cells act like the army generals of our host immune system and orchestrate our response to different types of threat or danger.  So how might these toll-like receptors play a role in chronic pain?  TLR4 is part of what keeps that inflammation switch "on" in chronic pain states because once our immune system has remembered an insult, TLR4 will make antigen presenting cells continue to secrete potent cytokines and contribute to chronic inflammation.  There is growing body of evidence in various pain pathologies including neuropathic pain, chemotherapy induced peripheral neuropathy, complex regional pain syndrome that chronic inflammation might be an important contributor to development and maintenance of chronic pain.
What's more interesting is that if you take consistently higher doses of opioids over time, eventually you become hypersensitive to pain (hyperalgesia). In other words, something that should cause normal pain response causes excessive pain to the same stimulus. There's increasing evidence that TLR4 plays a role there, too, counteracting this opioid-induced hyperalgesia pathway.
We have established a startup company, Douleur Therapeutics, that is focusing on bringing DT-001, a small molecule that can bind the TLR4 receptor and inhibit effects of TLR4 as a way for preventing persistent post-operative pain.  We think this might not only reduce pain but could also behave as a preventative analgesia in a disease-modifying way.  DT-001 could also further reduce the need for opioids after surgery, since by blocking TLR4 activity a patient may be less likely to become hypersensitive to pain.
DT-001 has already cleared a phase I clinical trial for safety when delivered intravenously. We're now fundraising for a phase II trial to test how well it can prevent post-operative pain.
There are approximately 1.6 million surgeries per year in the U.S., and post-op pain can occur in up to 60 percent of patients. This is a major health issue. Yet at the moment there are no great ways to prevent post-op pain.  In non-palliative settings, studies show that the benefits of chronic opioids don't outweigh the risks. So you go to a different class of pain relievers. But even with non-opioid classes of medications, you continue to deal with higher doses needed for desired therapeutic effects, with side effects being a major issue in patient use of these medications. We hope that our studies might lead to a potential solution.
About Krishnan Chakravarthy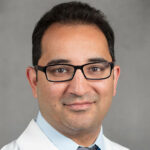 Krishnan Chakravarthy: University at Buffalo School of Medicine and Biomedical Sciences (MD, PhD 2012, Anesthesiology residency at Johns Hopkins Hospital (2016), Chronic Pain Fellowship at Massachusetts General Hospital/Harvard Medical School (2017). He is Assistant Professor in Dept. of Anesthesiology and Pain Medicine at UC San Diego and VA San Diego Health System (2017-present). He is affiliate professor at the UCSD Department of NanoEngineering.  He is also co-director of the UCSD Institute of Engineering in Medicine Center for Mobile-health Systems and Applications (CMSA).  He has published many papers in highly reputed journals in anesthesiology and pain medicine and sits on the editorial board of several national and international journals and societies. He is a recipient of several national research awards and has had his research featured in Futurity, NewsMedical and other international venues.  He is a co-founder of three biotechnology companies:  Douleur Therapeutics, Newrom Biomedical, and NanoAxis.
Conflict of Interest Statement
The author has stated that he has directorship, shares or other financial interests related to this work
Reference
Bruno, Kelly; Woller, Sarah A.; Miller, Yury I.; Yaksh, Tony L.; Wallace, Mark; Beaton, Graham; Chakravarthy, Krishnan (2018). Targeting toll-like receptor-4 (TLR4)—an emerging therapeutic target for persistent pain states. Pain 159(10):1908 – 1915