The NEJM just posted this entry that clearly shows that when clinicians report side effects of the drugs that their patient is taking, their reports don't agree with what patients report. Interestingly, clinicians are doing the reporting of these side effects as part of their participation in clinical trials, and the clinical trials are almost certainly sponsored by the drug company and they probably involve a drug that the physician suspects is really effective with a limited side effect profile.  These two graphs are from the paper, which has many more groovy graphs – we put them here so you can see the clear differences – a picture is worth a thousand words, not to discourage your from going to the source!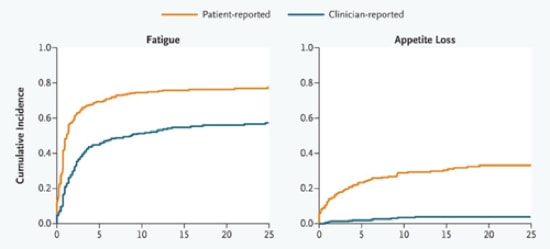 I think this has an important message, which reverberates around the clinical sciences – listen to your patients.  As it reverberates I think it could take various forms, for example 'don't presume you know what patients are experiencing better than they do', or 'the patients' side effects that make no sense to you are as real as the side effects that do'. I think the paper is an interesting read – check it out.
AND this from a study we did some time ago – patients tend to overestimate their participation in home exercise programs if you ask them to keep a diary.
Finally, this is from the NEJM….
The missing voice of Patients in drug safety reporting
….The current drug-labeling practice for adverse events is based on the implicit assumption that an accurate portrait of patients' subjective experiences can be provided by clinicians' documentation alone. Yet a substantial body of evidence contradicts this assumption, showing that clinicians systematically downgrade the severity of patients' symptoms, that patients' self-reports frequently capture side effects that clinicians miss, and that clinicians' failure to note these symptoms results in the occurrence of preventable adverse events…
For full article, see NEJM, 362,10 865 – 869

Basch, E. (2010). The Missing Voice of Patients in Drug-Safety Reporting New England Journal of Medicine, 362 (10), 865-869 DOI: 10.1056/NEJMp0911494