Summary
My PhD research investigated the role of cervical spine Range of Motion in the recovery from Whiplash Associated Disorders (WAD). This formed part of my work on a large RCT investigating conservative treatments for WAD [2].
In clinical practice, Health Care Professionals attach value to measurements of cervical spine Range of Motion (ROM) for diagnostic, prognostic and treatment evaluation purposes. There is evidence that cervical ROM can help us with diagnosis of WAD[1] but my systematic literature review[3] found conflicting evidence that cervical spine ROM is valuable for prognosis for poor outcome following a whiplash injury. Greater understanding of prognostic factors such as this may facilitate improvements in patient management (could it help us prevent chronicity/effectively use scarce resources/target potentially modifiable factors??!).
Studies and results
A second systematic literature review investigated the reliability and validity of methods for measuring cervical spine ROM[4]. The Cervical Range Of Motion (CROM) device was found to be the most rigorously tested and clinimetrically promising method and was therefore investigated for intra- and inter-observer reliability in a group of whiplash-injured individuals and found to be substantially reliable[5].
The CROM device was used in a longitudinal cohort study of 599 whiplash-injured patients to investigate the prognostic value of cervical spine ROM for neck disability and patient-reported recovery at short, medium and long-term follow-up. Different forms of physiological cervical ROM were investigated (active and passive) along with a patient-reported version. Although useful for explaining disability at the time of measurement, active, passive and patient-reported forms of cervical spine ROM were not significant prognostic factors for poor outcome when other physical and psychosocial factors were accounted for in the analyses.
Implications for practice
If patients have reduced cervical spine ROM a few weeks after their whiplash injury they will not necessarily have a poor outcome in the longer term and therefore they can be reassured. Different forms of cervical ROM (active, passive and patient-reported) were all very similar in their relationship to both baseline and follow-up disability and therefore clinicians could reduce their forms of measurements if time or resources were limited in this scenario.
Mark Williams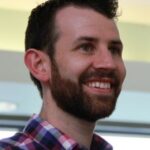 Mark is a Research Fellow in the Clinical Trials Unit at the University of Warwick UK. As a physio, Mark is really interested in doing clinical trials of complex therapy interventions. He's not fussy what condition – he's happy to research acute injuries like Whiplash or chronic conditions like Rheumatoid Arthritis. In his "spare" time he likes to nurture his son Charlie, walk his dog Mabel and consume real ale (tho generally not all at the same time…).
 References
[1] Dall'Alba PT, Sterling MM, Treleaven JM, Edwards SL, & Jull GA (2001). Cervical range of motion discriminates between asymptomatic persons and those with whiplash. Spine, 26 (19), 2090-4 PMID: 11698884
[2] Lamb SE, Williams MA, Williamson EM, Gates S, Withers EJ, Mt-Isa S, Ashby D, Caselnuovo E, Underwood M, Cooke MW, on behalf of the MINT Trial Group. Managing Injuries of the Neck Trial (MINT): a randomised controlled trial of treatments for whiplash injuries. Health Technology Assessment, in press.
[3] Williams M, Williamson E, Gates S, Lamb S, & Cooke M (2007). A systematic literature review of physical prognostic factors for the development of Late Whiplash Syndrome. Spine, 32 (25) PMID: 18245993
[4] Williams MA, McCarthy CJ, Chorti A, Cooke MW, & Gates S (2010). A systematic review of reliability and validity studies of methods for measuring active and passive cervical range of motion. J Manipulative Physiol Ther, 33 (2), 138-55 PMID: 20170780
[5] Williams MA, Williamson E, Gates S, & Cooke MW (2011). Reproducibility of the cervical range of motion (CROM) device for individuals with sub-acute whiplash associated disorders. Eur Spine J PMID: 22139052