By Denis Dempsey
I now have seen the movie The king's speech a couple of times and after seeing it again it is great to realize that you guys downunder have been all over the whole 'threat' concept for much longer than I am sure you all have known.  It is great in the movie when Geoffrey Rush (Lionel) goes right to the problem via the same inquiry strategy he learned from a well honed skill of asking questions.  I think the art and science of question-asking has been lost a bit in physical medicine.  As PT's, we were taught so well by the likes of  Geoff Maitland and Pat Trott etc. etc. Lionel asking the Duke/KING (!!) the hard questions that forced him to reflect as a way of treating a stammer – of course reflection is something George does not want to do.  I loved that when this strategy didn't work – The Duke/King not at all prepared to go there – it was great to see Lionel examine all of the other physical factors thought to be associated with stammers.  As a PT, this is what we often do – we work on them for a time, even if just to prove to them that look 'look mate you have no problems with all of these physical things that can drive the stammer' just as we might with some chronic pain patients – we examine all the physical things and treat them until we can go back to the brain again.
I find it oh so frustrating in my country for people, first of all the physios, that are so fearfull of doing this, and then the patient's that are so closed to unlocking all of this hidden potential they are missing in the brain.  Now this is the hardest challenge I have in the clinic, but it is also the most rewarding and the thing that keeps me from burning out.  So, it seems we need to have the skill to ask questions the right way AND we can learn how to get into the brain without the patient freaking out.  One last thing – it was an unqualified, seemingly self assured and unprecious bloke from Adelaide that had these two skills in great measure – it reminds me that we can always learn stuff from the great therapists, no matter what brand they are!
About Denis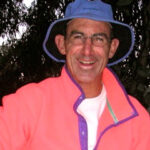 Denis got (well, Denis argues in his version of his CV that he actually earned it, but that is open to debate) a BSc in PT from California State University, Fresno in 1983. Yep, there were universities back then. He has a pretty impressive list of clinical accomplishments – PNF, Manipulative Therapy qual's, teaching gigs and Fellowships at difficult-to-get-fellowships-at places. I could list them but it would be more accurate to say that he is a truly accomplished clinician and an open-minded lateral thinker.  He is a generous and warm-hearted fellow – not that good at golf but really good at other stuff more important than golf. Denis says that 'when Denis is not busy at work he enjoys spending time with his wife and two children.'  I reckon he enjoys spending time with them even when he is busy. Clearly he did not write this bio.