Few controlled trials have assessed the efficacy of spinal manipulative therapy (SMT) for mid back pain. In addition no high quality trials have been performed to test the efficacy and effectiveness of Graston Technique® (GT), an instrument-assisted soft tissue massage therapy. The objective of this study was to determine the efficacy of SMT and GT compared to sham therapy (an ultrasound machine delivering no pulse) for the treatment of long standing mid back pain.
People with non-specific thoracic pain were randomly allocated to one of three groups: SMT, GT, or a sham/placebo. Each participant received up to 10 supervised treatment sessions at Murdoch University chiropractic student clinic over a 4 week period. The treatment was provided by senior students in their 5th year of training. The participants and treatment providers were not blinded to the treatment allocation because it was clear which therapy they were receiving, however outcome assessors were blinded and we attempted to blind the participants allocated to the sham/placebo group. This was facilitated by having the ultrasound machine turned on but with zero intensity. In addition the practitioner made contact on the participants back with their hand to provide a "hands on" experience. Treatment outcomes were measured at baseline, 1-week, and at 3, 6 and 12-months. Outcome measures included a disability measure and a pain scale.
One hundred and forty three participants were randomly allocated to the three groups (SMT = 36, GT = 63 and Placebo = 44). Baseline data for the three groups did not show any meaningful differences. This included, age, sex, pain intensity, disability and pain duration. All groups improved over time from baseline. However, the outcomes were the same regardless of intervention. Results indicated no statistically significant differences between the groups in pain or disability at 1-week, 3, 6 or 12-months post randomisation. However, all groups improved over time in pain and disability from baseline regardless of intervention. No significant adverse events were reported. This study indicates that there is no difference in outcome at any time point over 1 year for pain or disability when comparing SMT, Graston Technique® or sham therapy for mid back pain.
Like many studies ours had limitations including the use of final year chiropractic interns to deliver the SMT and Graston therapy, though they were under supervision of a registered chiropractor. It is plausible that therapy outcomes may differ between novice and experienced clinicians. The clinical implications and generalisability of this study are limited because there was no difference between groups which suggests there was no added benefit of intervention over naturally occurring processes.
It is worth speculating that this apparent lack of effect may be due, at least in part, to the tendency to treat non-specific mid-back pain as a diagnosis and not a symptom. It is likely that mid back pain, like low back pain, is underpinned by a constellation of  as yet undefined but differing mechanisms, some of which might respond and others that do not respond to a particular therapy. Research to identify diagnostic subsets within non-specific mid-back pain may be worthy and if successful, individual therapies such as manual therapy or Graston technique may be better directed.
The full article is available as free full text online here.
About Bruce Walker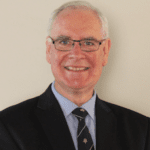 Associate Professor Bruce Walker AM is the Head of Chiropractic at Murdoch University in Western Australia. His main research interest is back pain and his main teaching area is evidence based practice and public health.
Reference
Commissioing Editors:  Ben Wand and Carolyn Berryman