Sleep is a complex process and impairments can occur at different stages of the process. Sleep impairments may include decreased total sleep time (sleep duration), an increase in the amount of time it takes to fall asleep (sleep onset latency), or an increase in the amount of wakefulness after sleep onset (sleep fragmentation) experienced by an individual (Mezick, 2013). Studies broadly suggest that sleep impairments can be directly linked to increased pain (Finan, 2013) and it is this relationship that our group chose to explore further in adults with sickle cell disease (SCD) (Moscou-Jackson, 2015). Sickle cell disease (SCD) is a genetic disorder in which pain is the most commonly reported symptom (Smith, 2010). Although sleep impairments have been reported in patients with SCD (Wallen, 2014), little was known about day-to-day variations in sleep, or the extent to which specific sleep impairments influence daily SCD pain.
Seventy-five adults (≥ 18 years of age) with SCD provided daily feedback on their sleep and pain experiences over a three-month period. Upon waking, participants were instructed to record information about their sleep during the previous night, including what time they went to bed, how long it took them to fall asleep, how much time they spent awake after falling asleep, and what time they woke up and got out of bed. Participants were also instructed to record information about their experience of pain during the day immediately before going to bed. Demographic, clinical, and psychosocial data were also collected at the participant's initial visit.
So what did we find? Participants, on average reported obtaining 7 hours of sleep per night, but took an average of 30 minutes to fall asleep and were awake for more than 30 minutes during the night. We also found that when an individual obtained less total sleep across the night (decreased sleep duration) or spent more time awake during the night (increased sleep fragmentation), they reported greater pain severity the next day. In addition, the combination of decreased sleep duration and increased sleep fragmentation during the night was associated with the greatest pain severity ratings while increased sleep duration and decreased sleep fragmentation (the ideal situation) was associated with the lowest pain severity ratings. These results suggest that the combination of a sleep fragmentation and sleep duration impairment may be particularly harmful and provocative of increased pain severity in patients with SCD.
What are our recommendations? Given daily sleep impairments were associated with increased SCD pain severity; patients with sickle cell disease should talk to their providers about their sleep habits. Providers should also ask patients about their sleep habits because strategies to increase sleep duration and decrease sleep fragmentation may improve pain management.
About Gyasi Moscou-Jackson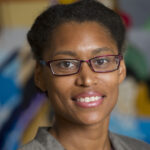 Gyasi completed a Masters in Health Science with a focus in health communication at the Johns Hopkins University School of Public Health and a BSN degree at Johns Hopkins University School of Nursing. She is currently a PhD candidate at Johns Hopkins University School of Nursing and works as a nurse on the Medical Intensive Care Unit at Johns Hopkins Hospital. Her dissertation, titled "Examination of Sleep in African-American Adults with Sickle Cell Disease," is focused on predictors and outcomes of insomnia symptoms in adults with sickle cell disease.
References
Finan, P., Goodin, B., & Smith, M. (2013). The Association of Sleep and Pain: An Update and a Path Forward The Journal of Pain, 14 (12), 1539-1552 DOI: 10.1016/j.jpain.2013.08.007
Moscou-Jackson, G., Finan, P., Campbell, C., Smyth, J., & Haythornthwaite, J. (2015). The Effect of Sleep Continuity on Pain in Adults with Sickle Cell Disease The Journal of Pain DOI: 10.1016/j.jpain.2015.03.010
Mezick, E. (2013). Sleep Continuity. In Encyclopedia of Behavioral Medicine. Eds. Gellman, M.D. and Turner, J.R.. Springer, 1805-1806. http://dx.doi.org/10.1007/978-1-4419-1005-9_843
Smith, W., & Scherer, M. (2011). Sickle-Cell Pain: Advances in Epidemiology and Etiology Hematology, 2010 (1), 409-415 DOI: 10.1182/asheducation-2010.1.409
Wallen, G., Minniti, C., Krumlauf, M., Eckes, E., Allen, D., Oguhebe, A., Seamon, C., Darbari, D., Hildesheim, M., Yang, L., Schulden, J., Kato, G., & Taylor VI, J. (2014). Sleep disturbance, depression and pain in adults with sickle cell disease BMC Psychiatry, 14 (1) DOI: 10.1186/1471-244X-14-207