I have had an interest in low back pain since the early stages of my career as a physiotherapist. My relatives, friends and patients complained about this condition and its recurrence even after receiving treatment. At that time, I was intent on finding a "cure" for this condition. I often browsed the literature to find the causes and possible effective treatments for low back pain and was guided by "p" statistical values.
Later in my career, I was guided by Dr Paulo Ferreira and Dr Manuela Ferreira who had just finished their PhDs in low back pain. They supervised my early career as a researcher. Guided by their supervision and by results of my own practice, I began to understand how complex this condition is. A lot of money is spent on a prevalent condition that has too many treatments available. If there are too many treatments, it is unlikely that any of them has a powerful effect. I came to understand that "p" value does not mean the treatment effect is clinically important and that what patients consider as being a worthwhile effect is often greater than the effects reported on high quality research supporting treatments for this condition.
With a PhD scholarship in hand I arrived excited in Sydney, Australia, to start my PhD studies. I wanted to find a treatment that had effects that were clinically important for low back pain that could change the scene. However, when I had the first of many meetings to discuss my projects things began to change. I understood that a new treatment for low back pain is unlikely to have an impact on the effects. So, if we are not able to find a "miracle" treatment for this condition, what could we do to optimize primary care for low back pain? Searching the literature, we found that most guidelines for low back pain recommend self-management. There is a growing awareness that low back pain is a long-term condition and that self-management could potentially decrease the burden of this condition. However, evidence of the effectiveness of self-management of low back pain was unclear.
In a recently published paper in Arthritis Care and Research, we systematically reviewed trials that included participants with low back pain in which at least one treatment for low back pain was named as "self-management" or "self-care" (Oliveira et al 2012). We found very few trials that tested self-management for low back pain and in many of the trials we had some concerns about the adequacy of the self-management programs that were tested. Acknowledging those limitations the effects of self-management on pain and disability seemed small; questioning whether or not it is a worthwhile approach.
We were surprised that there was so little research on this as national guidelines for low back pain consistently advocate self-management. We were also surprised by the programs tested because they did not seem optimal. We think that it is possible that better programs may yield larger effects and that is one of the areas of research we are pursuing right now. For instance, clarify the definition of self-management for low back pain and its features. So in the end, I have understood that low back pain is more complex than I first thought and my journey has just started.
About Vinicius C Oliveira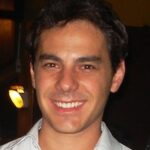 Vinicius C Oliveira is a doctoral researcher currently supervised by Prof. Kathryn Refshauge, Dr. Paulo Ferreira, Dr. Manuela Ferreira and Prof. Chris Maher at Faculty of Health Sciences, University of Sydney, Australia. His background is Physiotherapy and Sports and Exercise, and his Master's was in low back pain. His work focuses on: patient-clinician interaction; prognostic factors in low back pain; and self-management for back pain in order to optimize primary care for low back pain. At last, Vinicius is focused on finishing his PhD and pursuing a position in his early career.
References
Oliveira VC, Ferreira PH, Maher CG, Pinto RZ, Refshauge KM, & Ferreira ML (2012). Effectiveness of self-management of low back pain: Systematic review with meta-analysis. Arthritis care & research, 64 (11), 1739-48 PMID: 22623349