In every-day life, painful events do not occur in isolation but often comprise input from additional sensory modalities. As a consequence, certain sensory inputs, like the visual percept of a needle approaching our skin when getting an injection, are inseparably linked to pain. To reduce the pain, health professionals often advise us to not look at the needle prior to an injection. The validity of this advice has, to date, not been scientifically tested.
In a recent study [1], we addressed the questions of whether viewing a needle prick actually enhances pain perception and whether instructions about the strength of forthcoming stimulation modulates the effect of viewing a needle prick on pain perception.
While watching video clips showing a needle pricking a hand, a Q-tip touching a hand or a hand alone, study participants concurrently received painful or non-painful electrical stimuli applied to their own hand and subsequently rated intensity and unpleasantness of the electrical stimuli. The applied painful electrical stimulation felt like a needle prick. The clips were presented on a screen located above the participants' hand, giving the impression that the hand on the screen belonged to them. Furthermore, prior to the stimulation, participants were told that either the needle or the Q-tip was more likely to be associated with painful than with non-painful electrical stimulation.
A first key finding of our study was that participants reported that the painful electrical stimuli were more intense and unpleasant when they viewed a needle pricking a hand compared to when they saw a hand alone. In addition, observing needle pricks increased the unpleasantness of pain compared to viewing Q-tip touches. These findings were paralleled by enhanced activity of the autonomic nervous system (ANS), as measured by pupil dilation responses. Such an increase in ANS arousal might prepare the body to meet threatening challenges.
A second major finding of our study was that presentation of clips that were more likely to be associated with pain lead to higher pain intensity experiences than the presentation of the clips that were less likely to be associated with pain. This suggests that expectations regarding the painfulness of medical treatments influence the intensity of pain that the treatment ultimately produces.
In summary, we have provided empirical evidence in favor of the common advice not to look at the needle prick when receiving an injection. However, be aware that you should not simply look away. Since seeing the body (without seeing the injection) has previously been shown to decrease pain (blog post: 'Seeing your own body reduces pain caused by laser', [2]) you might better focus on a different spot of your arm. Furthermore, our study suggests that clinicians are advised to provide information that reduces a patient's expectation about the strength of forthcoming pain prior to an injection.
About Marion Höfle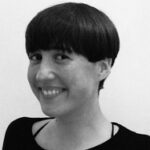 Marion is a doctoral student in the Multisensory Integration group at the Charité – Universitätsmedizin Berlin and in the Cognitive and Clinical Neurophysiology group at the University Medical Center Hamburg-Eppendorf. She is interested in how visual stimuli bias pain perception, autonomic nervous system activity and oscillatory responses in the brain.
References:
[1] Höfle, M., Hauck, M., Engel, A., & Senkowski, D. (2012). Viewing a needle pricking a hand that you perceive as yours enhances unpleasantness of pain PAIN, 153 (5), 1074-1081 DOI: 10.1016/j.pain.2012.02.010
[2] Longo, M., Betti, V., Aglioti, S., & Haggard, P. (2009). Visually Induced Analgesia: Seeing the Body Reduces Pain Journal of Neuroscience, 29 (39), 12125-12130 DOI: 10.1523/JNEUROSCI.3072-09.2009