Rene Descartes was a Philosopher Superstar in the 17th century. He was a French man living in The Netherlands, a devout catholic and a committed thinker. Descartes is famous for much – "I think therefore I am" perhaps more than others (actually – that makes me think of this scenario – Rene Descartes is sitting at the bar and the barman offers him yet another drink. He pauses, obviously pondering the wisdom, or not, of another beverage, then looks at the barman and offers his considered reply – "I think not". Then he disappeared).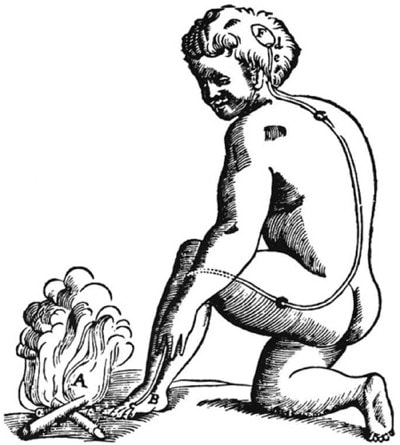 Descartes actually gets a pretty bad rap in pain communities, which is unfair because he really was a superstar. He revolutionised how humans thought about everything.  In fact, he revolutionised how humans thought. He also proposed the idea, made famous in the picture, that when the body is damaged it pulls on fibres that alert the brain to the pain.  Now, we know there is no mechanical pull, but this is still the way we often think about pain. It is certainly the way many of our patients think about their pain – that pain is a measure of tissue damage, that when pain increases, clearly tissue damage has increased, and that the only way to get over pain is to find the damaged bit, fix it, cut it out, denervate it or anaesthetise it.
So, we should remember that as we talk to a patient with 5 years of nasty back pain – that, in all we say and do, they are often looking for Descartes – looking for a way to confirm their current schema.  That's what we all do – look for confirmatory signals.  This is why I think we should be as careful about accuracy in what we say as we are about accuracy in what we do.