Low back pain effects up to 80% of the population at some point in their life time. Although national and international guidelines recommend exercise therapy as a best practice in the management of chronic low back pain (pain that has been present for 3 months or greater) the long term benefits of exercises to people with low back pain are minimal. As clinicians we are always trying to offer patients the very best treatment possible. Hence, investigating novel treatments that may have a greater long term impact for people with chronic low back pain was appealing.
We spend a large part of the day standing and walking in shoes. It has been suggested that footwear may have an effect on the way the body moves, body posture, and shock attenuation during gait – such biomechanical alterations have been suggested as contributing factors to the presence of back pain. Some manufacturers of rocker sole shoes have suggested that their footwear could have an impact on human biomechanics and hence impact back pain. As no robust scientific evidence supported these claims it was very appealing to conduct a high quality robust randomized clinical trial to determine if rocker sole shoes have a positive influence on the disability and pain associated with low back pain.
The study was conceived by Dr Jeremy Lewis (University of Hertfordshire) and conducted by researchers at King's College London, the University of Hertfordshire and within the NHS. We recruited 115 people with chronic lower back pain. Participants were randomised to wear either a rocker sole shoe or a flat shoe for a minimum of two hours each day while standing and walking for the duration of the study (one year). Participants also attended an exercise and education programme once a week for four weeks where they wore the allocated shoes. They were assessed using questionnaires which asked them to rate their level of disability and pain, in addition to outcomes assessing fear of movement, anxiety and depression, and satisfaction with the footwear received. Assessment occurred at the start of the study, six weeks (following attendance to the back exercise class); six months and one year.
At one year, both groups demonstrated a reduction in disability when compared to their baseline level; however, there were differences between the groups. After six months, more people wearing flat shoes reported a clinically important improvement in disability than people in the rocker sole group. In the traditional sports shoe group, those who reported back pain when standing and walking at the start of the study experienced a greater reduction in disability after 12 months than those in the rocker sole group. At 6 months and one year, people who received the traditional sports shoes were more satisfied with their footwear than those receiving the rocker sole shoe. There were no differences between the groups for any of the other secondary outcome measures assessed.
This research provides the first robust evidence showing that, contrary to claims made by manufacturers, rocker sole shoes appear to be no more beneficial than traditional flat sole shoes in reducing low back pain. Furthermore, if a person's chronic lower back pain is predominantly aggravated by standing or walking it may be more beneficial to wear a traditional sports shoe than a rocker sole shoe.
The study was funded by Masai GB Ltd, a manufacturer of rocker sole shoes. To their credit, the manufacturer was very keen to understand if their shoes made a difference to people with low back pain. Other shoe companies should follow their willingness to undertake robust high quality clinical trials before claims are made regarding a products potential benefits.
About Siân MacRae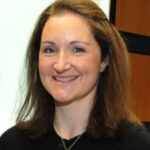 Siân is a musculoskeletal Extended Scope Physiotherapist working within the NHS (Chelsea and Westminster Hospital, London) and privately (Balance Performance Physiotherapy, London). She conducted her PhD through King's College London. She has a keen interest in low back pain, lower limb biomechanics, and conditions of the foot and ankle.
Reference
MacRae CS, Lewis JS, Shortland AP, Morrissey MC, & Critchley D (2013). Effectiveness of rocker sole shoes in the management of chronic low back pain: a randomized clinical trial. Spine, 38 (22), 1905-12 PMID: 23928715