In our recent review in PAIN, the journal of the International Association for the Study of Pain, we presented a provocative perspective on introducing dose-extending placebos in therapeutic plans to boost patients' outcomes while reducing use of painkillers (e.g, opioids).  This was based on our (and others') studies showing that placebos produced behavioral and biological responses mirroring those induced by active drugs.
Extensive research on placebo effects over the past several decades has expanded our knowledge of this fascinating psycho-neurobiological phenomenon. In this paper, we reviewed a database of 3,023 papers addressing various aspects of placebo and nocebo responses in medicine and beyond.  We selected 22 studies that indicated that placebos given after repeated administration of active treatments (e.g. morphine) acquire their own drug-like effect (e.g. pain reduction) in both animals and humans. We then discussed the idea that, if placebos can act as boosting agents and mimic the actions of active drugs, they might be administered to control pain and other symptoms without the side effects and further disadvantages associated with continued administration of active drugs.
In our paper, we presented the scientific rationale for the use of dose-extending placebos. Then we defended three theses about such a practice:
Dose-extending placebos given in an open fashion avoid the ethical difficulties associated with deception, which is consistent with professional norms governing disclosure and informed consent.
Disadvantages of placebo use, where it involves deception, involve the ethical problems associated with lying to or misleading patients: disrespect of the patient's autonomy, threats to a clinician's integrity, and potential damage to societal trust in the medical profession. These ethical problems have hovered like a dark cloud over the history of placebo use in clinical medicine. The cloud dissipates when deception is eliminated from the administration of placebos. For this reason, open-label use of placebos is especially important and promising from a clinical and ethical standpoint.
Where robust evidence indicates therapeutic benefit comparable to that of standard treatment we should take seriously the prospect of introducing open-label, dose-extending placebo use into the clinical arsenal.
In laboratory settings, human research has demonstrated that pharmacological conditioning with morphine induces robust analgesic responses when morphine is replaced with a placebo. In other words, if morphine and placebo are repeatedly given together (in a 'conditioning' procedure), the placebo can later be given alone, but still elicit an effect that resembles the effect of the morphine. In contrast, a placebo given without first being given with morphine induces only a modest increase in pain tolerability – the beneficial effect is smaller when a placebo is given without the pharmacological conditioning. The association of the placebo (as a 'conditioned stimulus') with an active (and most importantly, effective) treatment produces placebo-conditioned responses that could allow patients with distinct diseases to be treated effectively with a lower dose of medication.
Evidence of the dose-extending power of placebos raises these questions: Is such use of placebos a form of medical enhancement? If further studies confirm these initial findings, should we consider the possibility of introducing dose-extending placebo use into the clinical arsenal? Might such placebo use become a major component of clinical medicine?
Dose-extending placebo use activates healing mechanisms that would otherwise be "silent".  In this way, it either improves or creates a patient's capacity for activating internal healing mechanisms. Patients are more able to ameliorate the effects of their medical condition—and with fewer disadvantages, such as side effects, associated with a full course of treatment.
With sufficient understanding of the underlying placebo mechanisms, conditioned analgesic responses can be strategically elicited via a planned sequence of medication and conditioned cues—with potential relevance to clinical practice.  These effects could be therapeutically exploited by integrating placebos such that they acquire the properties and characteristics of the active treatment (e.g. morphine). Thus, dose-extending placebo use could become another pharmacotherapeutic strategy, one that preserves therapeutic benefits while reducing side effects, dependence and tolerance.
As for any development process, confirmatory studies focusing on safety, feasibility, and dose reduction optimisation are essential before pre-authorised dose-extending placebos can potentially be introduced in therapeutic pain management plans.
About Luana Colloca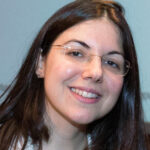 Luana Colloca is an NIH-funded principal investigator who has established an independent program of research on human pain modulation from both a mechanistic and translational viewpoint. Her team explores the role of neurobehavioral and genetic influences on a newly described model namely expectancy-induced analgesia, in patients suffering from chronic pain.
During her time as an MD student, she discovered her passion for neuroscience while attending the course of neurophysiology and decided to pursue her path in research as a physician-scientist. She holds an MD, a PhD in Neuroscience and a master degree in Neuroethics from the University of Turin School of Medicine, Italy. She completed a post-doctoral training at the Brain Imaging Center at the Karolinska Institute, Stockholm, Sweden.
After a five year senior research fellowship at the National Institutes of Health in Bethesda, she joined the University of Maryland School of Nursing and School of Medicine in Baltimore serving as a faculty. Luana has published numerous peer-reviewed journal articles and co-edited three books for Elsevier, Johns Hopkins University, and Lambert Press. Many of these articles appear in top-ranked international journals including, Biological Psychiatry, Pain, JAMA, Nature Neuroscience, and Lancet Neurology, among others. Luana has received several international honors such as the 2008 Ronald Dubner International Research Prize, the 2009 EFIC Prize for exceptional researcher in the field of pain, the NIH High Performance Awards and the 2016 IASP Patrick Wall Award.
Reference
Colloca L, Enck P, DeGrazia D. Relieving pain using dose-extending placebos: a scoping review. Pain. 2016 Aug;157(8):1590-8. doi: 10.1097/j.pain.0000000000000566.