In the 21st century, it is hard to imagine pain was once conceptualized as a simple sensory experience. Indeed, pain might be easier to treat if the experience were linearly related to the amount of tissue damage. For better and worse, our experience of pain is anything but straight-forward; it is wrapped up in a complex interaction between biological, psychological, and social processes. Although we have made significant advances in our understanding of pain, we have a long road ahead of us if we are to "crack the code" of pain.
It is through the biopsychosocial perspective that we can begin to appreciate racial/ethnic group variability in the pain experience. Decades of research have noted racial/ethnic group differences in the experience of pain, with the most studied groups being non-Hispanic White and African American individuals. In both healthy and chronic pain samples, African American individuals report greater pain sensitivity compared to non-Hispanic White individuals [1,2]. Why is this? The short answer is, we don't entirely know. Due to excellent, world-wide research, however, we have gained  a far better understanding of the biopsychosocial factors that contribute to racial/ethnic differences in pain.
For example, previous work from our laboratory found that perceived racial discrimination was associated with greater sensitivity to thermal heat among African American individuals with knee osteoarthritis (OA) [3]. We posited that prolonged exposure to chronic stressors among African American individuals, like perceived racial discrimination, may lead to the deterioration of the body's natural defenses against painful stimuli. One of the body's defenses against pain is cortisol, commonly known as the "stress hormone." While more work is needed to elucidate the exact role of cortisol in pain, it is generally accepted that the acute activation of cortisol from an acute stressor is protective, while the chronic activation of cortisol from a chronic stressor is destructive [4]. When cortisol is activated over a prolonged period of time, eventually the body cuts back on the production of cortisol. If the body is unable to mount a proper defense against a painful experience, the ending result might be heightened pain.
My colleagues and I were interested in examining differences in cortisol between African American and non-Hispanic White individuals with knee OA undergoing an experimental pain procedure, the cold-pressor task [5]. This is a common task used within the pain field where participants submerge their hand in painful cold water and report on their experiences. We predicated that 1) African American participants would report greater pain during the cold-pressor task compared to non-Hispanic White participants, 2) greater cortisol concentrations would be predictive of lower pain ratings in non-Hispanic White participants, but not African American participants, and 3) perceived racial discrimination would be related to lower cortisol concentrations and greater pain ratings among African American participants.
We invited 91 African American and non-Hispanic White community-dwellers from the Birmingham, Alabama area between the ages of 45 and 85 with knee-OA to participate. Participants filled out a questionnaire to capture the overall number of perceived racial discriminatory events in their lifetime. We measured cortisol at 3 time points: baseline, immediately before the cold-pressor task, and 20 minutes after the cold-pressor task. Contrary to hypothesis 1, we did not find differences in pain ratings during the cold-pressor task. Consistent with hypothesis 2, greater cortisol immediately before the task was related to lower pain ratings in non-Hispanic White participants, but not in African American participants. Contrary to hypothesis 3, we found no relationships between perceived racial discrimination and cortisol or pain ratings among African American participants.
Our study was the first investigation to show that the relationship between cortisol and pain sensitivity differs between African American and non-Hispanic White individuals with knee OA. Our findings suggest there may be racial/ethnic differences in how the body naturally defends itself from a pain experience, and therefore has important implications for future research and clinical care. While our other hypotheses were not supported, when we analyzed a larger sample (N = 267), we found that African American participants demonstrated greater pain sensitivity during the cold-pressor task than non-Hispanic White participants [6]. Further, our non-significant findings between perceived racial discrimination and cortisol and pain ratings led to a re-conceptualization of how to measure the intended construct. For example, past research has demonstrated the importance of assessing the internalization of negative racial bias (e.g., the extent to which African American individuals agree with racist stereotypes) when considering the negative health consequences of perceived racial discrimination [7,8]. Thus, like most science, our findings shed light on the problem we are trying to understand while simultaneously illuminating what future work is needed.
About Matt Herbert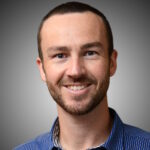 Matt is currently a postdoctoral fellow at the Center of Excellence for Stress and Mental Health at the VA San Diego Healthcare System. This study was completed as part of his PhD at the University of Alabama at Birmingham under the guidance of Dr. Larry Bradley. His current research focuses on the relationship between pain and trauma-related conditions, and mindfulness-based treatments for veterans with chronic pain.
References
[1] Rahim-Williams B, Riley JL, Williams AK, et al. A quantitative review of ethnic group differences in experimental pain response: do biology, psychology, and culture matter? Pain Med 2012;13:522-540.
[2] Allen KD, Oddone EZ, Coffman CJ, et al. Racial differences in osteoarthritis pain and function: potential explanatory factors. Osteoarthritis Cartilage 2010;18:160-167.
[3] Goodin BR, Pham QT, Glover TL, et al. Perceived racial discrimination, but not mistrust of medical researchers, predicts the heat pain tolerance of African Americans with symptomatic knee osteoarthritis. Health Psychol 2013;32:1117-1126.
[4] Hannibal KE, Bishop MD. Chronic stress, cortisol dysfunction, and pain: a psychoneuroendrocrine rationale for stress management in pain rehabilitation. Phys Ther 2014;94:1816-1825.
[5] Herbert MS, Goodin BR, Bulls HW, et al. Ethnicity, Cortisol, and Experimental Pain Responses Among Persons With Symptomatic Knee Osteoarthritis. Clin J Pain 2017;33(9):820-826.
[6] Cruz-Almeida Y, Sibille KT, Goodin BR, et al. Racial and ethnic differences in older adults with knee osteoarthritis. Arthritis Rheumatol 2014;66:1800-1810.
[7] Chase DH, Nuru-Jeter A, Adler NE, et al. Discrimination, racial bias, and telomere length in African-American men. Am J Prev Med 2014;46:103-111.
[8] Tull ES, Sheu YT, Butler C, et al. Relationships between perceived stress, coping behavior, and cortisol secretion in women with high and low levels of internalized racism. J Natl Med Assoc 2005;97:206-212.