Numerous psychological factors are associated with chronic low back pain (CLBP) and disability. Clinically, it would appear that the psychological profiles of individuals with CLBP can be dominated by different psychological factors. For example, some people are significantly depressed while others might exhibit strong fear-avoidance beliefs. In our recent study, available online from the Clinical Journal of Pain[1], we used statistical procedures to determine whether there were subgroups of people with CLBP with differing psychological profiles. Taking a statistical approach to identify clusters within the sample helps minimise bias when trying to detect subgroups of people with CLBP with different clinical profiles.
"However," I hear you say, "we know that for interventions tailored towards psychologically-derived CLBP subgroups, outcomes have still been suboptimal!" This suggests that psychological factors are probably not the whole story, and that interventions need to consider the contemporary view of CLBP as a complex, multidimensional disorder. So to take our study a step further, we examined the multidimensional profiles of the different psychologically-derived subgroups. We looked at the differences between the subgroups in terms of demographic factors, pain characteristics, health and lifestyle factors, tissue sensitivity and movement related factors.
Our 294 participants with axial CLBP were split into three subgroups. Subgroup 1 (23.5%) had low scores across all psychological variables. Subgroup 2 (58.8%) had relatively low negative affect scores and moderately high scores on cognitive variables. Subgroup 3 (17.7%) had high scores across all variables. All psychological measures taken could be compared to questionnaire cut-off scores and published normative data. Stress appeared slightly elevated in Subgroup 2 compared to healthy control data[2]. Subgroup 3 had extremely severe depression, severe anxiety and moderate stress[3]. Subgroup 3 also had clinically-relevant levels of pain catastrophizing[4]. Scores for pain self-efficacy worsened from Subgroup 1 to Subgroup 3, as did stressful life events. Fear-avoidance beliefs were higher in all subgroups than healthy controls[5], and highest in Subgroup 3.
What was really interesting was how the multidimensional profiles also varied across psychological subgroups. Subgroup 1 had lower pain intensity and less bothersome CLBP. They also had less pain provocation with movement. Disability increased from Subgroup 1 to Subgroup 3. Subgroup 3 also had greater lumbar region pressure pain sensitivity, more comorbid symptoms, more widespread pain and more pain provocation with movement than other subgroups. Mindfulness decreased from Subgroup 1 to Subgroup 3 and all subgroups had higher distortion of low back region body perception than healthy controls[6] and significant sleep disturbance[7].
Similarities exist between our three Subgroups, and those from previous studies, suggesting possible common high and low-scoring psychological presentations, and possibly an intermediate subgroup with relatively low affect, but relatively high fear-avoidance beliefs[8-12]. But as we said earlier, interventions tailored towards such psychologically-derived CLBP subgroups outcomes have still been suboptimal. However, the broad multidimensional profiling in our study was novel, and to help us move forward we hope that these profiles may highlight other pieces of the jigsaw to which management strategies can be tailored.
Continuing the theme of investigating psychological factors relating to low back pain, Martin, as part of Pain at Neuroscience Research Australia, is looking for 200 clinicians to answer a 10 minute questionnaire on the role of acceptance in chronic pain. To get involved e-mail m.rabey@neura.edu.au.
About Martin Rabey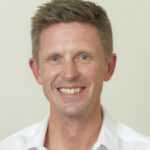 Martin, originally from Guernsey in the Channel Islands, is a Specialist Musculoskeletal Physiotherapist (As awarded by the Australian College of Physiotherapists in 2009). He recently completed his PhD at Curtin University, examining the complex interactions between factors which make low back pain persist. He continues to research low back pain at Neuroscience Research Australia.
References
[1] Rabey M.; Smith A.; Beales D.; Slater H.; O'Sullivan P. (2016) Differing Psychologically Derived Clusters in People With Chronic Low Back Pain are Associated With Different Multidimensional Profiles. Clinical Journal Of Pain; DOI: 10.1097/AJP.0000000000000363
[2] Mitchell T, O'Sullivan P, Smith A, et al. (2009) Biopsychosocial factors are associated with low back pain in female nursing students: A cross-sectional study. International Journal of Nursing Studies. 46: 678-688.
[3] Lovibond S and Lovibond P. Manual for the depression anxiety stress scales. Sydney: School of Psychology, University of New South Wales, 1995.
[4] Sullivan M. The Pain Catastrophising Scale. User Manual [Online]. 1995. Available at:
http://sullivan-painresearch.mcgill.ca/pdf/pcs/PCSManual_English.pdf Accessed January 23rd 2015.
[5] Dedering Å and Börjesson T. (2013) Assessing fear-avoidance beliefs in patients with cervical radiculopathy. Physiotherapy Research International. 18: 193-202.
[6] Wand BM, James M, Abbaszadeh S, et al. (2014) Assessing self-perception in patients with chronic low back pain: Development of a back-specific body-perception questionnaire. Journal of Back and Musculoskeletal Rehabilitation. 27: 463-473.
[7] Buysse DJ, Reynolds CF, Monk TH, et al. (1989) The Pittsburgh sleep quality index: A new instrument for psychiatric practice and research. Psychiatry Research. 28: 193-213.
[8] Viniol A, Jegan N, Hirsch O, et al. (2013) Chronic low back pain patient groups in primary care – a cross sectional cluster analysis. BMC Musculoskeletal Disorders. 14: 294.
[9] Strong J, Large R, Ashton R, et al. (1995) A New Zealand replication of the IPAM clustering model for low back patients. Clinical Journal of Pain. 11: 296-306.
[10] Boersma K and Linton S. (2005) Screening to identify patients at risk: Profiles of psychological risk factors for early intervention. Clinical Journal of Pain. 21: 38 – 43.
[11] Barons MJ, Griffiths FE, Parsons N, et al. (2014) Matching patients to an intervention for back pain: Classifying patients using a latent class approach. Journal of Evaluation in Clinical Practice. 20: 544-550.
[12] Hirsch O, Strauch K, Held H, et al. (2015) Low back pain patient subgroups in primary care – pain characteristics, psychosocial determinants and health care utilization. Clinical Journal of Pain. In Press
Commissioning Editor: Ben Wand; Associate Editor: Joao Caneiro