I'm a little late to this one but an interesting disagreement recently emerged in the letters to the editor in the journal Pain. This focused around a recent study from the impressive Arthritis Research Campaign National Primary Care Centre at Keele University, UK into the psychological obstacles to recovery from low back pain.
The study looked at the relative influence of a battery of psychological factors measured when a large group of patients presented to their GP with the patients' outcome 6 months later. Using multivariate modelling (complicated but the best way of tackling it) they were able to estimate the relative unique influence of each of these factors, and to drop those that were redundant (i.e. did not uniquely contribute to outcome). This is good stuff and whilst a number of observational studies have been published that investigated factors related to prognosis in back pain, few if any have focused on psychological variables so systematically.
In their final model four psychological variables were found to be uniquely associated with outcome: perceptions of personal control, acute/chronic time-line, illness identity and pain self-efficacy and many psychological factors that are commonly considered important (e.g. catastrophising, depression, fear-avoidance) were found to be redundant. The authors report that the combined statistical model including these variables explained 56.6% of the overall variance in patient outcome. And this is where the debate arises – the overall model does explain 56.6% of the variance but the psychological variables themselves uniquely explain much, much less (approximately 6%). The central concern of the papers critics is that the results are discussed in a way that appears to drastically exaggerate the relative influence of psychological variables. The authors in turn defend their methods and reporting. Ultimately it is a semantic argument and for the reader to decide. The letters can be found here and here.
Out of this argument comes something quite striking (to me at least). There is a huge emphasis on psychological variables in research and current care for low back pain. My experience (the usual biased, unreliable, non-replicable shambles) tells me that this is justifiably so. But in this rigorous study the four psychological variables found to have a unique influence individually explained just 2.5% of the variance or less. The big players were the level of disability when the patient arrived at the GP and demographic factors which together explained 50%.
It would be great to pool similar data from all the other observational studies and reviews. A number of studies (see here and here) have tried this but despite a fair number of studies they have been hampered by varying methods, measures, study quality and an overall inconsistency of results. The holy grail of methodological consistency looms large over this one. Overall though psychological variables seem to fade in and out of these studies and the real factor with staying power seem to be the initial severity of the condition (in terms of pain or disability). Ben Wand makes a great point (as always) that things are always more complex– if say, we are measuring which factors predict disability further down the line we should not be surprised that the level of disability at baseline outcompetes everything else in our statistical models. Cross-sectional studies demonstrate that psychosocial variables contribute fairly strongly to current disability levels in back pain patients and so in an effort to reduce disability (and thereby attempt to improve prognosis) they remain important clinical considerations.
I think there are two or three possible explanations for the results of the Keele study if they are replicated elsewhere. The first is that psychological factors play a minor unique role in the progression of low back pain and its outcome. The second is that our ability to identify and measure the important  psychological variables and to build statistical models that adequately reflect the complexity of the problem is not sufficient to do the question justice (although the researcher in me knows that this smacks of rescue bias*), and the third, well that's somewhere in between….Discuss!
About Neil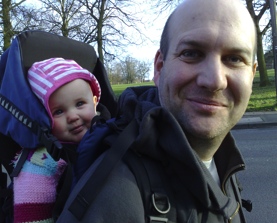 Neil O'Connell is a researcher in the Centre for Research in Rehabilitation, Brunel University, West London, UK. He divides his time between research and training new physiotherapists and previously worked extensively as a musculoskeletal physiotherapist. He also tweets! @NeilOConnell
He is currently fighting his way through a PhD investigating chronic low back pain and cortically directed treatment approaches. He is particularly interested in low back pain, pain generally and the rigorous testing of treatments. He also tends to get all geeky over controlled trials.
*Rescue bias—discounting data by finding selective faults in the experiment (Kaptchuk 2003)
References

Foster NE, Thomas E, Bishop A, Dunn KM, & Main CJ (2010). Distinctiveness of psychological obstacles to recovery in low back pain patients in primary care. Pain, 148 (3), 398-406 PMID: 20022697
Foster, N., Dunn, K., Bishop, A., & Main, C. (2010). Response to letter by Roelofs et al. Pain, 150 (1), 208-209 DOI: 10.1016/j.pain.2010.04.015
Hayden JA, Chou R, Hogg-Johnson S, & Bombardier C (2009). Systematic reviews of low back pain prognosis had variable methods and results: guidance for future prognosis reviews. Journal of clinical epidemiology, 62 (8), 781-7960 PMID: 19136234
Kaptchuk, T. (2003). Effect of interpretive bias on research evidence BMJ, 326 (7404), 1453-1455 DOI: 10.1136/bmj.326.7404.1453
Kent PM, & Keating JL (2008). Can we predict poor recovery from recent-onset nonspecific low back pain? A systematic review. Manual therapy, 13 (1), 12-28 PMID: 17658288
Roelofs PD, Bramsen I, & Kuiper CH (2010). Psychological constructs are of minor predictive value in the course of low back pain in primary care: Call for correction of Foster et al. Pain, 150 (1) PMID: 20434841
All blog posts should be attributed to their author, not to BodyInMind. That is, BodyInMind wants authors to say what they really think, not what they think BodyInMind thinks they should think. Think about that!