Guidelines are so in aren't they?  I guess this is what happens when evidenced based medicine begins to take hold. Broadly speaking, I reckon it is a good thing.  There are caveats of course – see the furore that can emerge when powerful groups don't like the guidelines – all the more likely when there is not much evidence around on which to base guidelines, or when the evidence that does exist comes from a different health care setting to our own.  That last problem has prompted the development of guidelines for treating fibromyalgia in a physical therapy setting.  It seems a sensible endeavour and we have asked one of the authors of these guidelines to give us a quick run-down.  Fortunately for us, Jo from Belgium has taken the time to put down his chocolate and beer and write this:
How should primary care physiotherapists treat fibromyalgia?
Physiotherapists often see patients with fibromyalgia (FM) in primary care. However, guidelines for the treatment of FM are based primarily on outcome from multidisciplinary and tertiary care treatment studies. This leaves primary care physios wondering: can I actually help these patients or should I send them directly to a specialized centre for multidisciplinary care? The latter is not always possible due to the limited availability of such centres and the long waiting lists. Therefore, Physical Therapy Journal published practice guidelines on how to treat fibromyalgia patients in primary care[1]. The paper is co-authored by Kaisa Mannerkorpi (Sweden), who is the world leading FM expert of the physiotherapy profession.
Primary care physical therapy for patients with FMS should include (pain physiology) education, aerobic exercise, and strengthening exercise. For other treatment components like passive treatments, activity management and relaxation, less evidence is currently available to advocate its use in primary care physical therapy. Superior results are to be expected when various treatment components are combined. Don't expect miracles from this. Just try to think positive and try to make your FM patients think positive (of the treatment outcome)! Benefits in terms of improved functioning are to be expected, yet physiotherapy is not a cure for FM.
Information for manual therapists treating patients with FMS in primary care can be found in Manual Therapy Journal. The paper[2] explains how manual therapists can account for the sensitized central nervous system when treating patients with FM.
About Jo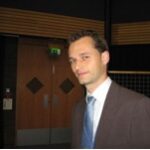 Jo Nijs holds a PhD in rehabilitation science and physiotherapy. He is a researcher and assistant professor at the Vrije Universiteit Brussel (Brussels, Belgium) and the Artesis University College Antwerp (Belgium), and he is a physiotherapist at the University Hospital Brussels. His research and clinical interests are patients with chronic unexplained pain/fatigue. He has (co-)authored more than 100 peer reviewed publications and served over 40 times as an invited speaker at national and international meetings.
References

[1] Nijs J, Mannerkorpi K, Descheemaeker F, & Van Houdenhove B (2010). Primary care physical therapy in people with fibromyalgia: opportunities and boundaries within a monodisciplinary setting. Physical therapy, 90 (12), 1815-22 PMID: 20847036
[2] Nijs J, & Van Houdenhove B (2009). From acute musculoskeletal pain to chronic widespread pain and fibromyalgia: application of pain neurophysiology in manual therapy practice. Manual therapy, 14 (1), 3-12 PMID: 18511329