One of the best workshops I attended at the IASP congress in Milano was on placebo analgesia, run by three very classy speakers: Luana Colloca, Ulrike Bingel, and Regine Klinger.
I learnt lots about the neurobiological mechanisms of placebo and nocebo, and came away with lots to ponder.  This is what I learnt:
The rostral anterior cingulate cortex (rACC) is active in the placebo response, and may be part of the descending pain-modulating system, particularly given its connections with the periaqueductal grey (PAG)—a structure known to be involved with descending pain modulation.  Interestingly the coupling between these structures is inversely correlated with pain-related activity in the primary somatosensory cortex.  And the white matter tract integrity between the rACC and the PAG is correlated with one's capacity for placebo analgesia.
And this is what's really got me thinking:
According to findings from neuroimaging studies, we create a nocebo response (the opposite of placebo, i.e. the expectation of increased pain leading to increased pain) faster than we do a placebo response.  I wonder why this is.
One of the speakers suggested that perhaps hidden treatments, i.e. harnessing the power of placebo analgesia, are more transferrable to the clinic than we realise.  Think of all those patients who leave the clinic setting unaware of, for example, what medications they've been put on or what spinal manipulation they've undergone.  While contentious I can understand where the speaker was coming from, and I agree with her in that we need to somehow use the power of placebo analgesia to our advantage in the clinic.
So it was controversial (there was nearly a fight), but I bet I'm not alone in saying I don't mind a bit of controversy if those involved have informed opinions.  And that's what this was: a well delivered presentation of the latest research, along with honest, brave and very well-informed opinions.
Flavia Di Pietro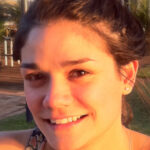 Flavia Di Pietro is a PhD student in the Body and Mind Research Group, Sydney. She is investigating the development of Complex Regional Pain Syndrome (CRPS) after wrist fracture. Specifically, Flavia's PhD involves brain scanning people who are in a higher than usual amount of pain in the first 3 weeks after the fracture, and then following them for a few months. Her question concerns whether or not there are changes in brain activation patterns that emerge before the CRPS does and if so, what do they tell us about the condition? Here is Flavia talking about what she does and a link to her published research. BiM author's downloadable PDFs can be found here.