People round here are getting spoilt with the smorgasbord of exciting pain-related events that are going on at the moment. We kicked it off last November with the Ride for Pain – a few hundred people riding for 2, 4, or 6 hours, taking on their personal pain challenge. The tough nuts covered 100km and climbed 2600m, before rolling to the village for a massage and free milk. Free milk?!? Well skim or light milk is actually one of the very best recovery drinks known to science and we can thank A2 Milk for handing it out on the day. Here is a video that David Butler and the NOI team made on the day – check it out:
This week saw over 40 Adelaide physiotherapists get together as part of the new Physiotherapy pain network – Di Wilson has rallied a fine group of people and apparently they were chatting into the night on all manner of pain-related stuff. I wasn't there because I was about a mile away presenting along with Paul Rolan at the Pfizer Placebo Dinner. 100 of us, discussing what Paul calls – 'the clinician's friend and the trialist's enemy' and what I called, only half tongue in cheek, 'a bit daft'.
March 15-18 is the Australian Pain Society meeting (see right sidebar) in Brisbane – Herta Flor, Tim Deer, Mary Lynch and Frank Porreca head a top shelf group of speakers for three days of lectures, workshops and social events.
March 27-29 will see David Butler, Bob Coghill, Kevin Vowles and I get together to present the second annual 3 day Explain Pain Festival (see right sidebar) 'EP3' –cutting edge physiology, brain science, psychology, cognitive neuroscience and clinical skills training. We have put together a terrific programme for a clinically-focussed but 'no rest for the wicked' kind of long weekend – we are really excited.  March 30th is PainAdelaide – probably the best little pain meeting in the world – a day of cutting edge presentations from some world leaders and a chance to chew the fat with like minded people from across a range of fields and disciplines (see right side bar). It is lucky that April starts with Easter because we will all need a rest and a good way of coping with the sudden absence of world class, highly stimulating and terrifically important activities.
Wish you lived here?
About Lorimer Moseley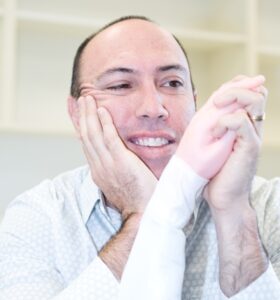 Professor Lorimer Moseley is a clinical scientist investigating pain in humans. After posts at The University of Oxford, UK, and the University of Sydney, Lorimer was appointed Foundation Professor of Neuroscience and Chair in Physiotherapy, The Sansom Institute for Health Research at the University of South Australia. He is also Senior Principal Research Fellow at NeuRA and an NHMRC Principal Research Fellow.
He has published 160 papers, four books and numerous book chapters. He has given over 120 keynote or invited presentations at interdisciplinary meetings in 26 countries and has provided professional education in pain sciences to over 7000 medical and health practitioners. He consults to governmental and industry bodies in Europe and North America on pain-related issues. He was awarded the inaugural Ulf Lindblom Award for the outstanding mid-career clinical scientist working in a pain-related field by the International Association for the Study of Pain, was shortlisted for the 2011 and 2012 Australian Science Minister's Prize for Life Sciences, and won the 2013 Marshall & Warren Award from the NHMRC, for the Best Innovative and Potentially Transformative Project.
Link to Lorimer's published research here. Downloadable PDFs here.