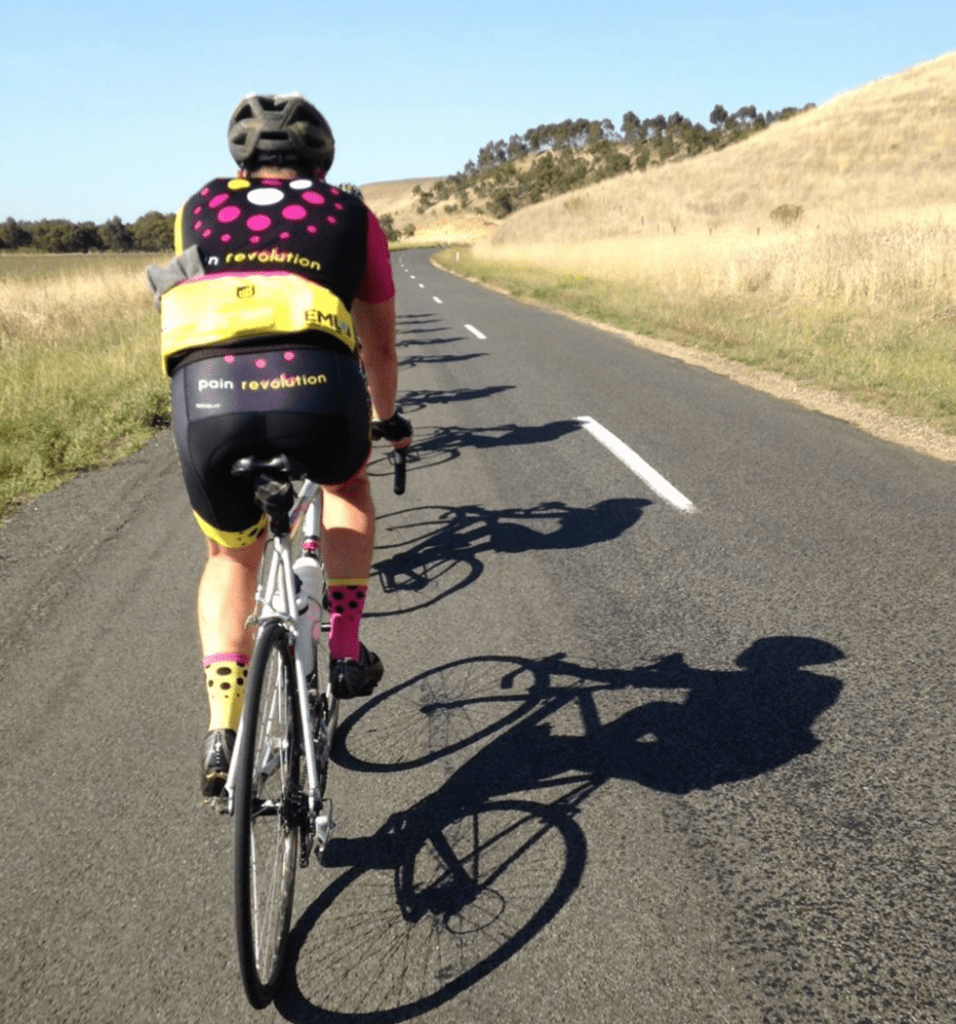 The journey from southern Australia from Melbourne to Adelaide has begun and is now in its second day. Check out the daily happenings and in the meantime this is a reminder of why cyclists are riding nearly 900km this week:
The contribution of rural Australia cannot be underestimated. For a long time, we rode "on the sheep's back" and nowadays our agriculture and resources make massive contributions to our bottom line.
Yet still rural and regional populations have a tougher time with health. Rural life exposes people to specific health risks – arthritis and accidental injuries are more prevalent in the Bush. It's harder to access specialized services, there are fewer practitioners per resident, not to mention the physical challenges faced by many – the sheer distance between the person in need and the right health practitioner can make it impossible. All in all, best care is harder to get in The Bush.
But there is another side to this. Rural communities are strong and resilient – they truly are communities. They score higher than their big city counterparts on indicators of happiness – thought to be due in part to community spirit that pervades rural and regional areas. The Bush has are higher levels of civic participation, social cohesion, social capital, volunteering and informal support networks from neighbours, friends and the community.
Pain Revolution is jumping on a rare situation – massive need AND massive opportunity.  The need is clear – The Bush is buckling under the burden of persistent pain. The opportunity is equally clear – rural communities already have what it takes to revolutionise the prevention and treatment of persistent pain. We want to help them make it happen.
We have worked hard to raise over $77, 000 (so far!) that will go towards the grand aim of creating a Rural Pain Educator network. We will train and support local pain education experts. We know that the right pain education helps people to recover from persisting pain and increases the likelihood that those with an acute episode of pain recover in good time. Here's the six ways we're going to put that in action this week:
1.  Meet People and Hear their Stories
We want to understand as best we can the problems rural Australians face when dealing with pain. We're looking for as many ways as we can to meet with people and talk with them – we're running the Brain Bus, Public events and health professional events. We want to be able to have real conversations with people about pain, and its impact on their lives.
2. Understand Communities and their Needs
People live in communities, and not all communities are the same. To create a program of local pain educators, we're going to have to understand the communities we visit. We are working hand in hand with local organisations, health professionals and health services to plan the best approach to kickstarting a programme that really works for each location into the future.
3. Find the Right People
We've been absolutely blown away by two of our education partners National Centre for Farmer Health and the University of South Australia Department of Rural Health. With their enormous assistance we are able to reach out to rural health networks, and understand those professionals who have the desire and the enthusiasm to come on the Pain Educator journey with us. These people will take a key role in their communities in teaching people about pain. Our educational team is absolutely world class – past President of the Australian Pain Society Dr Malcolm Hogg from Royal Melbourne Hospital; internationally renowned spinal surgeon and neurosurgeon YH Yau; pain physiotherapist Tim Bass from the International Spine Centre; Royal Adelaide's Pain Specialist Dr Tim Semple; the world-renowned Pain Educator Dr David Butler; PainMatrix specialist Dr Diarmuid McCoy; Australian Pain Society's Rising Star Dr Tasha Stanton; Sydney University's back pain expert Dr Steve Kamper; and of course, the dude behind the whole thing Professor Lorimer Moseley. This is one incredibly credentialed team.
4. Teach Information and Grow Skills
We're poised and ready to support locals in heading down the "Explain Pain" road. What's on that road? A comprehensive curriculum of understanding the biopsychosocial model of pain, the neurobiological mechanisms of pain but most importantly, how to talk about pain and help people change their stories and beliefs about it. We will be empowering these people to get out in their communities, and work with their existing health infrastructure to provide a much needed source of support for people with persisting pain.
5. Provide support and information
Learning the information about pain, and how to apply it isn't a one-stop event. To be able to use and implement new ideas and skills takes practice, support and feedback –  we won't be leaving our educators out there alone! We'll be supporting them to support their communities, with the information and practical support they will need to thrive.
6. Grow the concept
The inaugural Pain Revolution will visit the stretch of southern Australia from Melbourne to Adelaide. It happens to match up with some communities in the midst of a serious opiate problem – a problem we health professionals started and one we health professionals ought to help solve. But Australian is a big place and the same sort of problems apply all over this Great South Land. What's more, the same problems are affecting countries the world over. If we can nail this Pain Revolution concept, we hope that others will take it on. We know it is feasible. We know it leads to real world benefits. We know it is much less expensive than what we are all doing now. We can scale this educational model up, but for now,  we are doing what our fundraising allows us to do – taking it one community in need at a time.
We're sharing our story out on the road through the PainRevolution blog, and through Facebook. You can see their Events page HERE  and please share this information with people in those areas that can benefit from attending.
This article was first published on PainRevolution.