A few years ago, I was sitting in a conference listening to what was pretty cool science. I remember thinking 'this is a nice little development'. I looked around the theatre. I recognised faces – eminent scientists and promising early career researchers; experts of this and that.
Then it struck me: these meetings can be great for our collective self-esteem, acknowledging our contributions to humanity, nudging the field forward step by step.
But, just outside the conference centre, a massive problem remains:
millions of people are still suffering from persistent pain, many needlessly
most are still getting bad advice
most are still terrified that their body is crumbling, their hope fading fast and their outlook grim indeed.
I thought to myself – Enough. Enough! 
I must have been very absorbed in these reflections because the person behind me tapped me on the shoulder and asked 'enough what?' 'Enough of keeping all this stuff in-house' I said. 'Enough pursuing specifics at the expense of sharing the general stuff. Enough waiting until we have a perfect story to tell, a sure-fire solution to the problem of persistent pain. We have made sufficient gains to actually change lives. We just need to get this stuff to the people who need it".
So, welcome to the Pain Revolution. Our aim is to generate genuine system change by sharing the exciting pain science discoveries of the last 30 years with everyone.
First, we focus on rural and regional Australia, where the challenges are greatest. We want to create science-informed communities that will together change clinical practice towards top-notch care. We want to establish networks of health professionals that are informed, supported and nurtured in their own journey towards a better understanding of modern pain science and care. We want to build bridges between patients and practitioners, community groups, researchers and stakeholders.
Our vision is bold: that every Australian will have the knowledge, skills and access to local support to prevent and overcome persistent pain. This bold vision will only be realised if we all work together.
About Lorimer Moseley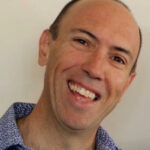 Lorimer is Foundation Chair in Physiotherapy and Professor of Clinical Neurosciences at the University of South Australia, and Senior Principal Research Fellow at Neuroscience Research Australia. He has published over 300 scholarly works. His H-index is 71. He leads the Body in Mind Research Group, which investigates the role of the brain and mind in chronic pain.