Acute low back pain is inherently worrying; often there is no clear cause, no effective treatment, and a widely variable time frame in which you can expect to recover. Happily for many, the prognosis is good – they can expect to be a lot better within a matter of weeks. Sadly, for the others, we know all too well where that road can lead.
One of the biggest challenges in back pain today is to figure out how to keep people from heading down that road. So when faced with a worried patient with acute low back pain and a disappointing array of available treatments, what is the clinician to do? Guidelines specify that patients be advised on their favorable prognosis, on staying active, and on simple analgesics (or perhaps not?).[1] They also emphasise that patients should be provided with reassurance.
It certainly is a logical recommendation – that patients be reassured – and it got us to thinking about the best way to achieve this in primary care. When we looked at the literature on reassurance, we found surprisingly little in low back pain. In fact, there was very little literature on reassurance at all. This seemed to fly in the face of the widespread recommendations contained not just in guidelines for back pain, but in several other guidelines for non-specific conditions like irritable bowel syndrome and non-specific chest pain. Of course, not all guideline recommendations can be based on high quality evidence, but they should be logical and unlikely to cause much harm. And surely no harm can be done from providing a little bit of thoughtful reassurance, right?
Wrong. There is now compelling evidence that attempts at reassurance can be harmful. This is not an unfamiliar story: doctor provides advice, "there's nothing seriously wrong with you", and hands over a sheet of paper stating that your test result is negative. Meanwhile, your symptoms have not changed. In their hallmark paper, [2] Lucock et al observed patients after consultations just like this. Although patients left the consultation feeling slightly better, their worries returned with a vengeance, to levels higher than before they saw the doctor! Steve Vogel et al have provided further insight into this phenomenon in their systematic review[3] discussed here on BiM. They showed that emotional reassurance, e.g. "everything is going to be ok" can lead to more worried patients who have worse clinical outcomes.
When you think about it, this is something we see all the time in back pain. A perfect example is the provision of diagnostic imaging results. We now have evidence that imaging for low back pain is not reassuring, [4] is costly,[5] doesn't improve outcome [6] and is probably harmful. [7] So imaging is out, if you are looking to reassure your patient. The next most obvious method to reassure patients is to sit them down and educate them about the problem. Explain what back pain is, and what you should do about it.
But is educating patients about acute low back pain actually reassuring, or does it backfire? To answer this question we performed a systematic review and meta-analysis [8] that combined the results of randomised studies that tested one-to-one education sessions in patients with acute low back pain and also measured reassurance after intervention. Reassurance was defined as any measure of fear or concern.
We included 14 randomised trials on a total of 4872 patients. Education sessions ranged from a GP-endorsed booklet through to 6 sessions of fairly intensive education that included some cognitive behavioral principles. We found that formal patient education is more reassuring than usual care (standardized mean difference [SMD] 0.21, 95% CI, -0.35 to -0.06) and this effect was maintained for 12 months. Patient education also reduced healthcare use. The effect was small but likely to be clinically worthwhile considering the cost (cheap) and duration (brief) of the intervention.
We also did some pre-planned subgroup analyses, the results of which some of you will cringe at. Doctors were significantly more reassuring than physios or nurses (SMD 0.38 for docs vs SMD 0.00 for physios) Really? We can only speculate on the reason behind this effect – perhaps credibility plays an important role in whether patients really take the educational messages on board. Maybe us physios need to think of ways to bump up the credibility. A white coat perhaps?[9] Or maybe a slightly different approach to education [10] is needed. Or both. Another interesting finding was there was no additional benefit from longer format education sessions. Brief and clear might be best.
Our results provide high quality evidence on what we think is a fundamental aspect of clinical practice – the ability to reassure patients. Future work to explore other potentially effective methods, e.g. structured exercise programs, and to examine the relationship between reassurance and clinical outcomes like pain and disability, would be very interesting indeed. Until then, patient education gets the thumbs up for acute back problems.
Adrian Traeger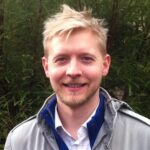 Adrian is right in the thick of his PhD research at NeuRA looking at the prediction and prevention of chronic back pain. He is particularly interested in the effects of the clinical consultation. Like most physios, Adrian likes talking to patients and, thanks to Carl Rogers, is getting better at listening.
Adrian's musical taste has changed recently – from moody indie rock to "Giggle and Hoot's Giggleicious Favourites".
References
1. Williams CM, Hancock MJ, Maher CG, McAuley JH, Lin CW, & Latimer J (2014). Predicting rapid recovery from acute low back pain based on the intensity, duration and history of pain: a validation study. Eur J Pain, 18 (8), 1182-9 PMID: 24648103
2. Lucock MP, Morley S, White C, & Peake MD (1997). Responses of consecutive patients to reassurance after gastroscopy: results of self administered questionnaire survey. BMJ, 315 (7108), 572-5 PMID: 9302953
3. Pincus T, Holt N, Vogel S, Underwood M, Savage R, Walsh DA, & Taylor SJ (2013). Cognitive and affective reassurance and patient outcomes in primary care: a systematic review. Pain, 154 (11), 2407-16 PMID: 23872104
4. Rolfe A, & Burton C (2013). Reassurance after diagnostic testing with a low pretest probability of serious disease: systematic review and meta-analysis. JAMA internal medicine, 173 (6), 407-16 PMID: 23440131
5. Jarvik JG, Hollingworth W, Martin B, Emerson SS, Gray DT, Overman S, Robinson D, Staiger T, Wessbecher F, Sullivan SD, Kreuter W, & Deyo RA (2003). Rapid magnetic resonance imaging vs radiographs for patients with low back pain: a randomized controlled trial. JAMA, 289 (21), 2810-8 PMID: 12783911
6. Jarvik JG, Gold LS, Comstock BA, Heagerty PJ, Rundell SD, Turner JA, Avins AL, Bauer Z, Bresnahan BW, Friedly JL, James K, Kessler L, Nedeljkovic SS, Nerenz DR, Shi X, Sullivan SD, Chan L, Schwalb JM, & Deyo RA (2015). Association of early imaging for back pain with clinical outcomes in older adults. JAMA, 313 (11), 1143-53 PMID: 25781443
7. Chou R, Fu R, Carrino JA, & Deyo RA (2009). Imaging strategies for low-back pain: systematic review and meta-analysis. Lancet, 373 (9662), 463-72 PMID: 19200918
8. Traeger AC, Hübscher M, Henschke N, Moseley GL, Lee H, & McAuley JH (2015). Effect of Primary Care-Based Education on Reassurance in Patients With Acute Low Back Pain: Systematic Review and Meta-analysis. JAMA internal medicine PMID: 25799308
9. Rehman SU, Nietert PJ, Cope DW, & Kilpatrick AO (2005). What to wear today? Effect of doctor's attire on the trust and confidence of patients. Am J Med, 118 (11), 1279-86 PMID: 16271913
10. Traeger AC, Moseley GL, Hübscher M, Lee H, Skinner IW, Nicholas MK, Henschke N, Refshauge KM, Blyth FM, Main CJ, Hush JM, Pearce G, & McAuley JH (2014). Pain education to prevent chronic low back pain: a study protocol for a randomised controlled trial. BMJ open, 4 (6) PMID: 24889854