You have almost certainly noticed that we grimace when we are in pain. But have you thought about that – I mean really thought about it? Why grimace?  Well, someone who clearly thinks about such things more than most is a fellow called Jeff Mogil – Professor of Pain Type Stuff at the very pain-posh McGill University in Montreal (pain-posh means that, on the world stage of pain-research centres, you probably can't go past McGill).  His bio is worth a read just so you can wonder about how one person can do so much and still look about 12.  He leads a group that recently published this paper in Nature Methods
Jeff kindly wrote this on the work and his ponderings on its meaning, for BodyInMind. Enjoy….
The function of pain is to escape from danger, demand attention (both from the self and others), and prioritize recovery; in some cases others can help achieve these goals.  Thus, we grimace partly as a conscious communication strategy, to send someone a message:  "I'm in pain, take care of me."  In humans, facial expressions of pain can be exaggerated, minimized or faked, although people are also fairly good at detecting non‑genuine grimaces.  Chronic pain patients (those with pain lasting more than three months) no longer grimace—the message already being sent—but can be seen to when a new doctor comes to examine them.  These exceptions noted, facial grimacing to pain in humans is largely automatic, not closely self-monitored, and our voluntary control over it is incomplete.  The same facial muscle movements are made across age and culture.  These facts suggest that facial pain expression might be an evolutionary adaptation rather than a human-specific (and socially and/or culturally driven) phenomenon.  Our recent demonstrations that mice display facial grimacing to pain in a highly similar fashion to humans would support this hypothesis.
If true, the question then becomes, why would mice grimace when they're in pain?  The question is complicated by the fact that mice are a prey species.  As such, they have every good reason not to show outward evidence of pain, lest they become an even more tempting targets for snakes and owls.  Male mice have an extra reason to hide their pain, from other males in competition with them for resources.  On the other hand, data we've collected recently suggest that female mice actually approach their cagemates in pain, and that when they do that social contact is actually an analgesic (Langford et al., Social Neuroscience, in press).  Is it possible that the facial expression is the stimulus eliciting this help?  Note that it's also possible that grimacing serves no function at all, but is just a by-product of some physiological system designed to process or modulate pain.  All in all, a very interesting avenue for future research.
Lorimer writing now: So, if grimacing might be evolutionarily 'hard-wired' to occur with pain, could we modulate pain by forcing modulation of grimacing? Do Botox injections to the grimace muscles have any effect on pain?  If male mice grimacing seems to attract the females, do female mice grimaces attract or turn off male mice grimacers? Oh, the experiments are endless!
About Jeffrey Mogil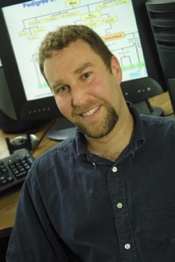 Jeffrey S. Mogil was born in Toronto, Ontario, Canada in 1966.  He received a B.Sc. (Honours) in Psychology from the University of Toronto in 1988, and a Ph.D. in Neuroscience from UCLA in 1993.  After a postdoctoral fellowship in Portland, OR from 1993 to 1996, he joined the faculty of the Dept. of Psychology at the University of Illinois at Urbana-Champaign.  He moved to McGill University in 2001, and is currently the E.P. Taylor Professor of Pain Studies (a Chair previously occupied by Dr. Ronald Melzack) and the Canada Research Chair in the Genetics of Pain (Tier I).
Dr. Mogil has made seminal contributions to the field of pain genetics and is the author of most major reviews of the subject, including an edited book, The Genetics of Pain (IASP Press, 2004).  He is also a recognized authority in the fields of sex differences in pain and analgesia, and pain testing methods in the laboratory mouse.  Dr. Mogil is the author of over 150 journal articles and book chapters since 1992, and has given over 190 invited lectures in that same period.  He holds or has held funding from the U.S. National Institutes of Health, the Canadian Institutes for Health Research, the Canada Foundation for Innovation, Genome Canada, Neuroscience Canada and the pharmaceutical/biotech industry.  He is the recipient of numerous awards, including the Neal E. Miller New Investigator Award from the Academy of Behavioral Medicine Research (1998), the John C. Liebeskind Early Career Scholar Award from the American Pain Society (1998), the Patrick D. Wall Young Investigator Award from the International Association for the Study of Pain (2002), the Early Career Award from the Canadian Pain Society (2004) and a Neuropathic Pain Award from Pfizer Canada (2010).  He currently serves as a Section Editor (Neurobiology) at the journal, Pain, and is the chair of the Scientific Program Committee of the upcoming 13th World Congress on Pain.
Lorimer: In case you haven't picked it up yet – Prof Jeff Mogil is definitely the real deal, a superstar in world Pain Sciences and, almost certainly, a ridiculous over achiever. We are stoked to have his contribution here. (Did you read the bit about E.P. Taylor Professor – Ron Melzack's old job – Jeff needs big shoes to fill those boots, which is cool – he clearly has Massive Clod Hoppers.)


Langford, D., Bailey, A., Chanda, M., Clarke, S., Drummond, T., Echols, S., Glick, S., Ingrao, J., Klassen-Ross, T., LaCroix-Fralish, M., Matsumiya, L., Sorge, R., Sotocinal, S., Tabaka, J., Wong, D., van den Maagdenberg, A., Ferrari, M., Craig, K., & Mogil, J. (2010). Coding of facial expressions of pain in the laboratory mouse Nature Methods DOI: 10.1038/nmeth.1455
All blog posts should be attributed to their author, not to BodyInMind. That is, BodyInMind wants authors to say what they really think, not what they think BodyInMind thinks they should think. Think about that!