One good thing about music, when it hits you, you feel no pain -Bob Marley
Playing music for pain relief isn't exactly a new idea. Music has been used as a tool to promote physical and mental recovery for centuries, with the ancient Greeks initially describing music as a rational treatment strategy. Music is a highly desirable treatment tool for pain management because it is cost-effective, easy to administer, free of side effects, non-invasive, and does not negatively interact with other medicine. There is overwhelming behavioural evidence to show that passive music listening can reduce perceived pain[1], with hundreds of published studies describing this phenomenon of "music-induced analgesia". So what is all the buzz about?
The novel goal of this research[2] was to provide insight into the neural processes involved in music-induced analgesia. To date, there have been no studies to investigate the neural structures involved in music-induced analgesia, leaving a major gap in our knowledge. This study is the first to show the neural structures involved in pain's response to music within the brain, brainstem, and spinal cord using functional magnetic resonance imaging (fMRI), and to demonstrate a potential mechanism of action. Up until now, music-induced analgesia has been thought to be the result of opioid (a natural pain killer) released by activation of the the descending pain modulation system – a response to listening to pleasurable music. The descending pain modulation system is comprised of the periaqueductal grey (PAG) and the rostral ventromedial medulla (RVM) regions of the brainstem. The PAG has extensive, reciprocal connections with the same limbic and forebrain structures that are activated when listening to music[3-5]. The PAG-RVM connection to the forebrain structures has the ability to reduce noxious information, and these regions also have connections to the spinal cord where they may influence the spinal cord responses to a noxious (painful) sensation[3].
Thus, to investigate the proposed mechanism of music-induced analgesia, we used fMRI of the brain, brainstem and spinal cord in one imaging session. In order to create the most pleasurable and rewarding experience possible, we asked female participants to bring in their favorite pieces of music. The experimental session consisted of two trials; during one trial, the favorite music pieces were played, during the second trial, no music was played. A painful, well defined (same temperature for each trial) thermal stimulus was applied to the participant's right hand half way through each trial. The participants were not told that the hot thermal stimulus was the same for each trial. After each trial, we asked the participants to rate their pain on a scale of 1-100.
The subjective pain reports of pain intensity were consistent with the literature, that is, pain ratings were significantly reduced when participants listened to their music, and were higher when they did not listen to music at all. The hot thermal stimulus induced activation in brain regions known to be involved in pain perception[6]. Active brain regions associated with pleasurable music listening included limbic, frontal, and auditory regions, as expected[4,5] .
What is interesting, is that in the music condition, there were neuronal responses detected in structures that correspond with pain modulation. When comparing the two conditions, the music condition had relatively lower activity in the contralateral somatosensory cortex, an increased activation of the PAG, coupled with a suppression of activity in the dorsal horn of the spinal cord, all signs indicative of descending pain modulation. Furthermore, there were significant differences in the measured fMRI responses between the two conditions within the anterior cingulate cortex (ACC), orbitofrontal cortex (OFC), insula, thalamus, parahippocampal gyrus, primary auditory cortex, and dorsolateral prefrontal cortex (DLFPC). Therefore, in the music listening condition, brain, brainstem, and spinal cord regions all showed a change in activity in response to a painful thermal stimulus compared with the non-listening condition. These differences occurred with a corresponding decrease in subjective pain ratings, and are consistent with engagement of the body's natural descending pain control mechanisms.
This is the first imaging study to characterize the neural response to pain across the entire central nervous system. It is also the first imaging study to assess how these responses are modulated by music. Although this study is a good first step, it raises more questions than it answers. Further research is warranted to determine the influence of factors such as attention, type of music selected, patient attributes, and emotion on the pain regulation process.
About Christine Dobek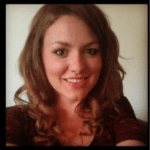 Christine Dobek started her research training at the University of Alberta where she completed her Honor's BSc in Psychology. In 2011 she joined the Stroman lab at Queen's University in Kingston, Canada to pursue a Masters in Neuroscience. Over the years she had developed a keen interest in music and decided to combine her love for both music and neuroscience into a Master's thesis. Currently, Christine coordinates research studies for the Psychiatry Department at the University of British Columbia in Vancouver.
Christine had a passion for music at a young age and grew up in a very musical family. Her aunt taught her to play competitive piano from the age of 5 and she later joined many choirs and participated in musical theatre. As the Stroman lab was researching functional imaging and pain it was a natural fit for her to investigate music's analgesic properties.
About Patrick Stroman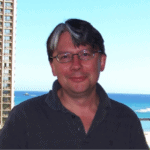 Patrick Stroman completed his BSc in Physics at the University of Victoria and his PhD in Applied Sciences in Medicine at the University of Alberta with a focus on the development of magnetic resonance imaging methods. He is now a Professor in the Centre for Neuroscience Studies, the Dept of Biomedical and Molecular Sciences, the Dept of Physics, and the Dept of Diagnostic Radiology at Queen's University in Kingston, Ontario, Canada. He is also the Director of the Queen's MRI Facility. His current research spans many disciplines.  His lab focus is on developing methods for functional MRI of the spinal cord and brainstem and applying these methods to study pain, and the effects of injury and diseases of the spinal cord.
References
[1] Cepeda MS, Carr DB, Lau J, Alvarez H. Music for pain relief. Cochrane Database Syst Rev 2006(2):CD004843.
[2] Dobek CE, Beynon ME, Bosma RL, & Stroman PW (2014). Music modulation of pain perception and pain-related activity in the brain, brain stem, and spinal cord: a functional magnetic resonance imaging study. J Pain, 15 (10), 1057-68 PMID: 25077425
[3] Millan MJ. Descending control of pain. Progress in neurobiology 2002;66(6):355-474.
[4] Blood AJ, Zatorre RJ. Intensely pleasurable responses to music correlate with activity in brain regions implicated in reward and emotion. Proceedings of the National Academy of Sciences of the United States of America 2001;98(20):11818-11823.
[5] Menon V, Levitin DJ. The rewards of music listening: response and physiological connectivity of the mesolimbic system. NeuroImage 2005;28(1):175-184.
[6] Peyron R, Laurent B, Garcia-Larrea L. Functional imaging of brain responses to pain. A review and meta-analysis (2000). Neurophysiologie clinique = Clinical neurophysiology 2000;30(5):263-288.