Whiplash is one of those conditions that often strikes fear into the hearts of clinicians, mainly because chronic whiplash is very hard to treat. This not helped by the fact that there is scepticism regarding the condition itself due to its lack of objective findings. Whiplash associated disorders (WAD) are largely diagnosed based on mechanism of injury (eg, most often a motor vehicle accident) and reports of persistent symptoms of pain and/or sensory hyperalgesia. Radiological findings often demonstrate no structural changes that would explain the symptoms and thus raise questions as to whether there is anything wrong at all.
Recently, however, a group from the University of Queensland have found evidence of structural muscle changes in people with chronic WAD – specifically muscle fatty infiltrates (MFI) were found in the neck extensor muscles.[1] From this, they hypothesised that it was plausible that these muscular changes may be related to who develops chronic pain following whiplash. Their most recent study[2] (see here…available for free!) has evaluated just that – how soon following injury do these muscle changes occur and do they occur only in people who report persistent symptoms of WAD? They were also interested in testing the relationship between known prognostic factors for whiplash (pain intensity, neck range of motion, and symptoms of post-traumatic stress disorder) and MFI. To answer these questions, they recruited 55 participants with acute whiplash, and imaged them (MRI) at 4 weeks, 3 months and 6 months. They also grouped people based on their neck disability index (NDI) scores at 6 months: recovered (NDI<10%), mild symptoms (NDI 10-28%), and moderate/severe symptoms (NDI ≥30%).
Their results were intriguing. Most staggering was the finding that MFI, whilst not different between the groups at 4 weeks post-injury (ie, baseline), was significantly greater in the moderate/severe group as compared to the others at both follow-up points. Importantly, the moderate/severe group was the only group to display an increase in MFI over time. Also of interest was their finding that whilst all the predictors (pain intensity, cervical ROM, and PTSD symptoms) related to MFI, symptoms of PTSD partially mediated the relationship between pain intensity and MFI. In other words, when they controlled for PTSD levels, the relationship between pain intensity and MFI was no longer significant.
What does this mean?? First, based on the results of this study we cannot say that the presence of MFI causes poor recovery from whiplash. However, the authors speculate that it is possible that the presence of MFI is the result of an initial and persistent inflammatory response to injured tissues. This could be plausible; people with moderate/severe NDI scores had the highest levels of MFI and were the only group who had increases in MFI over time, raising the possibility of a more severe injury in those with poor functional recovery. On the other hand, it may be that disuse of the neck muscles could relate to accumulations of intermuscular fat. Indeed, cervical ROM was significantly related to MFI levels. However, the ability of ROM to act as a correlate for actual disuse is a bit questionable as you can have reduced ROM but still use your neck muscles.
Second, that PTSD mediated the relationship between pain intensity and MFI raises the possibility of a neuro-psycho-biological link with poor outcomes. For example, in other PTSD populations, stress can increase the release of cortisol, which has been found to impact overall health and degeneration of skeletal muscle.[3] Also, prolonged increased sympathetic nervous system activation that may occur with PTSD may cause vasoconstriction, which can lead to metabolic and muscular changes.[4]
It is important to note that the present study did not actually measure any of the immune, nervous, or endocrine/metabolic function, so it is merely speculation to discuss these systems as reasons why MFI might be higher in patients with higher NDI scores. This is necessary to study in future research, which by the sounds of it, is currently underway. At the end of the day, we don't know what the presence of MFI actually means, although that its' presence is related to outcome certainly provides impetus for further investigation.
About Tasha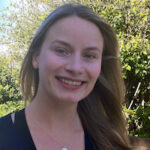 Tasha Stanton is a postdoctoral research fellow working with the Body in Mind Research Group both in Adelaide (at University of South Australia) and in Sydney (at Neuroscience Research Australia). Tash has done a bit of hopping around in her career, from studying physio in her undergrad, to spinal biomechanics in her Master's, to clinical epidemiology in her PhD, and now to clinical neuroscience in her postdoc. Amazingly, there has been a common thread through all this hopping and that common thread is pain. What is pain? Why do we have it? And why doesn't it go away?  Tasha got herself one of the very competitive Canadian IHR post-doctoral fellowships and is establishing her own line of very interesting investigations.  Her research interests lie in understanding the neuroscience behind pain and its clinical implications. She also really likes nifty experiments that may have no clinical value yet, but whose coolness factor tops the charts. Last, Tash is a bit mad about running, enjoying a good red with friends and organizing theme parties. Tasha, aka Stanton Deliver, was the all round best performer at the Inaugural BiM Table Tennis Comp.
Here is Tasha talking more about what she does and a link to her published research.
We have put BiM author's downloadable PDFs here.
References

[1] Elliott J, Jull G, Noteboom JT, Darnell R, Galloway G, & Gibbon WW (2006). Fatty infiltration in the cervical extensor muscles in persistent whiplash-associated disorders: a magnetic resonance imaging analysis. Spine, 31 (22) PMID: 17047533
[2] Elliot J, Pedler, A, Kenardy J, et al. The temporal development of fatty infiltrates in the neck muscles following whiplash injury: An association with pain and posttraumatic stress. PLoS One 2011;6:e21194.
[3] Paddon-Jones D, Sheffield-Moore M, Cree MG, Hewlings SJ, Aarsland A, Wolfe RR, & Ferrando AA (2006). Atrophy and impaired muscle protein synthesis during prolonged inactivity and stress. J Clin Endocrinol Metab, 91 (12), 4836-41 PMID: 16984982
[4] Passatore M, & Roatta S (2006). Influence of sympathetic nervous system on sensorimotor function: whiplash associated disorders (WAD) as a model. Eur J Appl Physiol, 98 (5), 423-49 PMID: 17036216