The second lecture evening of our Art of Pain Exhibition, undertaken as part of the Australian National Pain Week, saw Professor Mark Hutchinson from Adelaide Uni, Dr Tim Semple from the RAH Pain Service, Georgie Davidson from Mindful Movement Physiotherapy and artist George Khut take on this rather cryptic and perhaps not altogether helpful topic. Mark is a world leader on the interaction between opioids and the immune system. He is also one of the most open-minded basic scientists in the pain field, with a clear understanding and embracing of the complexity of the human experience. This question of 'What is it like to have chronic pain?' is one that is not always captured by scientists. Mark's enlightening and entertaining coverage of the science concluded with a lovely metaphor – that despite centuries of scientists considering the body to be like a machine, we are now realizing that it is in many ways more like a garden, where alterations in one place have impacts in different places and different systems. His talk is well worth listening to – see the link below.
Dr Tim Semple is clearly living in the land of clinical reality and his insight into the massive and complex issues facing the clinician working with people in pain, particularly those who are taking large volumes of opioids, prescribed to them by very well meaning doctors, was both sobering and inspiring.  Not that he was arguing, I think, that opioids have NO role, but that who needs them, who will respond to them and who gets them don't seem to be very well related out there in clinical practice.  Tim is a tireless advocate, campaigner and lobbyist for those with chronic pain and his grasp of the issues and his ability to articulate them to a diverse audience was impressive indeed. If you care about this issue, check out his talk via the link below.
Georgie Davidson was also able to speak from an insider's view – she described her own journey from that of a physiotherapist feeling underwhelmed with her feeble capacity to help people in trouble with chronic pain, to a keen learner of new and alternative models of pain. Her pursuit of therapeutic skills that complemented the advanced clinical reasoning and musculoskeletal knowledge of a physiotherapist led her to mindfulness work. She took us all through some simple exercises and had us all sitting, flat footed, breathing mindfully as we did NOT react to feelings of tightness or stiffness.  It was a great example of how easily we can put mindfulness into our daily lives and a great complement to the stuff on opioids. After all, mindfulness and morphine may very well be accessing similar physiological mechanisms in the garden of our biology!
George Khut rounded out the evening with an impressive account of his endeavours to use apps to help kids in pain modulate their own heartrate. He is working at Sydney's Westmead Hospital for kids and the art exhibition downstairs provided some of his work for us to interact with. It was an uplifting way to finish a pretty intense but altogether inspiring and fulfilling evening.
By any accounts, the Art of Pain was a huge success and our thanks go out to Jacinta Thompson and Louise Carnell from the Bob Hawke Prime Ministerial Centre for a thoroughly professional and smoothly-run week, to ANAT for their support of the artists and their ongoing commitment to the Art – Science synapse, to the Motor Accident Commission who helped us get Professor Sterling over from the Gold Coast.  The Art of Pain was a joint production of UniSA, ANAT and PainAdelaide. All the talks can be found here.
About Lorimer Moseley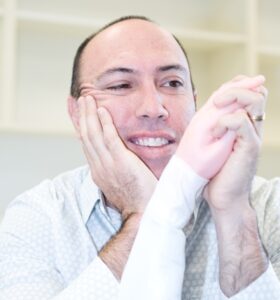 Professor Lorimer Moseley is a clinical scientist investigating pain in humans. After posts at The University of Oxford, UK, and the University of Sydney, Lorimer was appointed Foundation Professor of Neuroscience and Chair in Physiotherapy, The Sansom Institute for Health Research at the University of South Australia. He is also Senior Principal Research Fellow at NeuRA and an NHMRC Principal Research Fellow.
He has published over 200 papers, four books and numerous book chapters. He has given over 140 keynote or invited presentations at interdisciplinary meetings in 30 countries and has provided professional education in pain sciences to over 10,000 medical and health practitioners and public lectures to as many again. His YouTube and TEDx talks have been viewed over 200,000 times.
He consults to governmental and industry bodies in Europe and North America on pain-related issues. He was awarded the inaugural Ulf Lindblom Award for the outstanding mid-career clinical scientist working in a pain-related field by the International Association for the Study of Pain, was shortlisted for the 2011 and 2012 Australian Science Minister's Prize for Life Sciences, and won the 2013 Marshall & Warren Award from the NHMRC, for the Best Innovative and Potentially Transformative Project.
Link to Lorimer's published research here. Downloadable PDFs here.