A trial of a very very very old treatment for tennis elbow just grabbed my attention. In fact the treatment in question probably precedes tennis itself. Yep, this is a trial of leech therapy for tennis elbow, proving the old adage that old treatments never truly die. The trial itself compared the application of leeches to the common extensor origin of the elbow to topically applied diclofenac cream, twice a day for 30 days. They found leech therapy to be superior in reducing pain and disability in the short term with some improvement in disability (maintained 15 days following the end of treatment). What can we make of this? Well my first feeling is how on earth do you blind a leech trial? As the authors themselves point out this is not easy and the non-specific effects of such a ritualised treatment for those who buy into it (and manage to get past their disgust) are likely to be significant. Curiously they mention an abortive attempt in a previous study to use a sham leech intervention but no reference is provided. This I would love to see. I can't shake off the image of researchers trying to rig some innocent slugs with blu-tack.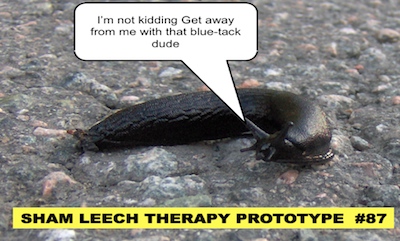 Of course leeches do secrete a number of substances in their saliva that might have effects on local tissues but it would surprise me if they were able to go deep enough to affect the tendon, or have more than a temporary local analgesic effect. However I am clearly no expert.
I have a couple of personal grumbles with the paper. Based on an interim analysis the trial was stopped early since the results had already reached significance. In fairness this was pre-planned, but with a trial of this size I would always like a few more folk in to give the most reliable estimate of effect. Also in presenting the results we see a sum pain score derived from 3 pain scales. Again this not wrong per se but it does rather inflate the appearance of effect size in the abstract and the figure by indirectly multiplying it by 3. Also in the figure the y-axis is truncated by a third which also serves to make the effect seem larger than it actually was.
So here's the question. Are you willing to live with the leeches for 30 days, letting those little fellas give your arm a nibble in return for a 13-17 point change on a 0-100 scale of your tennis elbow pain? While you're mulling it over you might like this tenuously related piece of British comedy too (forward to 20 minutes 30 seconds in).
http://video.google.com/videoplay?docid=-8078220981872692177#
Next week Bile chanting – a multicentre sham controlled randomised trial.
About Neil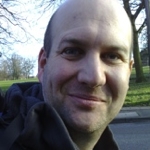 As well as writing for Body in Mind, Neil O'Connell is a researcher in the Centre for Research in Rehabilitation, Brunel University, West London, UK. He divides his time between research and training new physiotherapists and previously worked extensively as a musculoskeletal physiotherapist. He also tweets! @NeilOConnell
He is currently fighting his way through a PhD investigating chronic low back pain and cortically directed treatment approaches. He is particularly interested in low back pain, pain generally and the rigorous testing of treatments. Link to Neil's published research here. Downloadable PDFs here.
Reference

Bäcker M, Lüdtke R, Afra D, Cesur O, Langhorst J, Fink M, Bachmann J, Dobos GJ, & Michalsen A (2011). Effectiveness of leech therapy in chronic lateral epicondylitis: a randomized controlled trial. The Clinical journal of pain, 27 (5), 442-7 PMID: 21368667