All children have pain and parents are generally unaware of how they can help. Despite decades of research aimed at better understanding and improving pain assessment and management in children [i], many children still do not receive the pain care they deserve.  Poorly managed pain in children is a serious and ongoing health problem, resulting in unnecessary suffering and long-term negative effects [ii]. Knowledge to address gaps in managing children's acute and chronic pain is well documented in a variety of areas including: vaccination pain (with fewer than 5% of children receiving any form of pain management despite clinical practice guidelines)[iii]; pain in hospitalized children (with hospitalized children continuing to report undertreated and preventable pain)[iv]; pain in the emergency department (with the majority of procedures being performed without any analgesia)[v]; following surgery (with many children being withheld proper postoperative pain management due to concerns about addiction)[vi]; in the Neonatal Intensive Care Unit (NICU; with many babies not receiving pain management for procedures)[vii]; and in the management of children experiencing chronic pain (with limited accessibility to multidisciplinary pain clinics and long waiting times)[viii].
There is evidence that parents can improve pain assessment and management for children when provided with appropriate information [ix]. Yet recent knowledge translation (KT) efforts have primarily targeted health professionals, not parents [x]. Parents are a common denominator in almost all children's pain experiences, at home and in clinical settings, and can serve as powerful and consistent advocates for their children when in pain. Many evidence-based pain management strategies are easy for parents to implement, but most are unaware of even simple strategies, despite being very receptive [xi].
Social media is increasingly being used by parents, especially mothers. A recent Pew Research Centre survey found that 75% of parents are using social media and that is broadly viewed as providing useful information and a parenting tool. Sharing of child health research evidence over social media has the potential to reach and impact a great number of parents and children.
Building on the success of our prior YouTube video for parents about needle pain management
we are happy to announce the upcoming launch of our "It Doesn't Have to Hurt" social media initiative (#itdoesnthavetohurt), a partnership with Erica Ehm's Yummy Mummy Club.ca (YMC) to use social media to make sure research evidence about children's pain management gets directly into the hands of parents who can use it! This work is primarily funded by the Canadian Institutes of Health Research (CIHR), and represents a partnership between between internationally-known health researchers and YMC, an award-winning online publisher primarily targeting Canadian mothers with an online monthly audience of over 5 million people. More information about this work is available at our webpage: www.itdoesnthavetohurt.ca.
The 'It Doesn't Have to Hurt" social media initiative (#itdoesnthavetohurt) will span a 12-month period (beginning in September 2015) of co-developed sharing and discussion of content about children's pain through blogs, videos, Twitter parties, Facebook polls, and social media images, all posted and promoted on the YMC website and social media. We will be covering a range of topics in children's pain, including both acute and chronic pain, from newborns to adolescents. We will be studying both the reach and impact of this campaign on parents' awareness and use of evidence-based pain management with their children. Although the initiative is based out of Canada, because of its online nature, all content will be available online for sharing worldwide. The initiative is informed by a panel of parents and a variety of partner organizations including the Nova Scotia Health Research Foundation, the Canadian Association of Paediatric Health Centres, and the Canadian Pain Coalition.
We officially launch the evening of Monday September 21st at 18:30 pm (ADT) in Halifax, Nova Scotia, Canada with a public forum that will showcase the power of social media in science and health communication.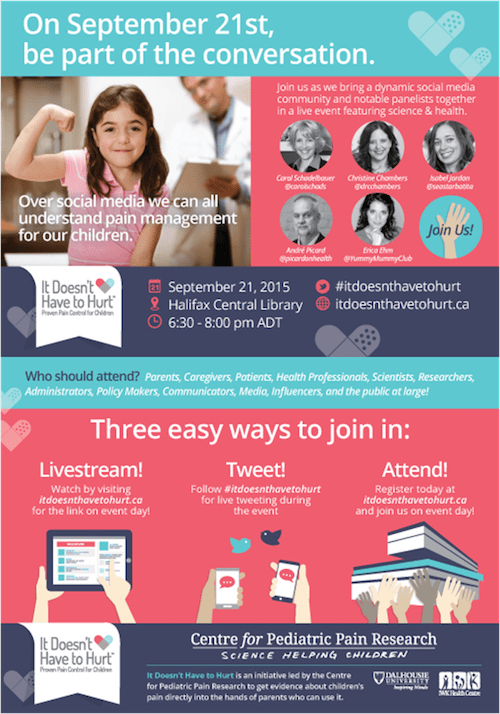 Not in Halifax? You can still join us! The event will be live streamed on our www.itdoesnthavetohurt.ca website so you can join in from anywhere in the world! We will also be live tweeting the event so you can follow us using our hashtag #itdoesnthavetohurt. A brief panel presentation will be moderated by Carol Schadelbauer, an expert in science and health public relations, and feature André Picard, Health Reporter for The Globe and Mail newspaper; Erica Ehm, from YummyMummyClub.ca; Isabel Jordan, parent of a child with a rare disease, and myself.
Because this work is all happening over social media, which depends on information sharing, we need your help! We ask that you please spread the word about #itdoesnthavetohurt and all the content we'll be disseminating for the next 12 months on children's pain over your professional and personal social media networks.
You can start by sharing this tweet!
https://twitter.com/DrCChambers/status/638421223911763968
And/or this Facebook post!
https://www.facebook.com/CentreforPediatricPainResearch/posts/884793811599740:0
Thank you for your help in making sure evidence-based information on children's pain is mobilized to parents who can use it! We look forward to learning more about whether this kind of science-media partnership has potential to mobilize research evidence in others areas of pain and health to the public.
About Christine T. Chambers, PhD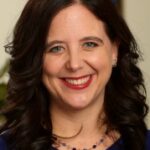 Christine Chambers is a clinical psychologist and Professor in the Departments of Pediatrics and Psychology & Neuroscience at Dalhousie University in Halifax, Nova Scotia. Her research lab is based in the Centre for Pediatric Pain Research at the IWK Health Centre. Dr. Chambers' research examines developmental, psychological, and social influences on children's pain, with a focus on family factors in pediatric pain and using social media to mobilize evidence-based information about children's pain to parents. She is the Principal Investigator of the "It Doesn't Have to Hurt" social media campaign in partnership with the Yummy Mummy Club.ca. She is also the proud mother of 4 young children.
References
[i] P.J. McGrath, B.J. Stevens, S.M. Walker, & W.T. Zempsky (Eds.), Oxford textbook of paediatric pain Oxford, UK: Oxford University Press; 2014.
[ii] Grunau R. Long-term effects of pain in children. In: McGrath P, Stevens BJ, Walker SM, Zempsky WT, eds. Oxford textbook of paediatric pain. Oxford University Press; 2014. 30-38.
[iii] Taddio A, Manley J, Potash L, Ipp M, Sgro M, Shah V. Routine immunization practices: Use of topical anesthetics and oral analgesics. Pediatrics. 2007;120(3):e637-43.
[iv] Birnie, K.A., Chambers, C.T., Fernandez, C.V., Forgeron, P.A., Latimer, M.A., McGrath, P.J., Cummings, E.A., & Finley, G.A. (2014). Hospitalized children continue to report undertreated and preventable pain. Pain Research & Management, 19(4), 198-204. PMID: 24809068I.
[v] Ali S, Chambers A, Johnson DW, et al. Reported practice variation in pediatric pain management: A survey of Canadian pediatric emergency physicians. CJEM. 2014;16(5):352-360.
[vi] Twycross A, Finley GA. Children's and parents' perceptions of postoperative pain management: A mixed methods study. J Clin Nurs. 2013;22(21-22):3095-3108.
[vii] McNair C, Campbell Yeo M, Johnston C, et al. Nonpharmaceutical Management of Pain During Common Puncture Procedures in Infants: Current Research Evidence and Practical Considerations. Clin Perinatol 40 (2013) 493-508.
[viii] Peng P, Stinson JN, Choiniere M, et al. Dedicated multidisciplinary pain management centres for children in Canada: The current status. Can J Anaesth. 2007;54(12):985-991.
[ix] Birnie, K.A., Uman, L.S., & Chambers, C.T. (2013). Impact of familial factors on children's chronic pain. In R.F. Schmidt & W.D. Willis (Eds.), Encyclopedia of pain (2nd ed., pp. 1577-1584). New York: Springer-Verlag.
[x] Stevens BJ, Yamada J, Estabrooks CA, et al. Pain in hospitalized children: Effect of a multidimensional knowledge translation strategy on pain process and clinical outcomes. Pain. 2014;155(1):60-68.
[xi] Taddio A, MacDonald NE, Smart S, et al. Impact of a parent-directed pamphlet about pain management during infant vaccinations on maternal knowledge and behavior. Neonatal Netw. 2014;33(2):74-82.