Dr Eloise Carr (University of Calgary), Chair of the IASP Pain Education SIG coordinated the session "Innovative Approaches to Pain Education". The goal of this session was to provide an update of the challenges and ongoing efforts of improving the consistency and accuracy of pain education in medical programs worldwide. Dr Carr, Dr Briggs, Dr Morinson and Dr Kopf defended the position that current pain education in medical programs is inadequate; it lacks consistency and is without a standard competency regarding the materials provided or the accuracy of the information.
Dr Andreas Kopf (Benjamin Franklin Pain Management Centre, Berlin) presented the "3 Sad Realities": barriers to interprofessional and international pain research and education.
Poor pain management education in medical schools around the world
90% of postgraduate physicians report no adequate training in pain
Essential medical deficits (inaccurate education)
Dr Kopf discussed the additional challenges of a lack of motivation by physicians and students, a lack of institutional priority for pain education and management, and a hierarchical resistance to change at an institutional level. The solution: dedicate more time to education at all levels, beginning with medical schools and provide mandatory pain education with support and access to quality materials [1].
Dr Beth Morrison (Center for Excellence in Pain Education, Baltimore) outlined the need for pain education to address both the affective and sensory components of pain, emphasizing that both understanding and providing pain education is challenging for medical students. How do we change the understanding and discussion around pain? We need motivated providers that are emotionally prepared to understand pain as it is experienced by their patients. This should lead to patients who feel they've been heard – an important component in developing the connection clinically with your patient. Dr Morrison stated, "Patients who feel they are understood are more likely to respond to education and comply with recommendations".
Emotional development in the health care provider is likely to be an important part of becoming a successful pain sciences educator. But can empathy be taught? Dr Emma Briggs of Kings College London is working on it – "the whole purpose of education is to turn mirrors into windows to be able to see into others." Dr Briggs aims to develop interprofessional education with an emphasis on "learning with, from and about each other", with the patient remaining at the center. (Students get to spend some time understanding what pain is – she has them put chick peas in their shoes and walk around for a while).
The IASP Pain Education SIG is dedicated to establishing consistency and accuracy around pain education. It is an important goal and one that hopefully will help with the last challenge mentioned in the presentation – a challenge that faces the well educated health professional who leaves a program armed with current pain science, educational ideas and research, only to go into a setting with practitioners who practice in conflict with current pain education and have little to no interest to change. This is a recipe for frustration and burnout, and one that ultimately leaves the public lacking properly trained providers.
A quick poll of those around me following this session (N=3) revealed that in their experience (Australia, Canada and UK) there is awareness of the need to educate both professionals and the public about pain, but while they were aware of various models of pain education, they felt all models are challenging for health professionals to use. One health practitioner told me that in pelvic health particularly a model of pain education does not exist. I know better – it does, and I take that as a personal challenge to get better at the education of professionals and the public alike!
My favorite part of the talk? This quote:
"The way we do things is not the only way to do things, particularly as there is a lack of evidence". Dr Emma Briggs
About Sandy Hilton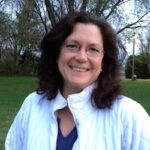 Sandy is a physical therapist with a private practice in Lincoln Park – Chicago, USA.  She is incurably curious about how much of the latest pain research can be applied in the clinical treatment of people suffering from persistent pelvic pain.  In her spare time she hits the stand-up comedy open mics in Chicago, surprising audiences with tidbits about sex, pain and pelvic health.
Reference