Last post I introduced the idea that illusions of external agency could arise if we unknowingly change 'truly mediocre' outcomes into 'falsely great' outcomes and then confuse them as actually being 'truly great'. Then the fact that we have experienced a 'truly great' outcome, that 'defies the odds' may result in us attributing this outcome to an external agent who knew what was best for us (insight), wanted what was best for us (benevolence), and was able to actually alter the situation (influence). This external agent could be a friend, or a co-worker, or maybe even an all-knowing being such as God.
Now back to the very interesting study by Gilbert et al.[1] How did that study test the illusion of external agency? They tested each of the illusions separately – the illusions of insight, of benevolence, and of influence. They did this by manipulating the likelihood that participants could turn a 'truly mediocre' outcome into a 'falsely great' outcome, by presenting participants with an external agent (the examiner/an electronic device/another participant) who was known to have two of the three qualities of insight, influence, and benevolence and last, by asking the participants to estimate the likelihood that the agent had the third quality. They hypothesized that those participants who were most likely to turn 'truly mediocre' into 'falsely great' would be most likely to conclude that the external agent had the third missing quality. Basically what their studies found was that although participants were very good at generating satisfaction with suboptimal partners, unpleasant music, and crappy gifts ('falsely great' outcomes), their responses suggested that they were unaware that they had done so.1 Instead they behaved as though these outcomes were 'truly great' and felt that an external agent optimized the objective reality (confusing 'falsely great' determined by themselves and 'truly great' determined by the external agent) and attributed that third quality as being present in high levels in the external agent.1 This, to me, suggests that we are more gifted than we realize – our brains are able to do all these things without us knowing, likely making our lives easier and potentially making us more likely to think that 'everything happens for a reason'. Huh.
About Tasha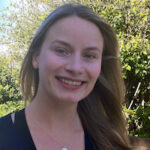 Tasha Stanton is a postdoctoral research fellow working with the Body in Mind Research Group both in Adelaide (at University of South Australia) and in Sydney (at Neuroscience Research Australia). Tash has done a bit of hopping around in her career, from studying physio in her undergrad, to spinal biomechanics in her Master's, to clinical epidemiology in her PhD, and now to clinical neuroscience in her postdoc. Amazingly, there has been a common thread through all this hopping and that common thread is pain. What is pain? Why do we have it? And why doesn't it go away?  Tasha got herself one of the very competitive Canadian IHR post-doctoral fellowships and is establishing her own line of very interesting investigations.  Her research interests lie in understanding the neuroscience behind pain and its clinical implications. She also really likes nifty experiments that may have no clinical value yet, but whose coolness factor tops the charts. Last, Tash is a bit mad about running, enjoying a good red with friends and organizing theme parties. Tasha, aka Stanton Deliver, was the all round best performer at the Inaugural BiM Table Tennis Comp.
Here is Tasha talking more about what she does and a link to her published research.
We have put BiM author's downloadable PDFs here.
References:

[1] Gilbert, D., Brown, R., Pinel, E., & Wilson, T. (2000). The illusion of external agency. Journal of Personality and Social Psychology, 79 (5), 690-700 DOI: 10.1037/0022-3514.79.5.690