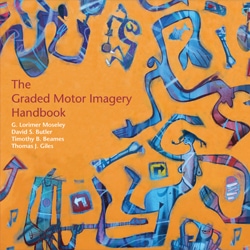 I think my 7 year old son knew that if he used this phrase enough it would eventually sneak into a blog post. Well congratulations Lord Adorable SqueakyPants, it has! It has made it in because we are pretty excited that a project we have been working on for some time is almost done – it is at the printing press as we speak.  The Graded Motor Imagery Handbook (noigroup publications, Adelaide, 156 pages) is a truly collaborative effort and has taken a large amount of time and effort to get schmick. It is, as you would expect, a visually pleasing book (if I may say so myself – although the credit for this aspect of it must go entirely to the publishing team at NOI and the artist, Dan Tomkins, who have done a stellar job indeed).
The book has bits from David Butler on how graded motor imagery (GMI) fits within a wider clinical paradigm – how can GMI most effectively exploit other aspects of the therapeutic experience, of knowledge transfer and reconceptualisation of the problem, of curiosity and possibility. How do we help patients to make sense of an approach that trains the brain not the body? It is, as you might expect, Dave at his eloquent best.
The GMI Handbook has bits from me on the science behind GMI, the research we have done on it, what we think different results and patterns of performance mean from a brain processing perspective and what they might predict from a therapeutic perspective. I have tried to paraphrase the more pointy bits of neuroscience so that they are reasonably easy to get – I reckon GMI makes a whole lot of sense on the basis of fairly fundamental research and to understand its gestation and theoretical basis should make it easier to use. Actually, the science is not that heavy – in fact some of it was captured recently by this comment from Kristin on a previous post. Indeed, the practical application of motor imagery is exactly what Kristin was talkin' about:
"With regards to visualisation/imagination,… what I have found helpful is to pay attention to other peoples' hands. How they move them; how they manipulate their hands around objects; if they are left- or right-handed. I am also very interested in pianists and artists, those hands are the hands I want! I played piano as a child, so it's a memory I can use from the years I had normal hands. What it felt like right at that moment (because I can't remember not having the pain). I'm not really imaginative either, so I use my memories to put myself into the "mood".  I am rather visual anyway… and I observed a lot! But it could just as simply be a memory of signing your name, or running down the beach."
Tim Beames uses a range of patient experiences and questions from clinicians to help us understand how we can best use Recognise and other props and techniques to encourage patients to do the stuff that Jane has been doing – to recruit the mirror neurone system (possibly? as you will see in the book, there is some contention as to whether this is what we are REALLY doing or not….) and to use the magnificent plasticity of the brain to promote recovery. Tim discusses case studies and focusses on clinical reasoning and GMI.
Tom Giles rounds the book up from a user-practicality perspective. There are lots of screen shots and 'How to's, tips for logging training performance and getting the most out of the online and other resources. We think the book will be very helpful for anyone interested in or currently using GMI – both as a clinician resource and as a patient resource. Noigroup publishing has just opened the book up for pre-order with free delivery to anywhere on the planet. So if you are not going to get to their conference in a few weeks, grab this opportunity – it is fifty Australian dollars (plus GST for you locals). They are still to launch it officially, but they gave me a green light to sneak in and let you all know about it.