Immune activation can produce some powerful and longlasting behaviour changes. Take single event learning for example (Ader and Cohen 1975) – the seminal study that  proved that the immune system response could be behaviourally conditioned. Ader and Cohen (1975)  paired sugar with an immunosuppressive agent in rats. When a foreign agent (sheep red blood cells) was introduced to the rats three days after conditioning, only sugar conditioned animals who were again exposed to the sugar at the time of red blood cell delivery showed an immunosuppressive response. All the other groups (conditioned animals who didn't get the sugar, placebo, and unconditioned animals) showed a normal immune reaction to the foreign matter.  This has come to be known as "single event learning" and it happens to most people as a child. The last time I ate a cream bun (given to me by my nana every Thursday when I was growing up) – the cream was off and I threw it up. I have NEVER eaten one since.
So how does thinking about immune activation have the potential to change our intervention? The loudest message I heard regarding this was the idea of early movement versus early rest. Activation of the immune system usually tells us to REST (the classic sickness response).  I have heard Mick say "movement could be thought of as an antigen". Huh? But haven't numerous studies shown early movement is beneficial for healing? As it turns out a recent review in the The Cochrane Library (Hayden, van Tulder et al. 2011) shows exercise therapy in the acute stage of non-specific low back pain is no more effective than "…no treatment or other conservative treatment". There is some evidence of less absenteeism if a graded activity program is undertaken in the subacute phase and slight improvements in pain levels and function when exercise is used as a treatment for chronic non-specific low back pain (this would support the depression literature (Eyre and Baune 2011) and the idea of aerobic exercise improving immune function (Hong 2011)and looks like a different case to acute stage). So maybe if you are seeing someone in the acute stage, you might consider being a little more lenient on the exercise front?
What about other changes? When we're sick we stay in to avoid infected others, perhaps social isolation in chronic pain is not only to do with fear of activities that cause pain and the distress of appearing 'damaged', but a deep seated self protection behaviour – trying to avoid infected others. The clinic narrative could explore this concept a little then if appropriate incorporate some education explaining that this concept had merit in the early stages, but becomes unbeneficial later.
Developing new interventions can include trying to normalise inputs and outputs – how does it work that if you force yourself to smile when you are feeling crap (output) you feel better?  What are inputs and outputs that the immune system recognises as normal? Some would suggest laughter, creativity, intimacy, caring for others (not something you tend to feel like doing when you are sick yourself). So perhaps we need to develop ways of clinically exploring these concepts? Mindfulness, meditation, anger management, the exploration of what it takes for a person to feel well? Finally, perhaps novel interventions such as glial cell inhibiting drugs like minocycline might be considered in the future of chronic (and acute?) pain management?
I am left with more questions than answers, but what an exciting place to be!
[You can see part one of this post here]
Carolyn Berryman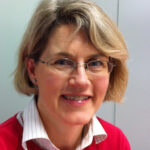 Carolyn has been teaching with the Noisters (Neuro Orthopaedic Institute) for the last 10 years and finally got herself into research via a very competitive post-graduate scholarship. Not that she has ever stopped studying – she already has a masters in physiotherapy and in pain science – good luck fitting PhD onto the business card!  What is Carolyn researching for her PhD?  Based at the University of South Australia in Adelaide Carolyn is looking at neurophysiological profiles between chronic pain and PTSD (post traumatic stress disorder) during working memory tasks.
What does Carolyn do day to day? She is under piles of papers doing a systematic review of working memory and cognitive impairment in chronic pain.  Carolyn will then be using EEG to evaluate what happens in people with pain.  When she is not in the office, she lives on an island 100 kms south of Adelaide (that's a long commute!) and spends her off-time playing with family, sailing and walking. Here is Carolyn talking more about the research she is doing.
References
Ader R, & Cohen N (1975). Behaviorally conditioned immunosuppression. Psychosomatic medicine, 37 (4), 333-40 PMID: 1162023
Araque A, Parpura V, Sanzgiri RP, & Haydon PG (1999). Tripartite synapses: glia, the unacknowledged partner. Trends in neurosciences, 22 (5), 208-15 PMID: 10322493.
Hayden, J., M. van Tulder, et al. (2011). "Exercise therapy for treatment of non-specific low back pain." The Cochrane Library(2).
Hong, S. (2011). Can we jog our way to a younger-looking immune system? Brain, Behavior, and Immunity, 25 (8), 1519-1520 DOI: 10.1016/j.bbi.2011.08.002
McAfoose, J., & Baune, B. (2009). Evidence for a cytokine model of cognitive function Neuroscience & Biobehavioral Reviews, 33 (3), 355-366 DOI: 10.1016/j.neubiorev.2008.10.005
Verkhratsky, A., Parpura, V., & Rodríguez, J. (2011). Where the thoughts dwell: The physiology of neuronal–glial "diffuse neural net" Brain Research Reviews, 66 (1-2), 133-151 DOI: 10.1016/j.brainresrev.2010.05.002