Putting the Sydney Swans dasher Gary Rohan through the 'credible evidence of danger and safety' test
I have taken most of an article published in Melbourne's The Age, and Sydney's  Morning Herald, in the lead up to the Australian Football League's Grand Final, where my team, the Sydney Swans, are taking on last year's champions, the Hawthorn Hawks. I have not modified anything, just taken a bit out for the sake of brevity. Full article is online here. I thought this was a great example of the fearful and wonderful complexity of a human in pain.
It was supposed to be better. It wasn't still supposed to be sore. The end of Gary Rohan's season was meant to be the end of his battle with his broken leg and the start of whatever happened next, but … at the end of the year there it was again. The leg hurt when he ran, it hurt after he ran and it still woke him up at night. The pain wasn't going away, and it had been there for 18 months. Would it, ever? "It was pretty hard not to wonder about it," Rohan said. "I wasn't sure it ever would start going away."

It has, and Rohan no longer even starts to think about whether it might come back. He spends his nights sleeping, now, but it has taken a long time. Rohan was a 20-year-old playing his 22nd game when his right leg was horribly broken in the fourth round of 2012, and a 22-year-old still trying to work out where he might fit into the Swans' team when he cut short his end-of-season break, went back to Sydney and went back to work. "I was happy to get back up there. I wanted to go straight back up there and talk to the physios and do what I could to help it, as soon as I could," he said. "I was a bit sick of just waiting for it to get better."

The wait didn't end when he got there, and when Rohan was still sore at the start of the season despite doing everything the conditioning staff had told him to do, he wondered again if this was just his new reality. He played the first four games of the season but knew every time he got even the slightest knock to his leg that it would hurt afterwards, a lot. It was difficult to deal with, as were other, less tangible things.

"When he got injured he was a young kid, really. He'd hardly played, so he didn't really know whether he belonged in the team or how important he was to us," said Sydney coach John Longmire. "I knew it, and the players knew it, and we kept telling him how much we needed him back. But he didn't know. He hadn't been in the team long enough to have that confidence himself, so at the start of the year he was hurting, he was always sore and he also had all those doubts."…

Rohan was also given a new job, in the back line, knowing he had time to get used to playing there. In part, it was because Longmire and Sydney's other coaches thought he would play well there, given his speed and and dare, his willingness to either chase players down or take off with the ball. It was also because they wanted to give him something to think about, other than his leg.

It worked. Rohan came back into the senior team nine games later, and felt ready to be there. He didn't feel like a young kid being given a chance as one of the last few players picked, or like someone being eased back in after a bad injury. …

"It's different. It wasn't too bad because I'd played there before, but there's a lot more things to think about at this level because every mistake matters more. .." Rohan said. "But I like it. It's been good. It helped me stop thinking so much about my leg, definitely. When I got back in I thought, it wasn't so bad to not be in the team for a few weeks. When I got back, I felt like I deserved it."
Read more here Sydney's Gary Rohan gets moving again
About Lorimer Moseley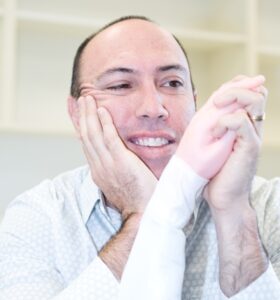 Lorimer is Professor of Clinical Neurosciences & Foundation Chair in Physiotherapy at the University of South Australia. He is also Senior Principal Research Fellow at Neuroscience Research Australia and an NHMRC Principal Research Fellow. He has twenty years of clinical experience working with people in pain. After positions at the University of Sydney and The University of Oxford, Lorimer returned to Australia in 2009. He has written 150 articles, written four books and given over 100 keynote lectures in over 30 countries. He has won the most prestigious project prize for Medical and Health Innovation in Australia and the inaugural Clinical Science Prize from the International Association for the Study of Pain. He leads the Body in Mind research group.
Link to Lorimer's published research here. Downloadable PDFs here.