At the recent World Congress on Pain, there were enough exhibition stands to keep even the most mischievous amused. One of the most mischievous is Sarah Haag. Here she gives an account of the first of her investigations…..
On day 2 of the biannual IASP conference in Milan, I decided to try out the latest and greatest in headache management modalities.  This little doozy will supraorbitally stimulate your trigeminal nerve, resulting in what started to be a pleasant tingling in my scalp, but intensity was quickly increasing.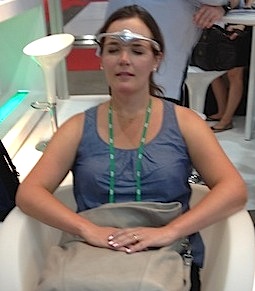 As the intensity increased, my forehead and eyebrows were pulled up painfully, and my left eye started deviate medially.  (Sandy is still laughing about this…).
I discontinued the session, as I didn't have a headache when I started the trial, but seemed to be developing one as the session progressed.  The Cefaly non-invasive cranial neurostimulation claims to 'anti-stress and anti-migraine'.  I did need a nap after this session, which worked out well, since I had a ginormous red mark on my forehead and didn't feel that I could be seen in such a state.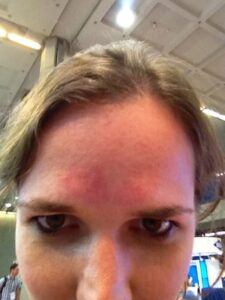 (notice the medial deviation of my left eye…  I don't think it's usually like that….)
Other than the red mark on my forehead, I assumed I had escaped any other side effects.  Until I woke up the next day, and it felt like someone had poked me in the eye.  Turns out that there was a little delayed muscle soreness in my left medial ocular muscles….
It was a pleasure donating my body to science.