Developmental researchers suggest that parents are hardwired to soothe their babies during distressing situations.  Much research has studied how infants and caregiver interact after the infant is distressed using a standardized separation-based experiment in a research lab. This work has clearly demonstrated how important the parent-infant interaction is in predicting future child outcomes.  Recognizing the need to think up ways to study parent-infant interactions outside the psychology lab, our group has been studying how parents and infants interact in another distressing context – immunization pain.
In a recent study by Campbell and colleagues (2013) in the journal Pain, it was found that proximal soothing[1] was not playing as large a role as we would have predicted in moderating infant pain regulation.  These findings were one from a series of papers based on the OUCH Cohort[2]. Parents and infants were recruited and naturalistically observed during their immunization appointments (2, 4, 6, 12 months) and video recorded. Data from 760 families were videorecorded and analyzed.
The current study explored the relationship between parental proximal soothing behavior (e.g. cuddling, hugging, rocking, or patting) and infant pain regulation (how quickly the infant's pain dropped over the first few minutes post-needle). It was hypothesized that caregiver soothing would strongly predict pain regulation, but we also wanted to control for the infant's distress before the needle and the level of immediate distress 10 seconds after the needle.  This type of analysis would tell us how important caregiver soothing was for regulating from needle pain, after you take into account how upset the baby was before and right after the needle.
The results showed that earlier infant pain behavior better predicted regulation better than caregiver soothing. Even more surprisingly, it was also found that very little of infant's pain regulation could be related to the parent's soothing behaviour.
Given the huge body of literature documenting the long-term benefits of maintaining physical closeness and soothing during distress in infancy, we definitely did not want to throw the metaphorical 'baby out with the bathwater' when relating to parent soothing and infant pain!  As we did not interfere with parents' choices regarding how to soothe their infant, we think maybe parents defaulted to using strategies from normal distress situations, thus, they were less effective in the high distress pain situation. We feel this study ultimately shows that parents need to be specifically coached about how to soothe their child post-needle, because leaving parents to their own devices may not be enough to help kids recover quickly from a needle poke.
About Paula Tablon and Rebecca Pillai Riddell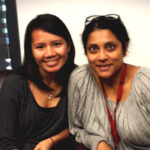 Paula Tablon is a Honours Bachelor graduate from the York University Psychology Program. She is the current lab manager of the Opportunities to Understand Childhood Hurt laboratory (The OUCH lab).
Dr Rebecca Pillai Riddell is an associate professor of Psychology at York University and director of the OUCH Cohort.  She is currently a Canadian Institutes of Health Research New Investigator and holds adjunct positions at the Hospital for Sick Children and University of Toronto.
Definitions
[1] Proximal soothing in this paper refers to the combination of rocking and any type of physical comforting. Using a validated coding system, physical comfort was coded when any physical (i.e., nonverbal) behaviour was displayed in an attempt to comfort the infant. This included: rubbing, massaging, patting, hugging, or kissing the infant.  Rocking was coded when the caregiver swayed, rocked, or bounced the infant.
[2] The OUCH Cohort is an ongoing Canadian longitudinal cohort of children (n=760) that began following caregivers and infants during 4 immunizations over the first year of life (2, 4, 6, and 12 months of age). We also did a small follow up of 130 between 12-18 months of age to formally examine infant attachment. Our cohort will and now continue to attempt to follow our entire cohort again at the preschool immunization and in a psychological assessment of intelligence, cognitive processing, psychopathology, attachment and academic readiness.
Reference
Campbell L, Pillai Riddell R, Garfield H, Greenberg S. (2013). A cross-sectional examination of the relationships between caregiver proximal soothing and infant pain over the first year of life. Pain, 154 (6), 813-823