Ebola is increasingly in the news with much information – and misinformation – in the media. The following are extracts adapted from two blog posts by Symplur [1,2], who are not only following the spread of information about this disease, but also looking at whether organisations and people who know much about Ebola are able to influence this conversation. Perhaps there is a message here about how we can also help influence pain education by using social media. But first, take a look at this:
"Ebola.  Just the word by itself instills fear.  But in some corners of our shared planet it presents itself as an all too real horror that invades communities, neighborhoods, and families.  As this crisis has been unfolding, we at Symplur have been following the same news reports that all of you have with regards to the spread of this disease, the increasing death toll, and concerns of containment.
We've also been following Ebola through the unique lens that healthcare social media provides.  On July 28, 2014 the current Ebola outbreak hit the mainstream news in the U.S.  That morning Symplur began tracking it on Twitter via several hashtags including #Ebola #EbolaOutbreak, #EbolaVirus and #EbolaWatch.
Over time we can see that the topic of Ebola began to take hold as a global discussion on social media.  Below is a heat-map that displays this world wide attention being paid to this story on Twitter.  Darker colors represent more participants in the Ebola conversation.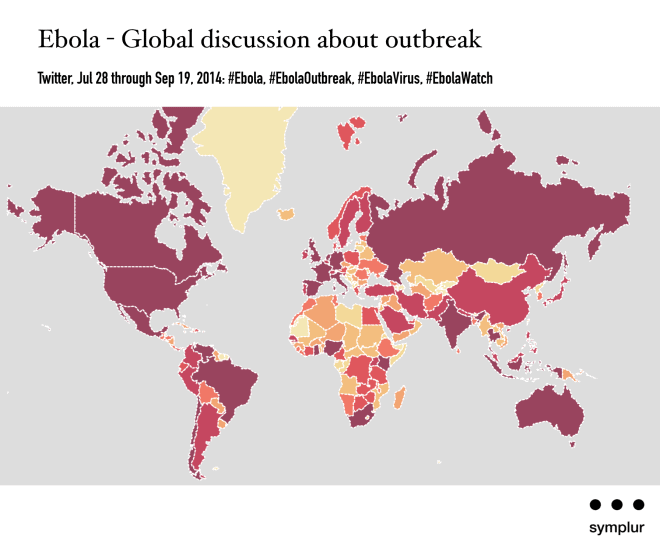 During this time, our analysis has uncovered some obvious trends in the social media discussion on Ebola.  Most notably, we've noticed that Ebola on social media has not mimicked the real-world trend of this virus itself.  As the death toll has risen, the public discussion has waned.
Why is that? Today's media includes stories from around the world, but our ability to ingest all these new stories remains limited by both time and sheer brain-power. Consequently, the media itself decides which stories to tell, and even more so which stories to push (as was seen when a US nurse was found to be infected and Ebola hit mainstream news again [2]).  A story can be brewing for some time, but until it explodes into a headline the common citizen remains focused on other things.
Doctors tweeting about Ebola
We see a difference in Twitter activity when comparing doctor participation to that of the general population.  Of the 600,910 unique participants in the Ebola discussion, the average user has tweeted on that topic only 2.98 times.  However, U.S. physicians tweeting about Ebola have done so on average 9.37 times.  That's over three times more participation than the average user.
Another positive trend that we can see among doctors tweeting about Ebola is that while the general public's interest began to wane U.S. doctors actually accelerated their activity week over week during the same period.
What's more doctors included links in 68% of their tweets.  Their most popular overall source of articles linked to has been The New England Journal of Medicine, but their most popular single link has been to the CDC website's article on "Infection Prevention and Control Recommendations for Hospitalized Patients with Known or Suspected Ebola Hemorrhagic Fever in U.S. Hospitals".
Credible information from credible sources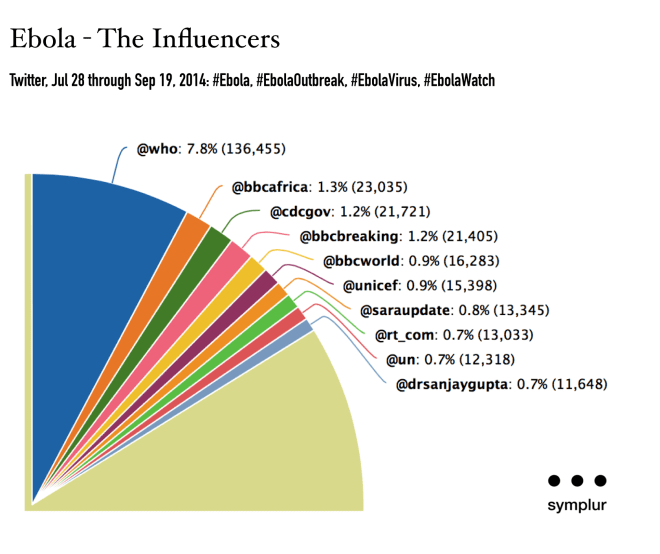 A quick look at the ten participants who are most often mentioned reveals The World Health Organization (@WHO) at the very top.  Also among the influencers are the U.S. Centers for Disease Control and Prevention (@CDCgov), several news outlets, humanitarian organizations, and a well known physician.
So, certainly on the social media front, it seems that at least some of the proper parties are leading the way.  It's reassuring to see The World Health Organization right where we would hope they would be as the foremost voice.  And it's also encouraging how some doctors have become active participants and have been sharing their thoughts and insights at an increasing rate.
The World Health Organization (@WHO) and the Centers for Disease Control and Prevention (CDC, @CDCgov) have played an important role – not only in disseminating accurate information related to the disease, but they are also needing to police the social web looking out for rumors, hoaxes, and other forms of wrong, potentially harmful information.
Liz Neporent (@Lizzyfit) of ABC News recently authored an article describing the rumor in Nigeria about drinking salt water to prevent Ebola. A practice that directly resulted in two deaths.  And just yesterday I came across this tweet (below) while researching this post.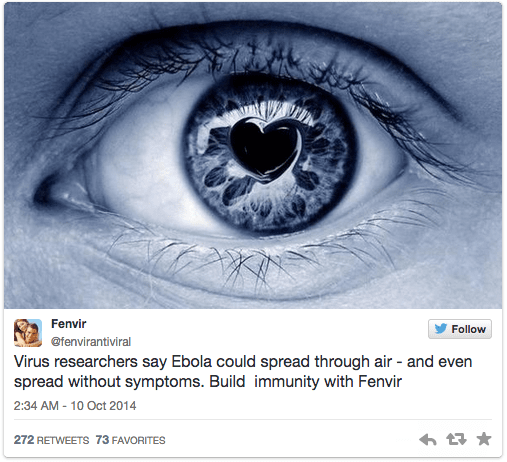 Shame on them.  It's akin to modern-day snake oil.  Yet it was retweeted 270 times in just one day and favorited (so help me) 113 times!  So YES, the social web needs authorities such as @WHO, @CDCgov, and others to drown out such unfortunate byproducts of this era of self-publishing on the web.
The CDC website contains a sizable amount of information related to Ebola. And the world wide web does too, but what is the quality? We all know that there is both good and bad information on the web. During a CDC led tweet chat, the most frequently shared link was to a page on the CDC's own website … Ebola Hemorrhagic Fever, a parent page that has sub-pages delving into issues of signs and symptoms, diagnosis, prevention and more – a win for good quality information."
What about us here at BiM?
One of our aims here at BiM is to facilitate and disseminate credible clinical science research. My own thoughts, after reading the Symplur posts again, are that perhaps social media has a larger role to play than we think. How can we in the clinical pain sciences use our social media opportunities most effectively?  How can we help stop the spread of misinformation and provide information that is credible and evidence-based where evidence exists?
About Heidi Allen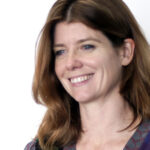 We reckon that an all too common problem with 'science' is that it is only ever broadcast to 'scientists'. Even then, it is often in journals that are read by a tiny proportion of the community. So, we sat down and thought 'how can we better disseminate what we do – that is, how do we get the message out there, be a credible and interesting source of commentary on things to do with our research?'  How can we facilitate all those lovely ideas out there into research? Our answer: Heidi.  Heidi has set up, run, bugged us all about contributing to this website. She reckons it will serve the aim of the group – to disseminate and facilitate research into the brain and mind in chronic pain disorders. We reckon she is right. Here she is, in person, talking about what she does at BodyInMind.
Notes and bibliography
[1] Symplur: Ebola on social media shows some revealing insights
[2] Symplur: CDC, Ebola & Tweet Chats: was this venue a success?
Blogs adapted and used with permission. To keep following the conversation head over to Symplur.