Some time ago we posted an article that showed that a unicellular organism called slimeball could solve the planning of the British rail network better than the Brits did. Now it might be time to smirk on the other side of our face because, as Sarah Wallwork, the tireless Honours student who had the misfortune of getting me as a supervisor, will point out. Sarah's Honours project is on left/right judgments of neck rotation. She discovered some very interesting things, which have led to this little piece: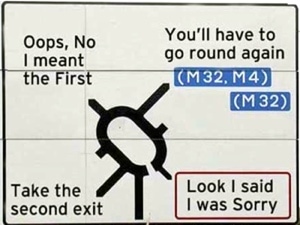 For those of us who drive on the left-hand side of the road, giving way to the right may seem like common sense – so we don't get cleaned up by the next car that comes along. However, there is some evidence suggesting that attending to the right is more common than we thought, and perhaps brain chemistry may too play a role. A rather novel study by Groeppel-Klein and Bartmann (2008) discusses how an asymmetry of dopamine within the brain may contribute to an increase in consumer spending and better consumers' perception of orientation in a store that directs shoppers in a clockwise, rather than an anti-clockwise, direction.
So, why would we be more likely to spend more money being orientated clockwise than anti-clockwise? Well… studies using rats have revealed that a higher concentration of dopamine in one side of the brain related to a movement bias towards the opposite side (Zimmerberg, Glick & Jerussi 1974).  Applying this theory to the shopping study, Groeppel-Klein and Bartmann (2008) suggested that perhaps the higher the concentration of dopamine in the left side of the brain, the more our attention (as consumers) is directed towards the right – or the interior of the store when guided in a clockwise direction. Furthermore, apparently we shoppers also have a general orientation towards the store's periphery – as this makes us feel more secure. So when in a clockwise orientated store, not only are we attending to the store interior (right) – because this is what our brain chemistry is telling us – but we also have a tendency to steer to the store periphery (left) – because this is what our instinct for security is telling us. The authors also thought that consumers seemed to have a more detailed mental map of the store when directed clockwise, further supporting reports of ease of orientation.
If this is the case, perhaps we do have a tendency to attend more to our right? And what else is our brain chemistry making us do without our conscious consent?
About Sarah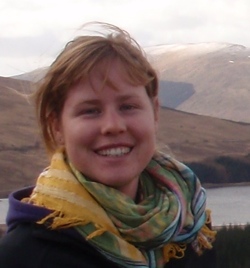 Sarah Wallwork is a 4th (and final!) year physiotherapy student at the University of South Australia. She absolutely loves these shoeish socky things that are 'just like bare feet only glass-proof'.  At the moment she is doing the final touches of an honours thesis in normative responses for a left/right neck rotation judgment task, but, to be honest, she has gone more than the extra yard to make this not a good thesis, but an exceptional one. She reckons she is going to do clinical work for a while, but I bet it is not too long before her enquiring spirit sends her back to the dark side.  Clearly, she did not write this bio.
References:

Groeppel-Klein, A & Bartmann, B (2008). Anti-Clockwise or Clockwise? The Impact of Store Layout on the Process of Orientation in a Discount Store European Advances in Consumer Research, 8, 415
Zimmerberg, B., Glick, S., & Jerussi, T. (1974). Neurochemical Correlate of a Spatial Preference in Rats Science, 185 (4151), 623-625 DOI: 10.1126/science.185.4151.623
All blog posts should be attributed to their author, not to BodyInMind. That is, BodyInMind wants authors to say what they really think, not what they think BodyInMind thinks they should think. Think about that!