It is well known that both low back pain and depression are highly prevalent, costly, and disabling conditions. The prevalence of patients suffering with both is high. Clinicians often encounter these complex patients and face challenging decisions for their management.
Our research group, led by Dr Paulo Ferreira from the Arthritis and Musculoskeletal Group at The University of Sydney, has recently published a systematic review and meta-analysis in Arthritis Care and Research investigating the link between low back pain and depression [1]. The reason for the review is the current conflicting evidence on the causal relationship between low back pain and depression. Although some cross-sectional studies suggest a strong link between these conditions those studies are not able to tells us whether such links have a causal nature, for that we need prospective longitudinal studies. Therefore, by conducting this systematic review we wanted to answer the question: Are people with symptoms of depression at higher risk of developing future low back pain?
To answer this question we conducted a systematic review and searched several electronic databases for relevant studies. We only included prospective cohort studies that enrolled participants free of low back pain prior to the study commencing. The outcome was a new episode of low back pain. The exposure factor was the presence of symptoms of depression, of any severity measured at baseline by any method of assessment. Studies that included participants with other forms of back pain, such as serious spinal pathology or pregnancy-related back pain, were excluded.
What did we find? We included 19 studies, of which 11 were pooled in meta-analyses. The remaining studies could not be pooled as they did not provide enough data. A total of 23,109 participants were included in the analysis. Overall, pooled results showed that symptoms of depression increased the risk of developing low back pain (odds ratio [OR] 1.59, 95% confidence interval [CI] 1.26–2.01; I2 = 59%, moderate heterogeneity). We also aimed to clarify if the method used to assess symptoms of depression influenced our results. We then stratified our analysis according to depression assessment methods and found that the risk was similar in studies that used diagnostic interviews (OR 1.66, 95% CI 1.14–2.42) or self-reported screening questionnaires (OR 1.68, 95% CI 1.05–2.70), but no relationship was observed when we pooled only studies that employed nonspecific screening questionnaires – questionnaires that assessed more general categories of psychological distress, including but not limited to, symptoms of depression (OR 1.17, 95% CI 0.48–2.87). We also found a dose-response relationship, with those participants with the most severe level of depression being at higher risk of future low back pain.
So what do these findings tell us? According to these results people with symptoms of depression have nearly 60% increased odds of developing an episode of low back pain compared to those without depression symptomatology, with the risk being higher in patients with more severe levels of depression. Although this risk might be considered small (OR = 1.59), when we take into account the high prevalence of both conditions, these results might have substantial implications. We estimated the number of new cases of low back pain in Australia that could be attributable to symptoms of depression to be 61,200 cases per year. It is important to highlight that caution should be used to interpret these results as proof of causality: the relationship between depression and low back pain is complex and our study addressed only a single facet of this association. To exemplify this complexity, another study recently published in PAIN by our research group has found that genetic factors confound this association [2]. None of the studies included in the systematic review adjusted for genetic and shared environment factors. So although the results of our review bring some light to the field, there is still a lot of work to be done to disentangle the link between depression and low back pain in order to deliver better care to our patients.
About Marina Pinheiro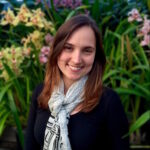 Marina is a Physiotherapist (Hons) with Masters by research in Rehabilitation Sciences. She is currently enrolled as a full time PhD candidate within the Arthritis and Musculoskeletal Research Group at the Faculty of Health Sciences, The University of Sydney, and is supervised by Dr Paulo Ferreira. Marina's PhD focuses on risk factors for low back pain, such as depression, sleep problems, physical activity, employing twin studies.
Email: marina.pinheiro@sydney.edu.au Twitter: @mabpinheiro
References
[1] Pinheiro MB, Ferreira ML, Refshauge K, Ordonana JR, Machado GC, Prado LR, Maher CG, Ferreira PH (2015). Symptoms of depression and risk of new episodes of low back pain. A systematic review and meta-analysis. Arthritis Care & Research 67(11):1591-603.
[2] Pinheiro MB, Ferreira ML, Refshauge K, Colodro-Conde L, Carrillo, E. ; Hopper JL, Ordonana JR, Ferreira PH (2015). Genetics and the environment affect the relationship between depression and low back pain: a co-twin control study of Spanish twins. Pain 156:496–503