I had the honour of spending the past week with the brilliant and extremely pleasant folks of the Body in Mind group at Neuroscience Research Australia (NeuRA).  The type of work going on here is the definition of cutting edge in my opinion, and I'm sure I was only introduced to a small part of it.  I'm calling it right here right now, look out for Luke Parkitny, a doctoral student who is poised to become a powerhouse in the field of inflammation and neuropathic pain.  His proposed project will shed important light on the development of complex regional pain syndrome.
I had the good fortune of being involved in a project that is technically simple but seems to defy intuitive logic.  In this project, a 'rubber arm illusion' is induced, in which the subject is made to perceive a fake rubber arm as his/her own arm through a system of visual obstruction and synchronous tactile input of the fake and real arm.  This system induces a sort of quasi-neglect of the person's real arm, perhaps akin to the experience of people with CRPS.  Once the illusion is in place, the researchers do some interesting things that I can't tell you about just yet (!)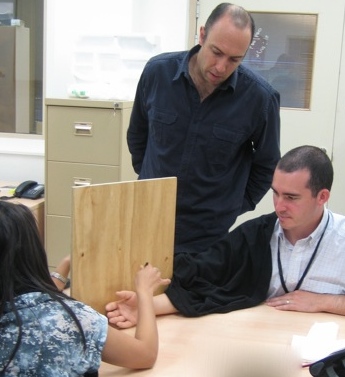 I am particularly interested in the outcome of this study as it will shed some light on questions I've been having of late, such as: what is the importance of rubbing or touching an injured body part?   How does it make us feel better?  I have recently become highly interested in the immune/inflammatory system and its role in chronic pain development in not only traditionally neuropathic conditions such as CRPS, but in other conditions commonly thought to be due to disorders of the musculoskeletal system, such as chronic neck and low back pain.  Perhaps by bracing an injured neck, or avoiding movement of an injured part, we actually induce our own 'quasi-neglect' of that part and in fact influence the normal physiological reactions which should be functioning to return us to a state of 'normal' homeostasis.  This would go along with another thought I've had, that is that perhaps the mechanism behind a reduction of pain after rubbing an injured or painful body part isn't due to 'closing the gate' at the spinal cord, but just maybe, the act of rubbing a body part provides important tactile input to the sentry areas of the brain that are responsible for detecting threat or problems with our body.  By providing this input, our brains can appreciate that the boundaries of the body, aka the body 'schema',  are still intact, and that it can tone down the monitoring for a brief time.  This is all of course highly theoretical rambling at this time, but if the folks at Body in Mind are allowed to think way outside the box at times, then I suppose it's OK for me to do so as well.  Perhaps this is the most important thing I'll be taking away with me.
My thanks again go out to James, Luke, Heidi, Nadia, Shikta, Rahul and of course Lorimer, for their hospitality and welcoming nature.  I wish them all the best with their ongoing research and look forward to future interactions.
About David
Dave Walton PT, PhD is an Assistant Professor with the School of Physical Therapy at the University of Western Ontario in Ontario, Canada.  He is a Fellow of the Canadian Academy of Manipulative Therapy and a co-founder of the Pain Science Division of the Canadian Physiotherapy Association.  He is currently on a 2-month tour of different research settings in Australia in an effort to absorb as much knowledge as possible before his brain fills up.  This may require longer than two months because it has become clear that he not only knows what a Rasch analysis is, he knows how to do one.  (Rasch, not Rash – we can all analyse them). The BiM team liked Dave so much that they are contemplating getting Dave Dolls for the Lab. Clearly, he did not write this bio.
All blog posts should be attributed to their author, not to BodyInMind. That is, BodyInMind wants authors to say what they really think, not what they think BodyInMind thinks they should think. Think about that!