We had a question recently from Mensah Y Amedzo who asked:
Hi Lorimer, with regards to this statement "nociception is neither sufficient nor necessary for pain" how do you explain the fact that people with Congenital Insensitivity to Pain never experience pain even though other sensations are intact and they obviously have a brain. They don't experience pain because their peripheral nerves do not conduct nociception because of a genetic mutation that affects the formation of sodium channels in nociceptors. Doesn't this disprove the statement "nociception is neither sufficient nor necessary for pain". Thanks.
Lorimer's response:
Thanks for this excellent question.  My first response, just for the precise record, I really don't think that 'Congenital insensitivity to pain' is a sensible label for this condition – I know it is not your label, but it would be remiss of me to not note that the phrase makes no sense particularly for this condition, which I would describe as 'congenital insensitivity to noxious stimuli'  how can they be insensitive to pain if they don't every feel it?
Second, on your real question – I have spoken at length to a few people with this condition, which, as you have said, is usually mediated by an absence of specific ion channels on primary nociceptors, and they describe feelings that I would probably categorise as pain if I was to have them. Words and phrases such as 'yuck', 'weird in a bad way', 'I don't really like it', 'enough to make me want to distract myself', 'sort of 'meh' but a bit annoying'.  However, those feelings are nearly always very vaguely located and don't seem to be related to clear and demonstrable tissue damage. One exception to this was a fellow who felt this nagging thing for several months before being diagnosed with a non-malignant tumour in the same location. It was removed and the feelings didn't return (but warning for young players here – as George Engel observed 50 years ago – when removal of a body part coincides with resolution of symptoms, it does not necessarily implicate the body part as a 'source' of those symptoms).
All that said, I completely agree that those people with 'congenital insensitivity to nociception' do not experience pain because their primary nociceptors do not work. Technically I would argue that this does not prove that nociception is necessary for pain but it comes very very close. Of course it does not show that nociception is sufficient for pain. I think the most helpful interpretation is grounded in the fact that these people do not learn how to experience pain. The precise version of the statement 'nociception is neither sufficient nor necessary for pain' would probably be 'once pain has been learnt during very early development, nociception is neither sufficient nor necessary for pain'.
HOWEVER, the counterargument to this might be people who are born without a limb but report phantom limb pain. For these people, however, they have learnt pain through intact nociceptive capacity elsewhere, so it is a bit different.
Your question is a great one and I am by no means 'the truth sheriff'. If one was to apply scientific method to this, one might test the hypothesis that 'in people with congenital insensitivity to nociception, nociception is necessary for pain' by seeing whether one could train a newborn to experience pain in association with some other sensory cue. This would be impossible to do ethically so the hypothesis fails one criterion – that it is testable – but it would be an experiment the outcome of which I can not predict!
About Lorimer Moseley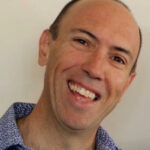 Lorimer is Foundation Chair in Physiotherapy and Professor of Clinical Neurosciences at the University of South Australia, and Senior Principal Research Fellow at Neuroscience Research Australia. He has published 300 scholarly works. His H-index is 59. He leads the Body in Mind Research Group, which investigates the role of the brain and mind in chronic pain.  For full bio, go here.