Cognitive behavioural therapy (CBT), a  management strategy for chronic pain and its consequences [1], is frequently conducted in groups to minimise cost [2] and maximise efficiency. Although clinicians often report knowing when a group will go well or badly based on who is in the group, evidence that group composition can influence outcomes is lacking.  It is suggested that certain group compositions promote interactions and socialisation, which in turn facilitate an environment whereby individuals feel open to change their thoughts and behaviours. But what are the key ingredients for a successful group?
Other fields, most notably psychotherapy, organisational, social and educational psychology, have been grappling with this issue for decades [3-6].  Although there are conceptual models, explanatory theories and experiments in those fields, there seems to have been no attempt to take on this issue in the field of CBT groups for pain.
We have developed a conceptual framework [7] to examine the possible effects of group composition in pain management programmes. The framework proposes that moderators (characteristics present at the commencement of the programme that could change how the intervention works) may have an impact on the outcomes of pain and disability. Examples of these moderators are the group size, age, and gender mix. These moderators may in turn affect the processes occurring within the group or the intervention itself. Both CBT and group effects may influence change in individual member characteristics and in turn, improve the outcomes of pain, disability and quality of life. You might also predict that the extent to which an individual member's mood (or catastrophising etc) may improve will also influence others in the group – thereby reinforcing a group-related effect.
Clinician-specific features have also been recognised as having significant impact on group success. Clinical leaders who generate a feeling of acceptance and support among group members may facilitate longer lasting improvements[8].
We propose to explore group CBT programmes for chronic pain using a retrospective cohort study of participants undertaking a community based pain management programme. If group composition can be optimised to enhance the gains from working within a group, future clinical guidelines for CBT groups for chronic pain might include evidence-based guidelines for optimal group size, setting, duration and frequency, as well as the mix of individual member characteristics that will best catch a positive effect of the group itself on participant improvements in pain, disability and quality of life.
About Dianne Wilson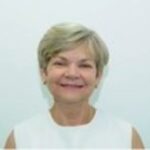 Di has had a long career as a physiotherapist, dividing her time between clinical work in private practice and lecturing at the University of South Australia. In the private practice setting, she has worked with chronic pain patients and has been involved in the delivery of a CBT program for compensable chronic pain patients.
The complexity and science of chronic pain has intrigued her and she completed an Honours degree on the Language of Pain a few years ago. Delving into the pain literature ignited an interest that won't go away and so she has embarked on a PhD in the later stages of her career! At this early stage of her research, she hopes to investigate the group effect in pain management programs.
Dianne's life is centred around physiotherapy and family (she is also married to a physiotherapist and their children are the focus of any spare time they share). Dianne also has a love of music – all types (except Country and Western), reading, dancing and walking. Emu Bay on Kangaroo Island is a favourite retreat.
References
[1] Williams AC, Eccleston C, Morley S. Psychological therapies for the management of chronic pain (excluding headache) in adults. The Cochrane Library 11 (2012).
[2] Morrison N. Group cognitive therapy: Treatment of choice or sub-optimal option? Behav. Cogn. Psychother. 29(03), 311-332 (2001).
[3] Burlingame GM, Mcclendon DT. Group therapy. Twenty-First Century Psychotherapies: Contemporary Approaches to Theory and Practice 347 (2008).
[4] Burlingame GM, Mcclendon DT, Alonso J. Cohesion in group therapy. Psychotherapy 48(1), 34 (2011).
[5] Hornsey MJ, Dwyer L, Oei TPS. Beyond Cohesiveness: Reconceptualizing the Link Between Group Processes and Outcomes in Group Psychotherapy. SGR 38(5), 567-592 (2007).
[6] Bell ST. Deep-level composition variables as predictors of team performance: a meta-analysis. J. Appl. Psychol. 92(3), 595-615 (2007).
[7] Wilson D, Mackintosh S, Nicholas MK, Moseley GL. Harnessing group composition-related effects in pain management programs: a review and recommendations. Pain Management 6(2), 161-173 (2016).
[8] Norcross JC, Wampold BE. Evidence-Based Therapy Relationships: Research Conclusions and Clinical Practices. Psychotherapy 48(1), 98-102 (2011).
Senior Commissioning Editor: Neil O'Connell;  Copyeditor: Adrian Traeger