All the medics out there will be familiar with the third stanza of the Hippocratic oath: 'I will prescribe regimens for the good of my patients according to my ability and my judgment and never do harm to anyone'. The rest of us don't have such an oath but I think we might need one.
In the last three weeks, I have seen eight people with chronic, disabling and distressing back pain. They were all rather 'typical' with regards to radiology reports; the usual lack of evidence of major medical or structural risk; the usual run of failed treatments. They included a middle aged lady on 20 years of disability benefits and a former world champion rower still trying to make a comeback. They were also rather typical in their view that their back was in substantial danger. Usually in such situations my first treatment objective is to help them reconceptualise both their impression of their back and their impression of their pain. As part of this process, I normally try to identify where their current conceptualisation is grounded – are there key chunks of information that might be easily addressed? It is remarkable, although no longer surprising, how often I discover the smoking gun in the hands of a well meaning health professional.
Every one of these eight patients attributed their understanding of their back, at least in part, to information they had been given. This was not about 'slipped discs' – I sense we may now have reached the tipping point when it comes to the social unacceptability of that term amongst health professionals. No this was the now more common fare –  'You have no core stability; Your this or that is out of alignment and needs realigning; You have an upslip; a downslip; an unresolved problem in some far-flung anatomical location that everyone else has missed; You have no closure on this joint or that; Your this or that is impinging your that or this – or my favourite this week – 'your top rib is getting stuck' (although the exact terms used to describe this dysfunction are unutterably catastrophic). I have a rather pendular response to such discoveries – I swing from quiet acceptance of the naivety of the clinician that planted this falsehood and the belief that we all act from our own insecurities and agenda, to marked annoyance and frustration at the harm the clinician has brought upon this person by planting this falsehood; the clinician who has, in my view, radically changed not just the patient's behaviour, but also some of the fundamentals that drive their biology.
Where do these pathophysiological models come from? Well there is clearly a thriving industry of 'paradigm products' – pathophysiological quasi-theories, most of which seem pretty dodgy to me and nearly all of which are untested.  Indeed, many of the inventors of these 'paradigm products' appear to have no intent of putting their ideas through any kind of interrogation at all. Instead, the proof of the pudding seems to lie in the profile of their patients, or the loosely related research they borrow to fit their idea. To top it off, our community seems to endorse such paradigm products, by including them in 'scientific' meetings and professional magazines. What a responsibility it is to stand at the podium with the ear of well meaning clinicians who, tomorrow, will use the message to give hope to people in trouble. What a responsibility indeed.
Am I being too precious about this? Too harsh? Perhaps. But think of the victims here. The victims are, in my view, those people in pain. People such as the last eight I have seen, terrified, deep in the belly of their nervous system, that they are about to break in two.
So to whom are we in the 'physical therapies' accountable for the things we do?  Treatments that don't work aside of their non-specific effects, are still endorsed, sometimes officially, on the grounds that they are 'risk and side-effect free'. Really? In my view, my last eight patients were harmed by the treatment they received. They were harmed by the significant contribution their clinician made to their understanding of their problem. For those eight patients, I believe that the clinician triggered a neural process that ended up entrenched in the everyday workings of the patient's brain. A couple of them became reliant on that clinician or that treatment approach, sometimes  'because it was 'discovered' (note that the patient never sees these things as 'invented') by someone who speaks on it at conferences and teaches it around the world'.  For a few, I think the clinician set them up to never recover at all.
Sure, there are many patients for whom these treatments seem to work. I too have seen and heard the case studies. But what sort of a marketer presents the 'before and afters' that suck?
I think it is time for a fundamental shift here. There is no doubt that chronic pain is a serious health issue. There is also no doubt that an individual's understanding of their problem modulates their pain. I believe we should no longer avoid what our medical colleagues hold sacrosanct – to first and foremost DO NO HARM. We should hold accountable ourselves and our colleagues. We should hold accountable our professional societies in whose magazines some A-grade therapeutic trollop is advertised, and we should hold accountable our conference committees who 'give the people what they want' even if what they want is a con – a con that leaves some people waiting for their back to blow, crumble, crush or pop. We can do better and I think we should.
About Lorimer Moseley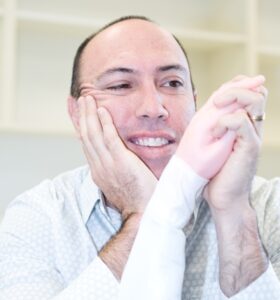 Lorimer is Professor of Clinical Neurosciences & Foundation Chair in Physiotherapy at the University of South Australia. He is also Senior Principal Research Fellow at Neuroscience Research Australia and an NHMRC Principal Research Fellow. He has twenty years of clinical experience working with people in pain. After positions at the University of Sydney and The University of Oxford, Lorimer returned to Australia in 2009. He has written 150 articles, written four books and given over 100 keynote lectures in over 30 countries. He has won the most prestigious project prize for Medical and Health Innovation in Australia and the inaugural Clinical Science Prize from the International Association for the Study of Pain. He leads the Body in Mind research group.
Link to Lorimer's published research here. Downloadable PDFs here.