At the world congress on pain in Glasgow, 2008, a small group of CRPS researchers got around a table and asked each other something like 'isn't it high time we got together and wrote a current concepts in CRPS pathophysiology paper?'  Not surprisingly, we all agreed and did nothing for about a year. Thankfully, Han Marinus and Bob van Hilten reignited it and got us all moving. The result is out this week in Lancet Neurology.
The paper reflects the interdisciplinary authorship team and seeks to not just cover what is now formally known about how people with CRPS present, but also what is now known about the pathophysiology of the condition.  On the basis of the very large amount of literature on CRPS, we present the following argument: That the clinical feature of CRPS implicate biological pathways that underlie aberrant inflammation, vasomotor dysfunction, and maladaptive neuroplasticity. We suggest that the evidence points to CRPS being a multifactorial disorder that is associated with an exaggerated host response to tissue injury. We raise the suggestion that the differences in how people with CRPS present might reflect variability in the relative susceptibility of the different biological pathways. That is, for example, perhaps those who develop CRPS with dystonia are those in whom the motor system is particularly susceptible.
I would humbly suggest that this review provides a great overview and is, I think, worth reading if you are remotely interested.  We are allowed to post it on BiM, so here is the Marinus et al 2011 PDF.  However, if you are time or interest-poor, here are three key take home messages:
For diagnosis, 'the Budapest diagnostic criteria' are probably the best and a severity score can help to track changes over time.
There are likely to be about 50 thousand new CRPS cases each year in the USA, incidence increases with age and CRPS is 3 – 4 times more common in women than it is in men.
Although people with CRPS are more likely to be depressed and anxious than people without CRPS, there are no data to suggest they are more depressed and anxious before they get it. Other psychological or personality characteristics are NOT risk factors.
About Lorimer Moseley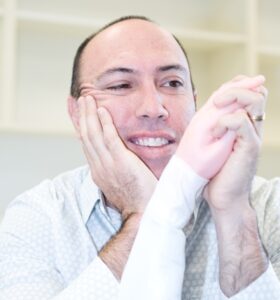 Lorimer is NHMRC Senior Research Fellow with twenty years clinical experience working with people in pain. After spending some time as a Nuffield Medical Research Fellow at Oxford University he returned to Australia in 2009 to take up an NHMRC Senior Research Fellowship at Neuroscience Research Australia (NeuRA). In 2011, he was appointed Professor of Clinical Neurosciences & the Inaugural Chair in Physiotherapy at the University of South Australia, Adelaide. He runs the Body in Mind research groups. He is the only Clinical Scientist to have knocked over a water tank tower in Outback Australia.
References

Marinus J, Moseley GL, Birklein F, Baron R, Maihöfner C, Kingery WS, & van Hilten JJ (2011). Clinical features and pathophysiology of complex regional pain syndrome. Lancet neurology, 10 (7), 637-48 PMID: 21683929